From effectively passing the ball around road cones, to being made to sweat over the three points late in the game, only to then be walking from the pitch with a resounding 4-1 scoreline, Liverpool's path to a convincing victory against Cardiff City was a strange one.
The spectre of Cardiff City is an aesthetically conflicting one. They are a product of a city which is much-loved by many Liverpool supporters thanks to all those trips for cup finals between 2001 and 2006.
We were always welcomed with open arms and we embraced those days tightly. It was a shame they had to rebuild Wembley Stadium really.
The Millennium Stadium became the new 'Anfield South' and the sights, sounds and beers seemed so much friendlier than those we were offered in north London.
Heddlu
Spotting the word 'Heddlu' on the back of a police officer outside the Anfield Road end prior to kick off could only raise a smile.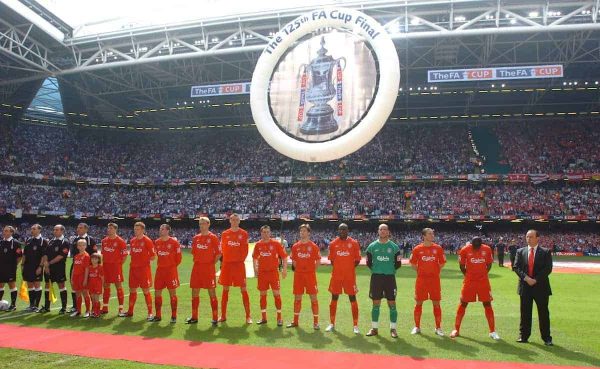 Conversely, Cardiff City fans are an odd bunch. Trying to 'goad' Liverpool fans about England losing a World Cup semi-final was a misplaced gesture. Many of us care less about the England national team than those from Wales do.
This game was a complex one.
For much of the first half, Cardiff were rabbits in the headlights. They struggled to keep their eye on the ball and Liverpool simply moved it around them, as if the players in blue were masquerading as road cones.
Within this, the Liverpool players were guilty of slipping into 'power nap' territory, because of the docile first half approach of the team from South Wales.
An early goal, when Mo Salah planted the ball home after it had twice stubbornly stayed out of the Cardiff net, then Virgil van Dijk artistically hit the post.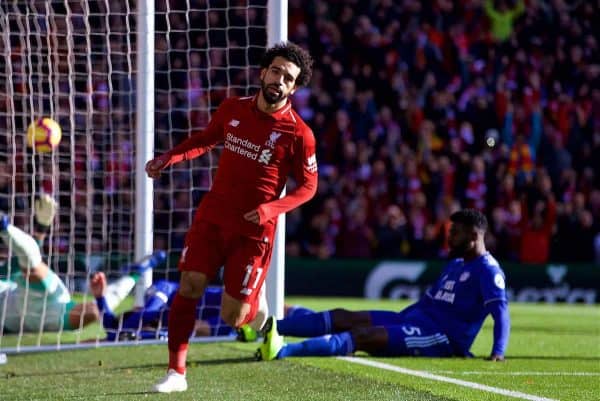 Check that one out again if you get the opportunity. I'm not sure if the television pictures picked it up, but he seemed to turn and check on the wellbeing of the Cardiff defender who had tried to halt his efforts, after he went to ground in van Dijk's slipstream, while the ball arrowed toward Neil Etheridge's left-hand-post.
This seemed to act as a catalyst for us to 'zone' for the remainder of the first half, perhaps satisfied that Cardiff were of no defined threat.
We Hold What We Have
Neil Warnock appeared happy with his lot in this respect. 0-1 down and willing to 'hold what we have'.
It is a fascinating concept which increasing numbers of teams employ when coming to Anfield. Trailing by a narrow margin? Then simply shut up shop, curl up into the foetal position, aim to concede no more goals and hope to equalise via a set-piece, when one arrives.
I'd imagine this is how Scottish teams set up when they travel to Parkhead.
The problem with this approach is that we are no longer susceptible to a set piece. We defend them with authority and purpose. We even use them as a ruse to counter-attack, as they tend to be the only time when visiting teams to Anfield venture forward in numbers.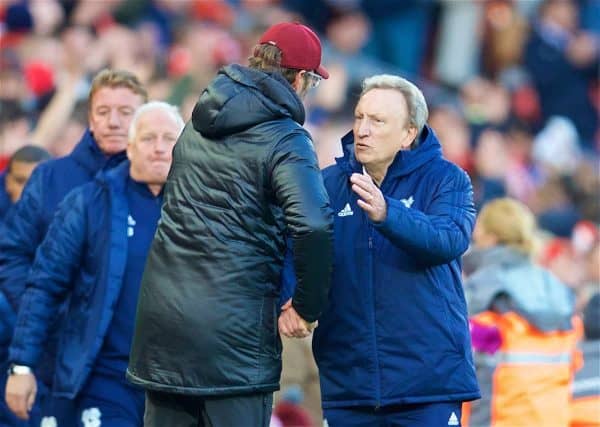 At the start of the second half Cardiff came out with more purpose and they became troublesome, to the point that when Sadio Mane created and scored our second goal – a goal he emphatically planted into the Kop end net – it brought with it a vague sense of relief.
This new-found sense of security was, of course, short-lived. Cardiff unexpectedly scored one themselves, with the help of a large slice of luck, and then it was very much 'game on' for a disconcerting seven minutes until Xherdan Shaqiri soothed growing anxieties by thundering through for our third goal.
By the time Mane dinked in the fourth we were arguably flattered by the scoreline, while simultaneously not being flattered by the scoreline. It was indeed a strange path to a convincing victory.
Doing Enough
A few days ago, I'd mentioned the need for us to do 'more' rather than 'enough' now.
Within that, I'd perhaps class our performances in these last two games against Red Star Belgrade and Cardiff, as doing 'enough, but with style'. One step towards doing the type of 'more' that we'll need to be doing to beat Arsenal next weekend.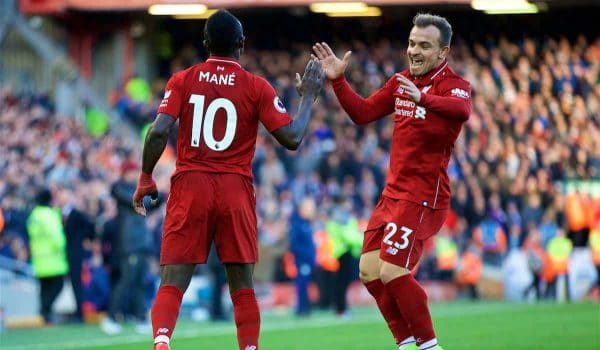 At times, Mane was bouncing, while Salah's shoulders are beginning to relax. Fabinho is acclimatising to life at Liverpool nicely.
We are still concerning our rivals. Saturday at the Emirates is massive though. Arsenal look impressive and they will feel it will be a potential door to playing themselves into a burgeoning title race.
For Liverpool, a win at Arsenal would be a gargantuan statement of intent.
Ten games in, we are top of the Premier League and unbeaten. We've given ourselves an outstanding platform to launch at the next 28 games, but somewhere there is this nagging suspicion we're still to find our true selves.
That in itself is almost the Liverpool of old. A sort of 'just wait until we actually start playing' vibe is hopefully in operation.
We might never get a better crack at winning that 19th league title.
We are simmering along rather than at boiling point, and by this time next week we will have navigated all our most substantial trips to London for the season. That will be a major hurdle cleared, regardless of which way the result goes, but let's be bold and flex our muscles with a win.