As Cardiff City prepare to head to Liverpool this weekend, it's fair to say their supporters are not holding out too much hope of a positive result.
The Reds welcome Neil Warnock's side to Anfield on Saturday afternoon, with three more points imperative in order to put the pressure on Man City.
Liverpool's Premier League form hasn't exactly been too convincing of late, but they continue to churn out victories and display an improved winning mentality.
Cardiff, meanwhile, have leapt out of the relegation zone after beating Fulham 4-2 last weekend—a win that will have felt like a giant weight off their shoulders.
With the weekend clash looming, we spoke to Cardiff writer Scott Salter (@scottsltr), contributor for View From The Ninian (@VFTNinian), to get his thoughts on all things Reds and Bluebirds.
It's just five points from nine games so far, what do you make of Cardiff's start?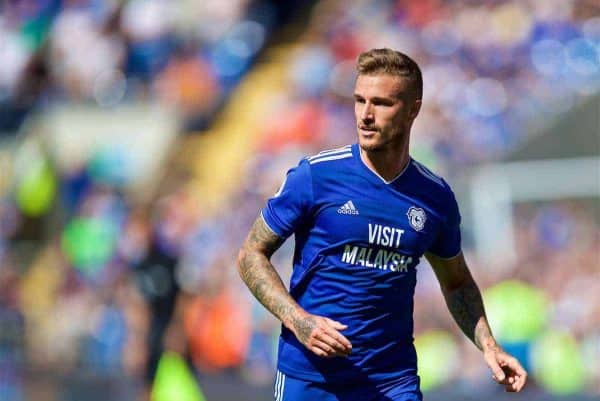 Obviously we would've wanted to win more matches than just the one, but I don't think we should be too disappointed with how we've started the season.
We're sat outside the relegation zone with the lowest budget in the Premier League by far.
It could be worse. You've got to remember that we've played Tottenham, Chelsea, Man City and Arsenal already, which is a big thing to get out of the way now.
The win against Fulham was huge. They always say that you have to beat the teams around you, which we've struggled with so far and should've got something out of Burnley, Newcastle and Huddersfield, but that wasn't to be.
We've developed a bit of a rivalry with Fulham since last year, too, so it's nice to get one over on them.
I hope it kickstarts our season, although we could've done without Liverpool next!
Which three players have stood out most for you, and why?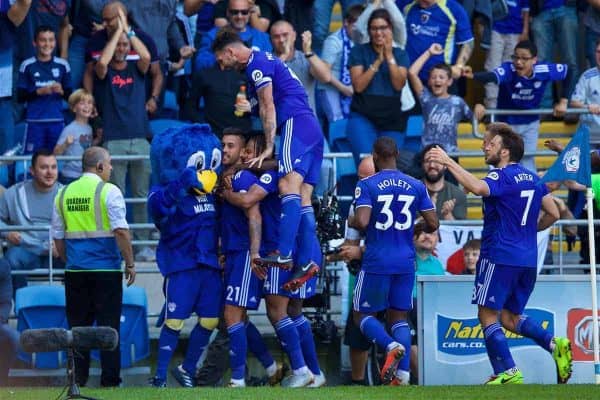 The majority have done well, apart from our strikers. We've resorted to playing a right-back up front now, which I think tells you everything you need to know about us in that department!
Josh Murphy has been our best player by far. He scored against Burnley and Fulham and has looked our most dangerous player.
He is fast and has already forced Javier Manquillo and Calum Chambers off at half-time in the matches against Newcastle and Fulham, after they both endured a horrid first half against him.
Victor Camarasa has been a surprising hit, in that not many Cardiff fans knew of him before he joined on loan from Real Betis.
He is one of our most technically gifted players and has very quick feet and good balance.
He has slotted into our midfield nicely alongside Harry Arter—another deadline-day loan signing—and contributed a few goals and assists.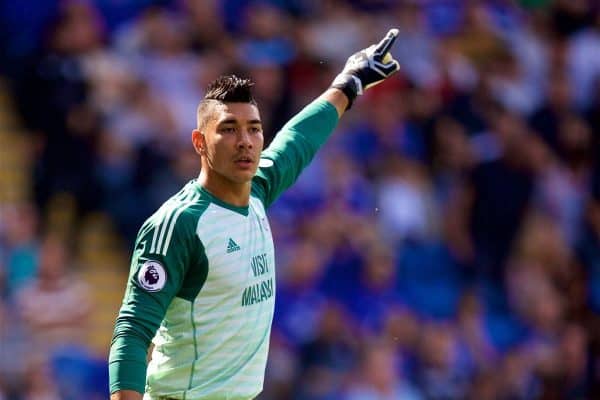 In goal, Neil Etheridge has performed admirably.
Signed on a free transfer from Walsall at the start of last season, Etheridge came as backup to Lee Camp but took his chance with Camp injured to establish himself as the club's No. 1. He has never looked back.
Few expected that the Filipino could make the step up to the Premier League but he has done just that, already saving two penalties this season and making some really important saves, including a fine stop against Fulham with the scoreline at 3-2.
Neil Warnock's style of play is often condemned—is the criticism fair?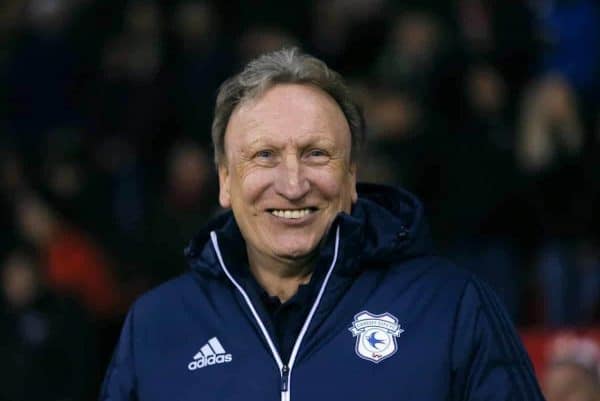 A bit of both, to be honest with you. Does Neil Warnock favour physical, direct football? Yes. Is that all this Cardiff side are capable of? Not at all.
On the whole, I think it's over the top.
Last season we showed that we were able to score some lovely goals, with precise linkup play between our forward players.
We have continued that into this season, but we aren't receiving too much credit for it.
I think it's a bit of elitism from some Premier League fans and pundits, but also a case of Cardiff and Warnock both being highly unfashionable.
What have you made of Liverpool's start to 2018/19?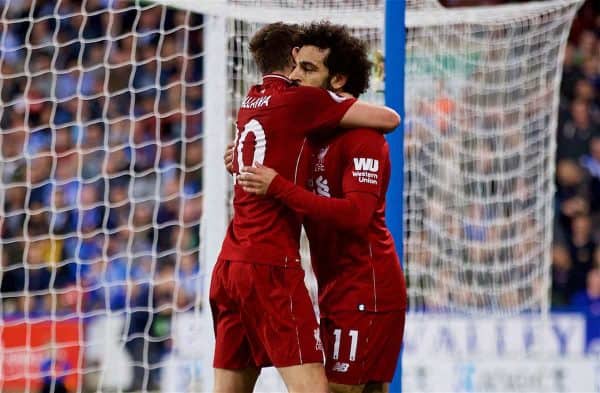 I have watched Liverpool a couple of times and I think it's fair to say that you haven't got into fifth gear just yet.
To be saying that with the Reds joint-top, undefeated and just three goals conceded sounds crazy, but it's testament to what this side is capable of.
I think you are genuine title challengers.
To win the Premier League, you need a solid defence and that's something you have lacked in recent years.
You have invested in the right places and your defence is now one of the best in Europe, so you're heading in the right direction.
I still think Man City will win the league—they're just incredible in every single department, but Liverpool will push them all the way.
Anyone you fear for the Reds on Saturday, in particular?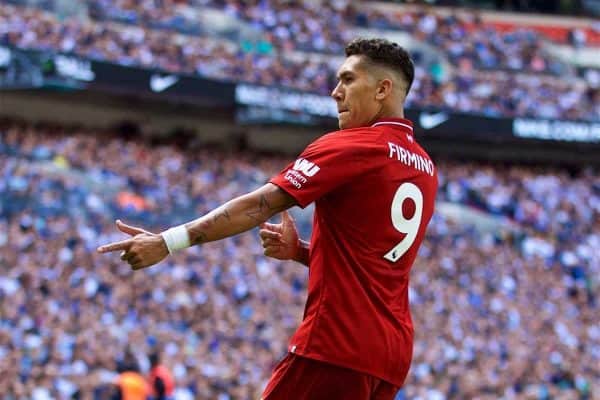 All of them!
I think Roberto Firmino is the player I fear most.
Cardiff's centre-backs Sean Morrison and Sol Bamba are both big lads and aren't the quickest, so I feel like they may struggle against a player like Firmino, who is so intelligent with his movement.
Warnock tends to favour a full-pitch, man-to-man marking system, which worries me against Liverpool's attackers.
If Firmino drops deep, then Bamba or Morrison will likely follow him, leaving a big hole for Sadio Mane and Mohamed Salah to exploit.
Where do you see the key battles taking place?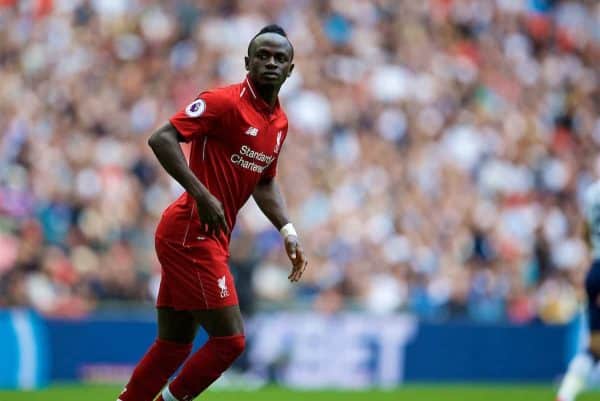 Apart from Firmino vs. Bamba/Morrison, Mane vs. Bruno Ecuele Manga concerns me.
Our right-back is a centre-back by trade and, again, isn't the most mobile, so when Firmino does vacate that space, he will struggle to keep up with Mane when he runs into it.
I also worry about how we will fare against Virgil van Dijk. Against Fulham and Spurs, we were able to dominate in the air with Callum Paterson, our right-back-cum-striker, winning those battles.
He won eight aerial duels against Fulham, with their centre-backs winning just one each. I feel like Jurgen Klopp will identify this and Van Dijk will marshal Paterson effectively throughout the game.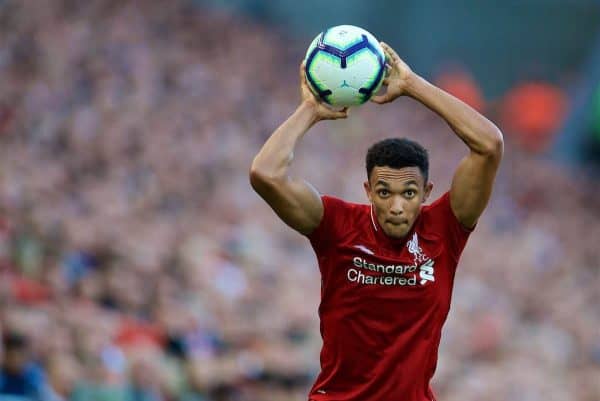 One area I think we could catch Liverpool out is with our wingers.
If Liverpool's full-backs push on as they so often do, we have the pace on the wings through Murphy and Bobby Reid to get in behind.
That's if you let us have the ball at all!
Finally, hit us with a prediction…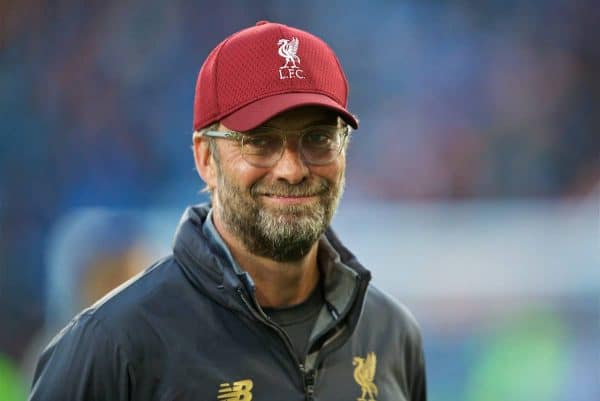 Yikes, I don't want to think about it.
Being realistic, I think we will struggle here. I will go for a Liverpool win, but Cardiff to score a goal. 3-1.