Liverpool remain on par at the top with the Premier League leaders after a 0-0 draw with Man City; Steven Scragg breaks down what to look forward to.
Much hype and little in the way of delivery.
Another of Liverpool's clashes against their fellow 'Big Six' rivals is out of the way, and the picture going into the international break is one which can be manipulated to suit both ends of the East Lancashire Road.
Stats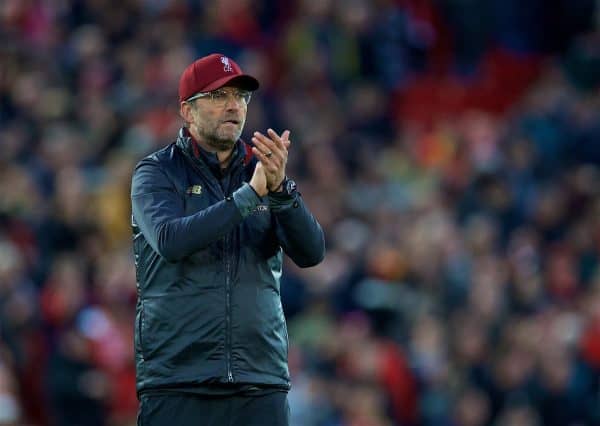 In football, there are only truths, lies and stats.
It is true to say we have now gone four games without a win, yet it would be a lie to say this has been an ordinary, or even damaging run of winless games.
Eight games into the new Premier League season and only goal difference can split the top three, of which we are one.
This places us in 'I'd have taken that if it were offered it in August' territory. That odd footballing purgatory when you should appreciate where you are, yet secretly harbour thoughts that it could have been even better.
Manchester City are already six goals better off than we are. We could do with a couple of big-hitting scorelines to keep them on their toes.
A sort of "hello, you're going to have to get used to us hanging around" sort of thing.
In Manchester terminology, I think they call it being 'noisy neighbours.'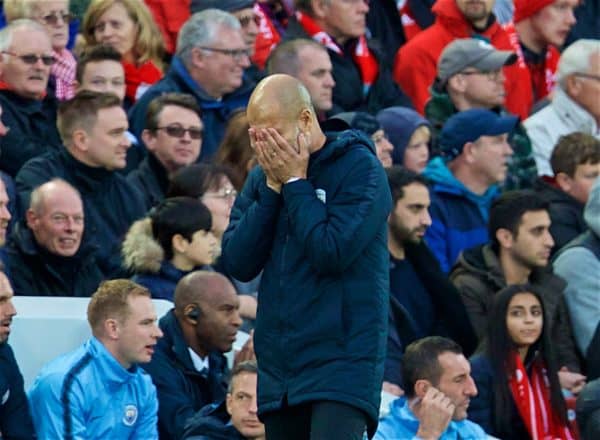 Remarkable, really, given that Pep Guardiola's net spend at the helm of Manchester City is well over double the amount of Jurgen Klopp's at Liverpool.
It's not only in net spend that we still lag behind City, however. They can also point to recent trophies won.
That said, they lag behind us in the 'force of nature' category. This is where English football finds its great leveller.
Money isn't everything and that concept of a football club and its supporters being able to move mountains is compelling enough to make those associated with Man City and Chelsea uncomfortable. It's the bogeyman effect.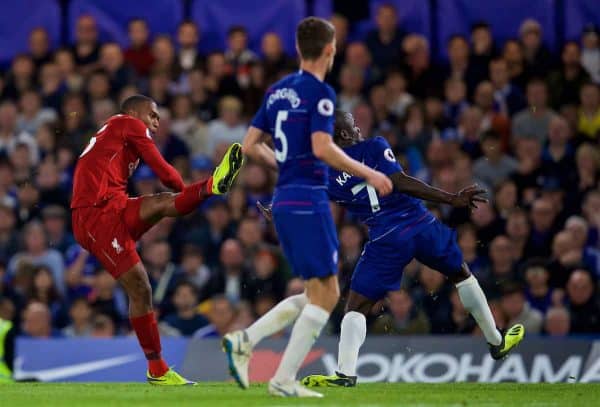 But, the picture can be manipulated to suit agendas from each end of the East Lancashire Road.
Sunday's game was tight and cagey. It flew in the face of how open and flowing previous encounters have been.
When Guardiola is tempering one of his teams, putting terms and conditions upon how free and fluid his players are allowed to be, then we have to feel complimented. Guardiola was made to think more about the opposition than he did of his own team. That doesn't happen very often.
There were only four shots on target throughout the entire game, and Riyad Mahrez has now missed four of his last six penalties.

Truths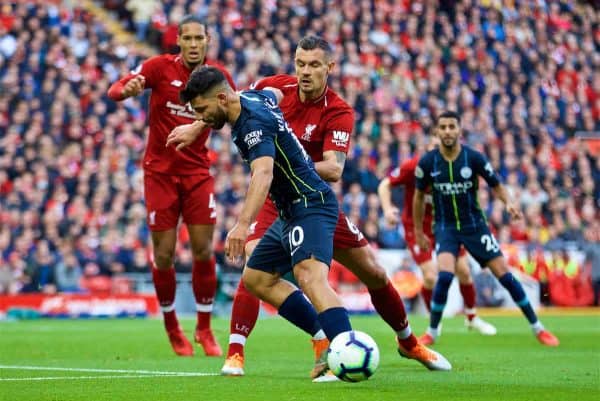 Mildly tentative here and there, Dejan Lovren raised himself above the fear-factor and put in an accomplished performance, having unexpectedly reappeared in the starting line-up.
A performance that was befitting a World Cup final centre-back.
Virgil van Dijk gave his usual calm and assured display, but was self-confessional in how he mistimed the tackle which gave away the penalty.
Joe Gomez did well with the curve-ball he was thrown, when asked to switch to right-back, and Andrew Robertson was back to his tenacious best after an off-night in Naples.
Jordan Henderson also played well.
That will annoy some Liverpool fans.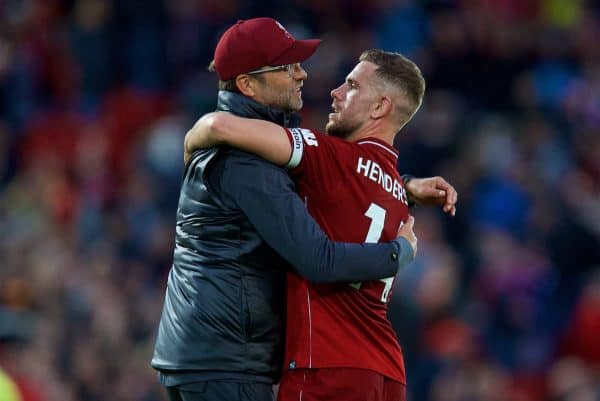 Some Liverpool fans have a 'black book' in which are noted the names of the players they simply refuse to take to. Every time that such a player takes one step forward, performance wise, it feels like that player moves one transfer window further away from departing the club.
When such a player takes one step backwards, performance wise, the occurrence is cradled and nurtured, like a new-born baby.
"Look, everyone, behold the validity of my opinions of this pitiful footballer."
I'm not saying it's the right or wrong way to be. It is what it is. I'd just like some consistency of reaction.
The draws against Chelsea and now Manchester City have both ended with a twist. Draws snatched from the jaws of defeat, firstly through a late Daniel Sturridge equaliser at Stamford Bridge, and now as bad a penalty miss as you're likely to see at Anfield this season.

Lies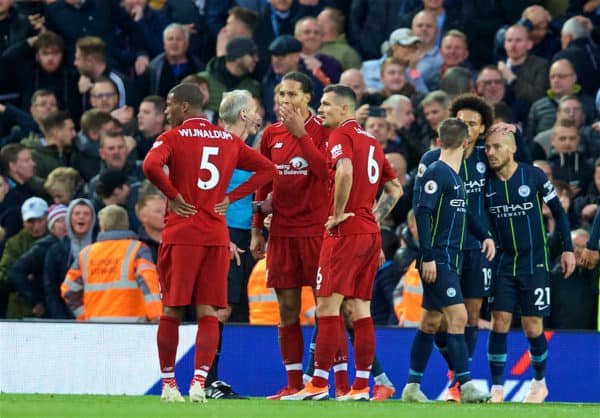 Did we ride our luck in these last two Premier League games?
Not really.
We were the better team against Chelsea, but while most people felt the draw was a fair result, the fact that it felt like a defeat would have been an insult suggested that we'd have been good value for a win.
Against City, the two teams seemed happy to shadow box with each other, perhaps mindful that there will be other clashes later in the season, against one another, that they will need to save their best dance moves for.
It feels as though both Klopp and Guardiola will be relieved to have passed this one without major incident.
Guardiola, meanwhile, will be hoping that Liverpool can unravel before facing them again on New Year's Day.
It's up to Klopp to ensure that Liverpool don't do that.
By the time we head to Eastlands, we'll have faced Arsenal, both home and away, plus Manchester United at home. The first Merseyside derby of the season will have been and gone too.
The task for Liverpool is to walk away from Eastlands in January as well-placed then, as we are today. Do that, and the race really will be on.