Liverpool went top of the Premier League after dispatching of Cardiff City 4-1 at Anfield, with positives aplenty on show.
Jurgen Klopp's men continued their unbeaten league start with a comfortable victory on Saturday, even though they didn't always convince.
Mohamed Salah's fourth goal in seven days got the ball rolling, before Sadio Mane's lethal finish doubled the Reds' lead.
Callum Paterson's close-range finish made for a nerve-jangling period late on, but Xherdan Shaqiri brilliantly scored his first Liverpool goal and Mane added another for good measure.
To have dropped just four points with November on the horizon is an outstanding effort, as talk of a first league title since 1990 rightly shows no sign of going away.
After the game, This is Anfield's Henry Jackson spoke to Sachin Nakrani (@SachinNakrani) and Joel Rabinowitz (@joel_archie) to discuss the key points from Liverpool's 4-1 win.
The good…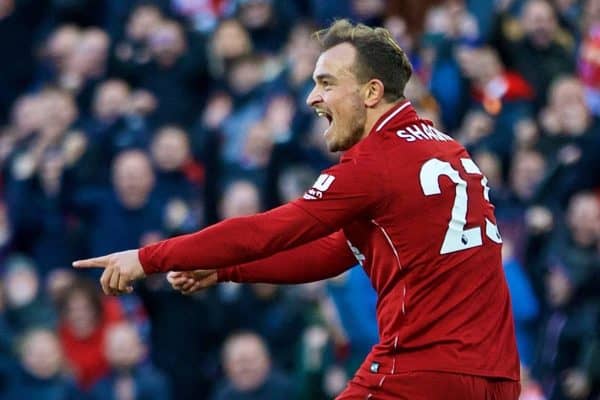 HENRY: Well the obvious main positive is that Liverpool are top of the Premier League, for the time being at least! That's pretty great, isn't it?
It has been a superb start to the season, even though the performances haven't always been that special, and we are watching a side capable of going all the way to the title.
In terms of the performance, seeing Mohamed Salah and Sadio Mane looking close to their best again was so pleasing, with goals starting to really flow.
Then there was Xherdan Shaqiri's impact from the bench. I wasn't overly convinced when the Reds signed him, but he has been immaculate so far and his goal was a beauty.
He is this season's Alex Oxlade-Chamberlain and is going to be such a key man.
Fabinho had another strong showing, as did Gini Wijnaldum alongside him, and some of the attacking football was a delight.
SACHIN: Mane's first goal. Seriously, I can't stop thinking about it.
I was right behind it, in the Kop, and I'm not sure I've seen a ball travel so fast so quickly. Turn-shot-goal in what felt like a millionth of a second, reminding me, reminding us all, of just how rapid elite-level football can be.
Mane's second goal wasn't bad either and overall Liverpool looked really dangerous in those moments they stepped up the tempo and looked to hurt Cardiff City.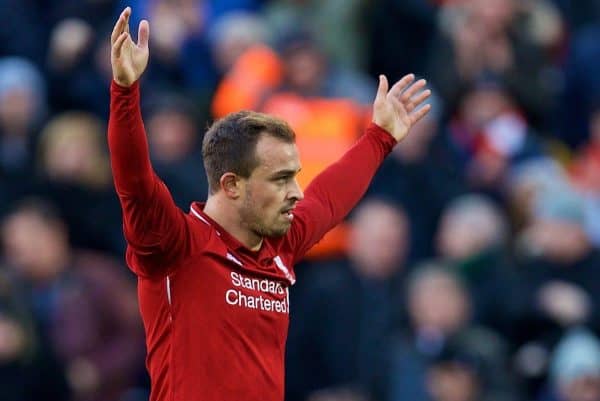 There was fluidity, imagination and ruthlessness at the sharp end of Liverpool's forward momentum and that is encouraging on the back of some stodgy displays in recent weeks.
In that regard, it was also great to see Roberto Firmino being brilliant again. He appears to have well and truly got his mojo back after some quiet and, as was the case against Huddersfield, poor showings.
JOEL: Salah is really starting to get back into his groove again, with another goal and two assists. That takes him to four goals in three games and he really looked like he is enjoying his football, which is great to see.
The way he led the line with such confidence was impressive, not just scoring and creating goals but making sure he was at the centre of everything, showing for the ball and conducting attacking moves.
Fabinho was another positive too. That's two excellent back-to-back performances, and while they have come against relatively weak opposition, his contribution in both games deserves credit.
His quality both in and out of possession has been clear to see and he is making a real positive difference to the midfield.
Jurgen Klopp has been patient in bedding him in and on the evidence so far, it's a strategy which very much looks to be paying dividends.
The bad…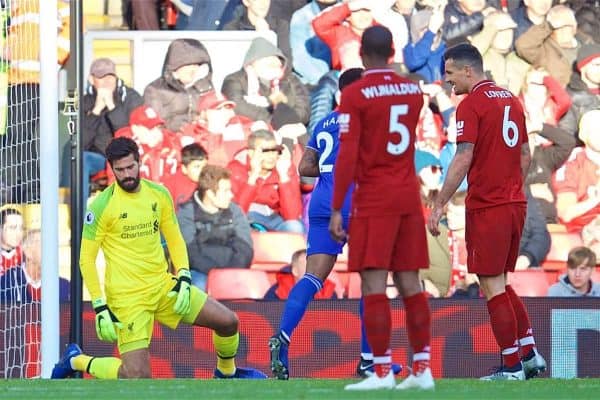 HENRY: Although there was much to admire about the performance, it was disappointing how the level dropped for a chunk of the second half.
There was a sloppiness to Liverpool's football, with a number of passes going out of play, and against better teams they could have been punished.
Adam Lallana was poor during his hour on the pitch – more on him later – with his preference for Cruyff turns and holding on to the ball for too long blunting the Reds' attack.
Unlike Sachin, I actually thought Firmino was poor by his standards, barring that incredible back-heel-while-still-on-the-floor. Maybe I just expect too much.
Alberto Moreno and Dejan Lovren had needlessly rash moments, too, despite playing quite well, which showed why so many supporters struggle to warm to them.
SACHIN: The second half was more stressful than it should have been.
Having utterly dominated before the break, Liverpool dropped back, looked to protect what they had and subsequently allowed Cardiff to get a foothold in the game, which led to Callum Paterson scoring and making Anfield edgy and agitated in equal measure.
Matters were not helped by the scoreboard packing up at 2-1, meaning fans couldn't see how long was left at a stage when, somewhat remarkably, we were desperate for the final whistle.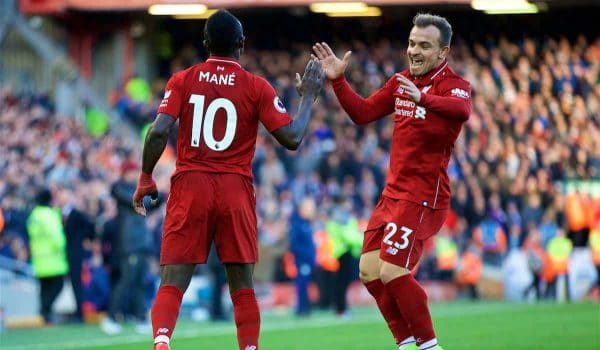 Thankfully, Shaqiri was on hand to calm the nerves, followed soon after by the scoreboard coming back to life.
Overall, that second half was a bit of a concern. I appreciate Klopp is getting the team to play in more circumspect fashion this season, but it was a huge risk to do so at 1-0, and ultimately it would have been a travesty had Cardiff got something out of the game.
JOEL: To concede a league goal at Anfield for the first time since February is frustrating, but the manner in which it happened was unfortunate and ultimately had little effect on proceedings.
Perhaps the only real negative was the way in which Liverpool allowed the game to drift at 1-0 for too long without putting it to bed.
The reaction to Cardiff's goal was excellent to ensure there was no nervy ending, but Liverpool can and must be more ruthless when so dominant in general play, making sure the scoreline reflects their superiority and not giving the opposition any hope of playing their way back into the game.
A second consecutive league start for Adam Lallana; what is his role this season and beyond?

HENRY: I don't want to be too harsh on Lallana, considering how long he has been out injured, but he does look past his best.
Perhaps that is just due to him finding his feet after a lengthy absence, but he seems to have lost more pace and Liverpool look like they moved on without him around.
I see him as a squad player now, invariably coming off the bench to try and bring fresh legs, hard work and a bit of magic.
Like Nathaniel Clyne, I don't see him being a Reds player past next summer, with Klopp likely to be aware that he can do better, despite admiring him as a player.
He is just too injury-prone and his influence is on the wane.
SACHIN: Lallana deserves time to get back up to speed, given how long he's been out injured.
There were moments against Cardiff when he looked like his old self – a nice touch here, a smart turn there – but overall he was pretty anonymous and his substitution for Shaqiri felt symbolic. Out with the old, in with the new.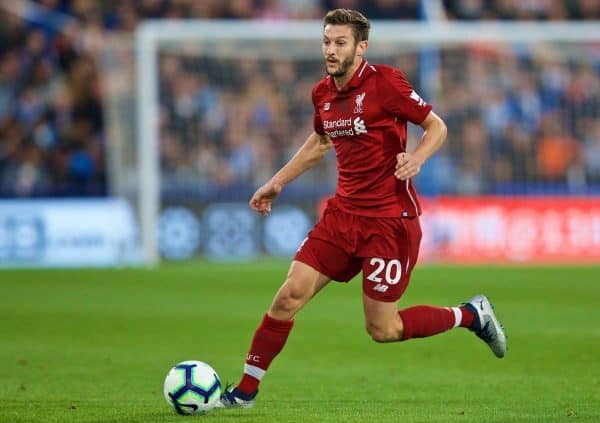 Like Henry says, Liverpool have moved on from Lallana. He was an asset during the formative years of Klopp's tenure as Liverpool manager, leading the press and offering flashes of genuine quality in a side short of that trait.
But the team has improved season on season under the German, including in midfield, and it's now hard to see how Lallana gets a game ahead of more dynamic, powerful and, to be blunt, better players.
Aged 30 and with an England career to think about, it may be best for him to move on next summer, if not sooner.
JOEL: The difference to the side when Shaqiri came on in place of Lallana was stark.
Shaqiri's dynamism and cutting edge was a level above what Lallana was able to offer, and while the latter has missed a great deal of football through injury over the past year or so, he struggled with the pace of Liverpool's play and looked somewhat out of kilter with the evolution of this Reds side.
That isn't to say he can't be a valuable squad player for the rest of the season.
He will be useful in certain situations, but it is difficult to envisage a scenario where he forces his way back to becoming a regular starter once more.