Trent Alexander-Arnold admits he could never have imagined the way the last two years have gone for him and has emphasised his determination to work hard and keep improving.
On Thursday it will be exactly two years since the right-back, who turned 20 earlier this month, made his senior Liverpool debut.
He now has over 50 Reds appearances to his name, played in the Champions League final last season and followed it up by helping England reach the World Cup semi-finals over the summer.
When asked on Tuesday about his reflections on the past two years, Alexander-Arnold said: "I think not many people, not even myself, would've ever imagined it going the way it has.
"It's down to the opportunities and the chances I've been given.
"It's something I'm really grateful for and hopefully there will be more opportunities like that, to be able to play in big games and big competitions. It's something I'm obviously excited for."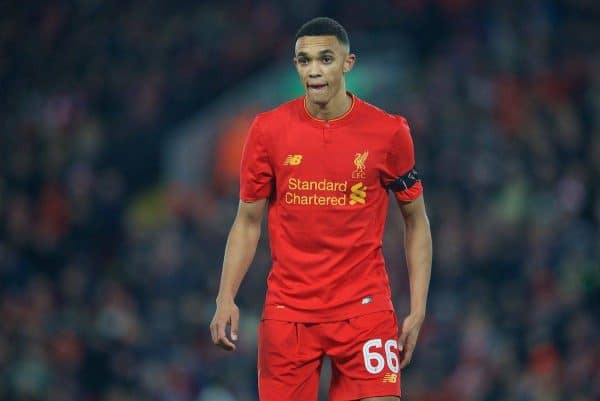 Alexander-Arnold has played against the likes of Cristiano Ronaldo, in last season's 3-1 loss to the Portuguese's former club Real Madrid in the Champions League final, and Neymar, when Liverpool beat Paris St Germain 3-2 in their Group C opener this term.
"That's why you want to play in these competitions and especially in these games," said Alexander-Arnold, speaking ahead of Wednesday's Champions League clash with Red Star Belgrade.
"You want to put yourself against the best players in the world and test yourself. It's something I've always wanted to do, play against those sort of players.
"Obviously, we got beaten by Real Madrid, but we took good things away from that and used it as motivation for this season."
Having started Liverpool's first seven Premier League games this season, plus their opening two Champions League matches, Alexander-Arnold has been an unused substitute for the last two.
And he said: "The aim is to be a regular and someone he (Liverpool boss Jurgen Klopp) chooses first on the team sheet.
"If it's not happening then there's obviously room for improvement. It will take time and a lot of hard work so it's just a case of being patient and putting in that hard work.
"These moments, everyone gets them in their career. It's part and parcel of the game and it's something you have to be ready for.
"No matter how good you are, it probably will happen, so it's something you have to be ready for.
"Obviously I'm not enjoying it, but it's a challenge to get back into the team. It's just about patience and taking your opportunity when it comes."