Jurgen Klopp spoke to reporters at Anfield on Tuesday, to preview Liverpool's third Champions League group stage clash at home to Red Star Belgrade.
The Reds take on the Serbian outfit on Wednesday night as they look to regain control of Group C in Europe's top-tier tournament.
After an impressive victory over Paris Saint-Germain, Klopp's side slipped to a 1-0 defeat away to Napoli, ensuring they head into their midweek tie second in the table.
A double-header against an inexperienced Red Star could be seen as a straightforward run for Liverpool, but Klopp was eager to stress this isn't the case.
"I know that they are able to defend and able to create as well," he explained.
"Different possibilities to lineup, different strikers—tall, quick—good footballers, good headers, full-backs are really leggy, on their bikes and quick, very offensive-orientated.
"They have a clear structure, so that's what they can do offensively, and defensively, Serbian teams are always well organised.
"They know to defend, they are not bothered to be a bit more aggressive, so we need to be ready for a really hard fight, we need to fight for each little square-metre of space with all we have.
"For that we need our crowd, that's very important. Atmosphere can make the difference and that's what we have to make sure again.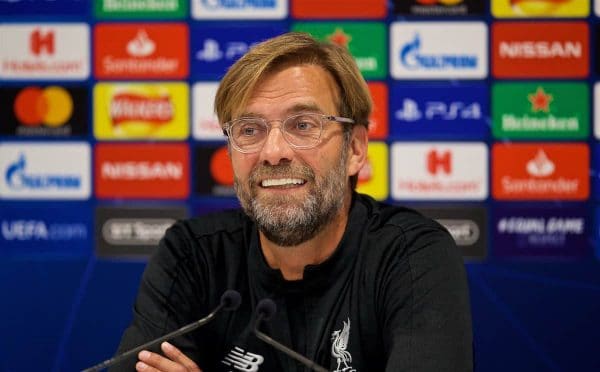 Klopp was joined by Trent Alexander-Arnold in the press room at Anfield, and provided an update on the fitness of the Englishman's team-mates, with Naby Keita and Jordan Henderson ruled out.
The manager also discussed the Reds' improved defensive quality, saying "it should not be easy to score against us," and the absence of away supporters.
Liverpool scraped a difficult 1-0 win at home to Huddersfield Town last time out, with Klopp bringing Adam Lallana, Xherdan Shaqiri and Daniel Sturridge into the fold.
It remains to be seen whether he makes more changes against Red Star on Wednesday, but either way he will be hoping for a better display in Europe.