As Liverpool head to Paris Saint-Germain for their crucial Champions League encounter, the midfield remains the key question mark for Jurgen Klopp.
The goalkeeper and defensive line picks itself for the Reds these days, barring the odd rotation.
Up front, it's as clear-cut as it has ever been, even with a slight drop-off from last season from the fabled trio of Mohamed Salah, Roberto Firmino and Sadio Mane.
But in between, Klopp has yet to find the exact right balance between attack and defence, cover and creativity, fluidity and fight.
It's a key area of the pitch in any match, but given the technical ability on show for the hosts, it's a big decision which the manager must get right.
Here we identify the arguments for and against each player in contention, as well as whether Klopp should switch his system for the match in Paris.
System choices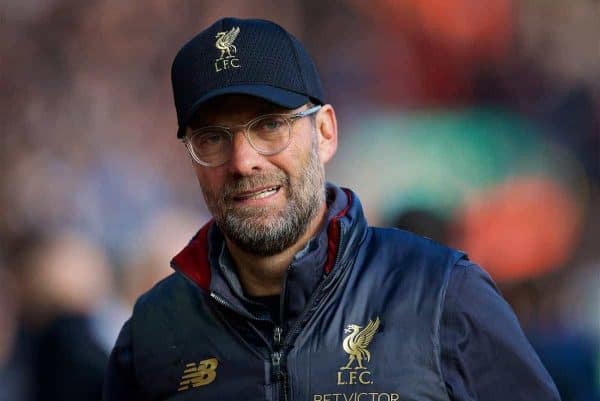 Stick with 4-2-3-1: More and more often, Klopp is favouring his old Dortmund formation—and the players brought in seem more suited to it, too.
It allows for flexibility off the ball—a 4-4-1-1 is how the boss prefers to refer to it, given the wider men's defensive responsibilities—and an extra offensive-minded player to be named in the starting XI, but can also give two banks of four to help hold fort.
On the downside, the Reds can be outnumbered in the centre of the park at times, and we've yet to see a single double-pivot pairing get a regular run of games.
Revert to 4-3-3: A system that players and fans alike are familiar with after last season, which lends itself to the increased possibility of playing on the counter-attack.
That, as well as the extra midfield body, might make it a valuable go-to option in the more difficult fixtures, as seen against Man City and Arsenal domestically.
At PSG, however, it might ask more of the wide forwards defensively than Klopp feels is ideal.
Fabinho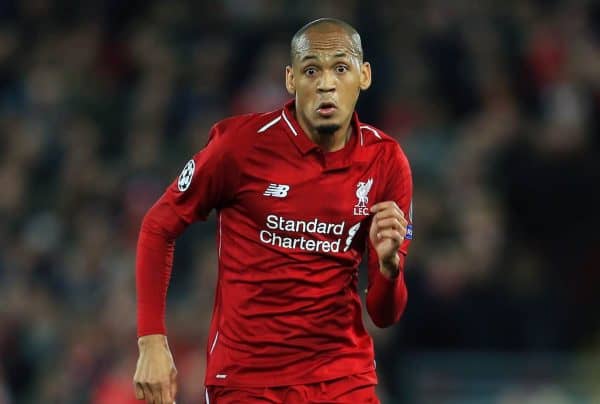 For: Experienced in playing PSG specifically, he'll know exactly what he's up against if the Brazilian starts.
A recent run of games in the team prior to the international break showed that he is getting up to speed and his defence-first approach has been vital at times, even to the extent that his knowledge of the dark arts of the game has helped.
His confidence should be high after a good recent impact with the Reds and another call-up to the national team.
Not starting at the weekend should mean he's fresh, too.
Against: Ball retention will be all-important against PSG, as will starting on the front foot, composed and concentrated.
Fabinho has, it must be said, suffered a slow start to matches on more than one occasion—gifting possession and being caught slow, before growing into games later on.
The Reds cannot afford to fall behind and chasing this game from early on.
Gini Wijnaldum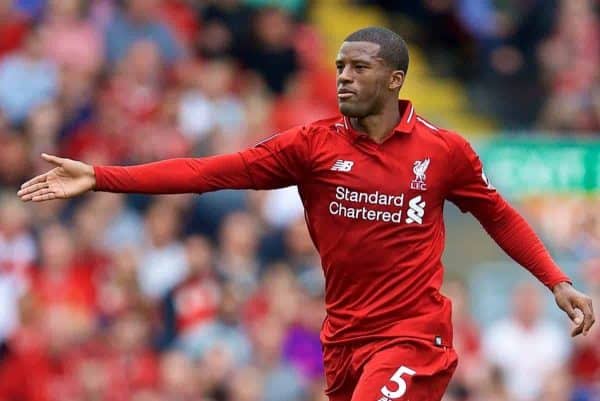 For: The most consistent and in-form midfielder in the squad this season, without question.
He can play as the deepest in a three, but has also shown on the international stage recently the value of letting him loose further upfield, which may become an attractive proposition for Klopp, at least at some stage of the game.
A great engine which can match Julian Draxler or Angel Di Maria, and pretty much the only potential goal threat Liverpool have from deep right now.
Against: Not too many, other than his potential to go missing in games, especially on the road.
In Europe, though, Wijnaldum tends to be a conduit of play and a steady performer, rather than a player at either end of the match rating scale.
Might be somewhat fatigued after being a non-stop starter for the Reds and Netherlands, but surely not something which will affect him for this particular game.
Jordan Henderson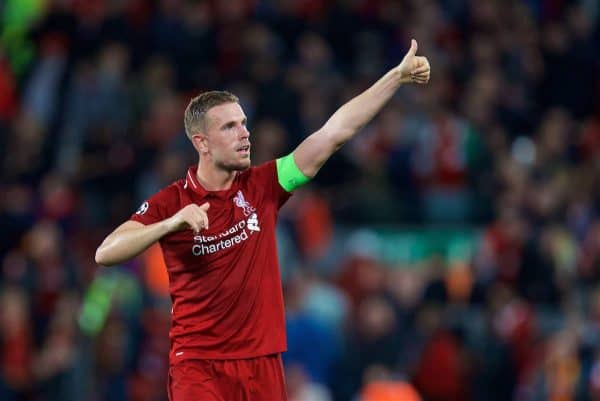 For: He's suspended at the weekend, so getting a full-throttle performance shouldn't be an issue.
As captain, he'll shoulder responsibility with plenty of communication and willingness to demand the ball, too.
Depending on the system, Henderson might just be freed a little more to showcase his athleticism and ability to run the channels if he's selected as a No. 8, with Fabinho behind.
Against: Demanding the ball is all well and good, but Henderson's use of the ball can be underwhelming and, again depending on the midfield pairing, creativity has been an issue.
His head clearly went at the weekend after a frustrating afternoon—following on from a frustrating few weeks—and Liverpool simply cannot afford that sort of mentality at PSG.
An unlikely source of attacking inspiration and, this season, only the third-best holding midfielder we've seen.
Naby Keita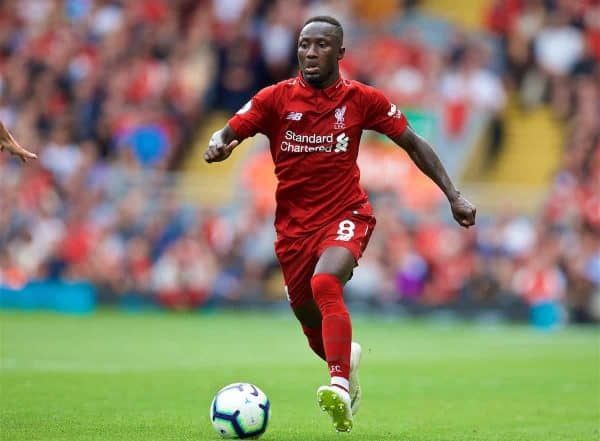 For: To beat PSG, Liverpool need quality performances from their very best players. In terms of potential, Keita is up there with the best in the squad.
His ability to surge forward could really tear into the home team's 3-4-3 set-up and winning the ball quickly could make him invaluable in defensive phases.
Add in a return to fitness after injury and Keita should be full of energy, determination to impress and a willingness to make up for lost time.
Against: That same recent absence means he won't be at his sharpest, and we may have to take a few misplaced passes as par for the course.
Additionally, while his potential to dominate a game is limitless, we haven't seen it regularly enough to suggest Keita can simply switch it on for this one match.
Klopp didn't use him off the bench at Watford and left him unused, bar the last irrelevant seconds, prior to the international break too.
Still in his own period of adjustment to the team, tactically as much as mentally, and so might not be considered a must-start for a must-not-lose game.
James Milner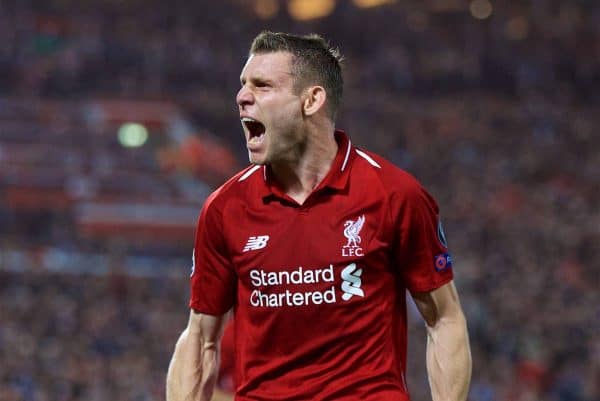 For: A regular go-to guy for Klopp in the big matches, particularly in Europe. The only game he hasn't started in the Champions League was the routine home win over Red Star, which says much about how the manager views his services.
After an international break and only a cameo role in the last two league games, Milner should be firing on all cylinders again after looking jaded over the past month.
He's a workhorse, not shy about letting opponents know they're in a game with a big tackle and is ice-cold in possession or from the spot.
Add in tactical versatility and he's a big consideration.
Against: Milner has often looked at his best when afforded a run of games, which makes it tricky to balance against peak fitness, given his advanced (for this squad, anyway!) age.
He's also not someone who would immediately be pinpointed as a player who could be a regular service-provider to the attack, and Liverpool must go to Paris with victory in mind.
Might be a player Klopp sees as playing a vital role off the bench, as much as from the start.
Alternatives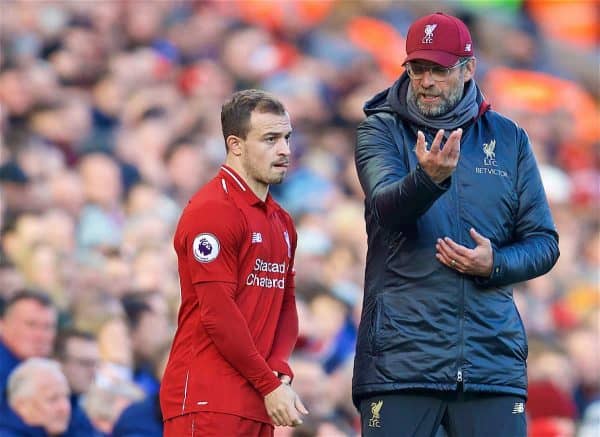 Shaqiri: Likely to start only if Klopp opts for 4-2-3-1, but it would be the biggest test of his defensive work rate and resolve so far.
Lallana: Missed the weekend win over Watford due to injury, a "minor thing" according to Klopp.
Would be a huge surprise if he were named in the XI though and even the match-day squad itself would be an achievement after recent displays and given the other options available.
Extra defender: Doubling up on Neymar might be more of an in-game tactic than something Klopp starts with, but there's every chance that Dejan Lovren starts in the centre and Joe Gomez plays right-back.
That could, in turn, leave Trent Alexander-Arnold to play a wide midfield role at some stage, utilising his athleticism, crossing ability and defensive mindset to good effect from higher up.
Prediction
Klopp to go with a 4-3-3 formation, using Fabinho as the defensive shield and the regular duo of James Milner and Gini Wijnaldum ahead of him as the No. 8s.
Plenty of work ethic and tactical solidity, but also the channel-running from the latter to support the first-choice front three, who could be asked to create chances for themselves for the most part.