Liverpool forward Mohamed Salah says he has no intention of stopping at 50 goals for the Reds, while his national team boss suggests his player could depart.
There has been a strained relationship between the Reds' forward and parts of his nation at times, with the Egyptian FA, in particular, a cause of frustration for Salah more than once.
Now his manager at that level, Javier Aguirre, has weighed in on the No. 11's future—saying he should exit Anfield if the silverware doesn't come soon.
"It may be better for him to leave within a season or two if Liverpool doesn't win any titles," the Egypt boss said, as verified by ESPN.
Thankfully for Liverpool fans, that doesn't appear to be on Salah's mind whatsoever: in fact, he's concentrating on the next milestone.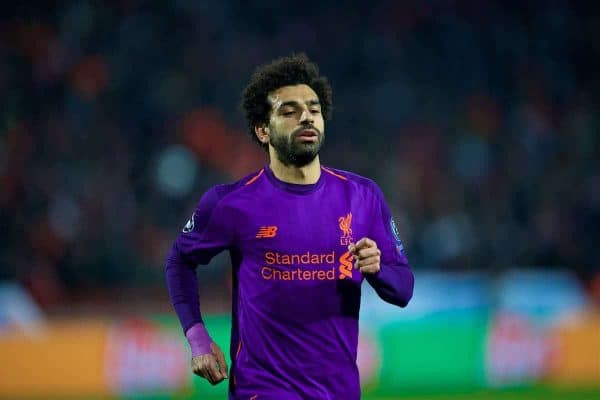 The forward hit his 50th goal for the Reds in a record number of games, just 65, but he is only looking to continue improving, he told BBC Sport.
"I'm glad about that [record]. I'm always very happy and proud to break records, especially records at a club like Liverpool.
"Being the fastest player to score 50 goals for the club is something great. But I need to carry on and score more goals—I'm looking forward to 100!"
Having hit eight goals already this season, Salah is hoping it leads to successes from a team-wide perspective this time around.
https://www.youtube.com/watch?v=tFkB_ynlgkk
And it's clear that while last year will stick in the memories for all the right reasons, there's cause for optimism of going one step further.
"What I have achieved with Liverpool is something great, when I look back.

"When I came here at the beginning, I had a dream and things in my mind I wanted to achieve. We were very close to one of them but we lost in the final. But I think we are on the way and I am happy about what we are doing.

"To motivate myself, the team comes first – we need to win titles and we need to achieve something together. That's something that always motivates me.

"Last season we were very close but in the end we didn't win anything.

"That's something that motivates me much more than individual awards. I want to win something for the club because I love the club. I want to win something here."
With the Reds firmly in the title hunt and with a chance of progressing once again in the Champions League, "win something" is very much on the cards for Salah and his team-mates this term.
And then Aguirre's thoughts, misplaced that they might be, won't matter anyway.