One of the most versatile performers in the Liverpool squad, Gini Wijnaldum has always wanted to be a central midfielder and is now thriving in the role.
The Dutch international joined the Reds from Newcastle United, where he had mainly featured as an attacking midfielder or wide man for Rafa Benitez.
Jurgen Klopp immediately installed him in the team as a No. 8 in Liverpool's three-man midfield system, but since then he has featured all over the park for the Reds.
It's a theme which has been prevalent throughout Wijnaldum's career, playing full-back on both sides, winger, striker and even centre-back on his journey from youth prospect to key international starter.
Speaking to Liverpoolfc.com, Wijnaldum has spoken about managers trying to shoe-horn him into the team in different areas of the pitch and his own ongoing battle to convince them he was best as a central midfielder.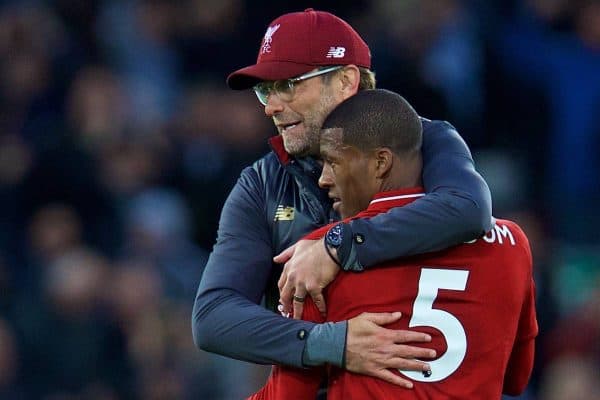 On moving to Anfield, Wijnaldum has revealed how Klopp assured him he'd have a role in the middle—and how that position has developed since then.
"When I spoke to the manager here he said to me that we don't really play with a No.10, that we play with two No.8s and that I would be one of the eights.

"But I think the manager got to know me way better during the first season. You train every day, you see each other every day.

"In the No.6 position we had Jordan Henderson and Emre Can and Kevin Stewart, so we had a few players there.

"But in my second season he said: 'I think you can play No.6 also and we might use you there in some games, so be prepared.'

"So during training I was playing there sometimes and during the pre-season games in Hong Kong I played there, but in actual games I only played there twice, against Manchester City and Everton I think.

"This season I've played there quite a lot and it's gone quite well. I enjoy it."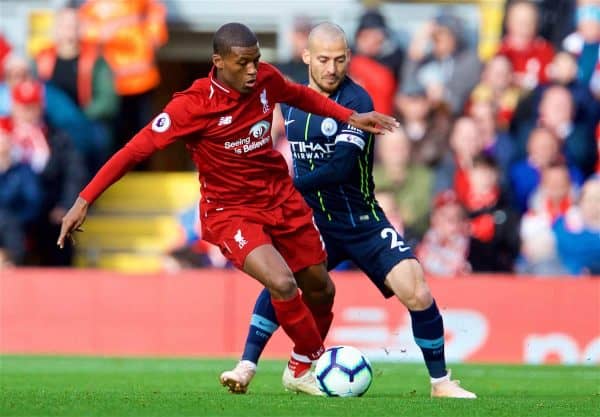 Indeed, some supporters felt in the early weeks of the season that Wijnaldum was the best performer in the team and that his displays as a No. 6 were the best he had offered in a red shirt.
Tactically, the Dutchman is vital to Klopp as he allows a change of shape so often, without resorting to a substitute.
He has helped flatten out the midfield four by drifting wide, can push on as an extra attacker and can play centrally in a two or three—but there was another memorable occasion he was called upon in a deeper role.
Last season, with an injury crisis hampering selections in defence, Wijnaldum played at centre-back at Brighton.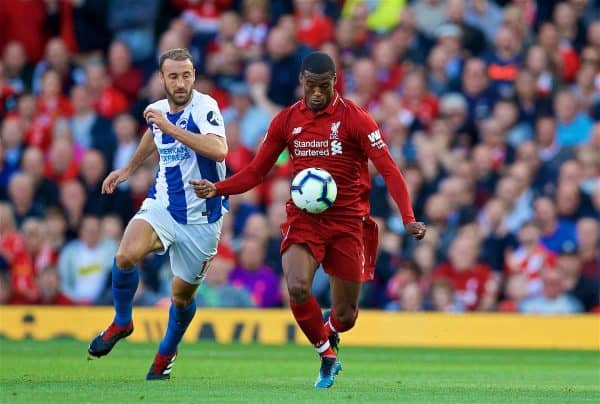 He recalls the episode with fondness—but no desire to repeat it regularly!
"That was interesting, but it was really difficult! I had played as a central defender before but more with two.

"In youth football we played with a three but one was further forward, in front of their striker, so basically as an extra midfielder. So I played there but not really as a central, central defender.

"But this time I was like a central, central defender so it was difficult!

"Emre was there too so there was two of us, but I struggled a little bit and when I looked over the other side I saw Emre doing it so good!

"Emre did it quite well there, and I was struggling—especially in the first half, because I'd never played with three, always with four. It was interesting—and quite funny."
In recent weeks, Wijnaldum has thrived as part of a double-pivot alongside Fabinho, with the duo making an early claim to be first-choice partnership in midfield as Klopp shifts more often to a 4-2-3-1 system.