Jurgen Klopp says he has no concerns over Liverpool's midfield amid recent criticism of a lack of creativity when fielding a 4-3-3 formation.
The trio that took to the field in Wednesday night's 2-1 loss at PSG — Jordan Henderson, James Milner and Gini Wijnaldum — received considerable scrutiny after the game.
Henderson (one) and Milner (three) were the only Reds players to register a key pass at the Parc des Princes, a lack of dynamism in the middle of the park was deemed key to their defeat.
And with summer signings Fabinho, Naby Keita and Xherdan Shaqiri starting the game on the bench, there are clear solutions.
However, speaking at his Merseyside derby press conference on Friday afternoon, Klopp refuted a question over whether he was worried about his midfield.
"We've conceded five goals and you talk about how our midfield is 'overrun'?" he responded.
"Sorry, I didn't see that. We could have scored more goals, but I don't see any problems in midfield to be honest."
Klopp's brief, spiky response did, however, suggest that he is aware of issues, and it will be interesting to see how he reacts with his lineup against Everton.
Indeed, the big-money signings of Fabinho and Keita, the pursuit of Nabil Fekir and the switch to a 4-2-3-1 suggest Wednesday's midfield isn't his first-choice setup.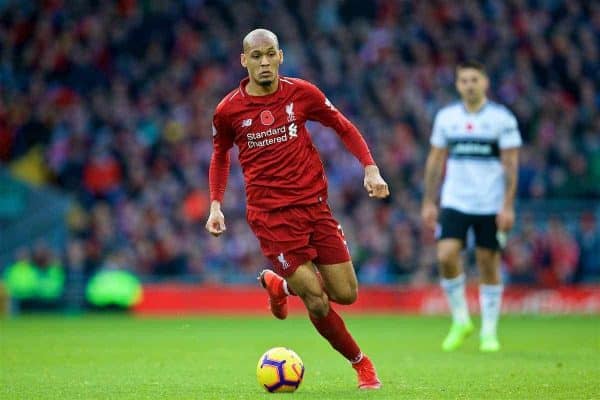 The manager will be forced into at least one change at Anfield, with Henderson suspended after his yellow card in the 3-0 win at Watford last time out in the Premier League.
It is likely that Fabinho will step in, while Keita could be considered as a starting option too—as will Shaqiri, if Klopp opts to revert to a 4-2-3-1.
Asked whether he was confident they were 'ready' for the intensity of the Merseyside derby, and particularly with the captain absent, Klopp again took umbrage with the line of questioning.
"Absolutely. The players had the whole week together. Most of the time they talk to each other, they all know about it," he said.
"He is not available, so what should I do? Ask the FA or…?
"Yes [I'm confident]. I thought when we choose a team I think they are ready. Are they ready? We will see, they have to prove it.
"Don't ask questions when the answer is always on a plate. If you ask the question: yes, I think they are ready, but they have to prove it on Sunday."
On the subject of Henderson's absence, he dismissed any notion that will was a 'problem', stressing—as he did after the win at Vicarage Road—that they had time to find a solution.
"I don't like to talk too much about players we don't have available, we know after Watford," he explained.
"We would not miss him because he's not in. We have to play without Hendo, that's all it is.
"As a person in the dressing room, he can do whatever he's doing in other games. That's it."