Jurgen Klopp has acknowledged Everton's improvement under Marco Silva ahead of the Merseyside derby, with Liverpool not expecting a "passive" game.
Klopp is yet to suffer defeat to the Reds' city rivals since arriving in 2015, with four wins and two draws in six games, but has lost one and drawn one in two meetings with Silva.
The Portuguese, whose last job was with Watford, oversaw another summer of heavy spending at Goodison Park, and Everton currently sit sixth in the Premier League.
And after more comfortable clashes with the Blues in recent years, Klopp is expecting the toughest derby yet.
When asked if this Everton side would pose the biggest threat to Liverpool of those he has faced, he agreed—highlighting the players Silva has available.
"It would not be too nice for all the other managers [to say he is the best]. He has the best squad as well," he explained.
"He brought in players he wanted. Richarlison, what a player he is. Last year already Walcott came in, Bernard came in this year, Gomes came in this year, Mina came in this year.
"Since I'm in, Everton was always really busy, but it's now it's the best-tuned squad, 100 percent.
"One or two years ago, Rooney came back, Sigurdsson came in and they said 'they cannot play together', because of a lack of speed.
"Now everything is there: creativity, speed, good organisation; Coleman back and fit; Keane settled and fit; Mina, brilliant player, very important for the buildup; Digne, like the young Baines.
"A really good team, and of course England's No. 1 in goal. That's a proper squad, and in all leagues in Europe I'm 100 percent sure it would be a European team, for whichever competition.
"In England it's quite difficult, but the development and improvement is obvious."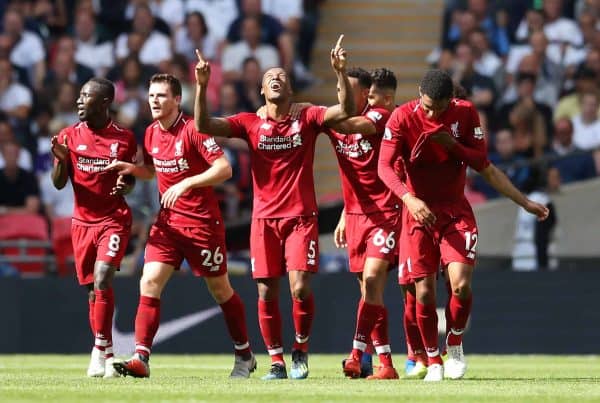 Klopp's last line, on the difficulty in Everton pursuing a European place, is pertinent ahead of Sunday, with Liverpool sitting second, unbeaten and 11 points above them.
Even after a setback in the 2-1 defeat to Paris Saint-Germain in midweek, the manager is confident his players will be prepared—saying "everything is there that we need."
"The moment you sign a contract for Liverpool you know you understand, 100 percent, the responsibility for these games," he explained.
"That's how it is. Nobody has to tell you, nobody needs to tell you about these derbies.
"That's what we want to use, and of course the crowd as well, Anfield as well.
"It's 4.15pm, so it's a good time, nearly dark, perfect—everything is there that we need. Let's go out and fight for each yard, that's the plan.
"In the past it was clear Everton would be passive, but here it will be a proper fight."
For all the clear improvement at Everton, Liverpool should still have the advantage—particularly in a home game, and an evening kickoff—and a different approach from the visitors is welcome.
After struggling to pick locks in Sam Allardyce's deep-sitting defence last season, a high-intensity derby could play into the Reds' hands.