In the buildup to Liverpool's trip to Paris Saint-Germain there were suggestions Jurgen Klopp could soon find himself under pressure—a ridiculous statement.
If I want to see to people writing rubbish about Liverpool I normally log on to Twitter to see what the trying-too-hard-to-be-our-main-rivals Man City fans are saying, so this week it made a refreshing change to hear John Toshack talking tosh about the Redmen instead.
According to the former Swansea City, Sporting Lisbon, Real Sociedad, Real Madrid, Real Sociedad (again), Wales, Deportivo La Coruna, Besiktas, Real Madrid (again), Saint-Etienne, Real Sociedad (again), Catania, Real Murcia, Wales (again), Macedonia, Khazar Lankaran, Wydad Casablanca and Tractor Sazi manager, Jurgen Klopp might be looking for a new job in the summer. And he isn't even blaming a hard Brexit.
"If Liverpool don't win a trophy this year then they've got a decision to make," said the Welshman, who has never managed an English club during a 40-year managerial career but has won an Azerbaijan Supercup.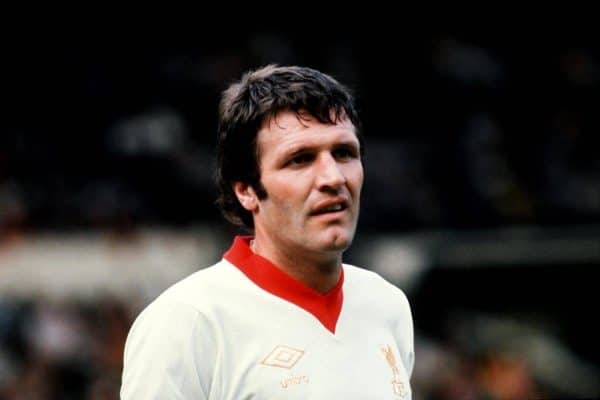 "This is Klopp's third full season at Liverpool and this is the acid test for him. You can be unlucky not to win a trophy, but at the top clubs that's what matters."
He's right. Winning trophies is the name of the game when you're in charge at Anfield.
But was it really worth trying to flog a few copies of his new book to generate clickbait headlines reading 'Klopp Could Face Sack', 'Liverpool May Part With Klopp' and 'Jurgen Klopp Given Ultimatum' ahead of a vital Champions League game in Paris?
Sacking Klopp in May if trillionaires City win the Premier League and someone else wins the Champions League—which nobody other than Real Madrid and Barcelona has won in the last half-decade—would be completely ridiculous.
In fact it'd be madder than Neymar staying on his feet after contact with another human being to pay up the remaining three years on Klopp's £15 million-a-season contract to bin him because he hasn't won a trophy.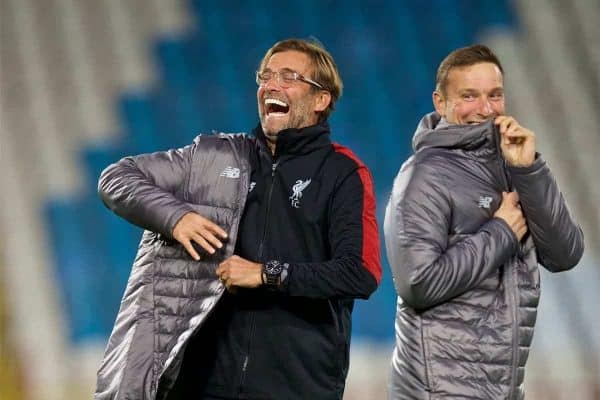 Could you spend £45 million any worse? Apart from the Mancs signing Fred, obviously.
I've got nothing against Toshack. I'd much rather be writing about his 96 Liverpool goals (including two in Merseyside derbies), but seriously? Did they not have English football on the telly when he was managing in Iran earlier this year?
Liverpool are unbeaten in the Premier League with a best-ever tally of 33 points after 13 games. They need a 1-0 win to reach the last 16 of the Champions League for only the second time since 2009 (despite losing three games).
And it is absolutely no coincidence that several key players—Virgil van Dijk, Mo Salah, Bobby Firmino and Sadio Mane—signed contracts that tie them to LFC until 2023, a year after Klopp's expires.
They don't just want to play for Liverpool, they want to play for Jurgen Klopp's Liverpool, hence it made sense to agree to stay until 2023 but weigh up what to do in the summer of 2022 if, for whatever reason, there has been a managerial change.
Indeed, there's another current player who told me himself he came here to play for the manager.

So while Klopp has shrewdly been saying Liverpool are now a destination club—not a stepping stone—in an attempt to both attract new signings and stop any of his current stars from 'doing a Coutinho' (and anyone thinking we're not missing his creativity at the moment is kidding themselves), for my money he's the biggest factor in why that perception has changed.
I'm exactly the same as you. I want to see Liverpool win the Premier League. The Champions League. The FA Cup. The League Cup. And even those crap pre-season cups.
But you cannot simply say 'Liverpool must win something or sack the manager' while ignoring what we're up against.
Nine of the last 10 European trophies have been won by Spanish clubs. The other was won in 2017 by Jose Mourinho's Man United, who also won the FA Cup that season.
By Toshack's logic the Old Trafford board haven't got a decision to make about Mourinho because of that silverware, yet I've got a feeling many of their followers—the ones that haven't switched to City yet—would disagree.
It also has to be acknowledged that Pep Guardiola's team were statistically English football's greatest-ever champions last season so for anyone to suggest Liverpool must finish above them in 2018/19 is as preposterous as it would've been to say Alex Ferguson's Mancs must finish above Kenny Dalglish's Liverpool in 1988/89 (after being runners-up in 1987/88) because that was his third season in charge and he hadn't yet won a pot to piss whiskey in.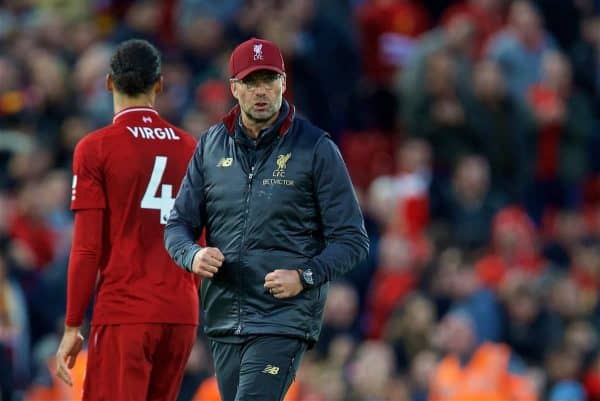 Seriously challenge? Absolutely. But must win? Not in the real world.
Look what keeping the faith with Fergie led to for the Mancs and, whatever happens this season, the same must happen with Liverpool and Klopp.
Unless he loses at home to Everton on Sunday. Now that would be a sackable offence and I'm pretty sure John Toshack would be available to step in…
---
Chris McLoughlin writes for This Is Anfield each Friday; he's also senior writer for the Official LFC Matchday Programme and LFC Magazine. You can buy the Liverpool vs. Everton programme here.