Liverpool picked up a priceless 3-0 win at Watford on Saturday, but what were the positives and negatives that stood out at Vicarage Road?
The Reds again struggled to find their top level in terms of performance, but they scrapped their way to an invaluable three points against a good Watford side.
Jurgen Klopp admitted post-match that the performance wasn't convincing, but noted that he had only one session to prepare his side after the international break.
Mohamed Salah squeezed an effort past Ben Foster to open the scoring, Trent Alexander-Arnold added a second with a perfect free-kick and Roberto Firmino rounded off the scoring.
The victory means Liverpool stay second in the Premier League behind leaders Man City, keeping their unbeaten run going in the process.
After the match, This Is Anfield trio Henry Jackson, Joel Rabinowitz (@joel_archie) (@HenryJackson87) and Jack Lusby (@jacklusby_) gave their thoughts on the key issues from the match.
The good…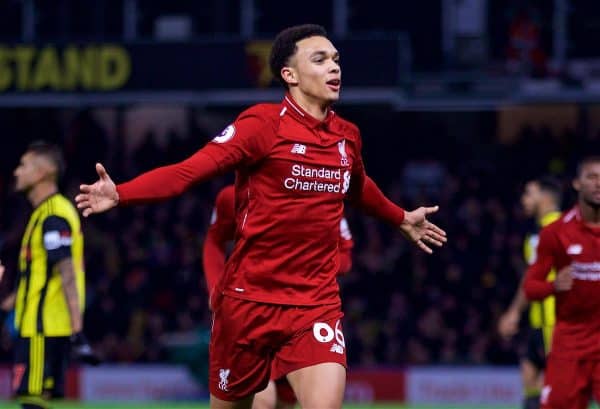 HENRY: The way in which Liverpool seemed to find an extra gear in the second half was encouraging.
Past Reds sides would have gone out in a whimper, drawing 0-0 or possibly even conceding late, but they are made of really stern stuff these days.
I though Van Dijk was outstanding at the back, but Lovren should also earn a fair bit of praise, having impressed in the absence of Gomez.
Trent's free-kick was a peach, and will hopefully be a massive boost for him after some poor performances, and Xherdan Shaqiri constantly looked like making something happen.
It was also good to see Salah, Mane and Firmino all heavily involved in the goals, as they continue to search for their best form.
Three more points, the best-ever defensive start to a season after 13 games, still only two points adrift of City and more gears to find. Happy days!
JOEL: As Henry says, Liverpool really stepped it up in the second half with a really mature display.
Van Dijk was utterly imperious at the back throughout and despite a few nervy moments, the defence largely coped well to earn yet another clean sheet, which provides such a strong platform to keep on picking up wins like these.
It was great to see all of the front-three involved in the link-up for Salah's opener, and for Trent hopefully that magnificent free-kick can kick-start a run of form after a slow-burning start to the season for him.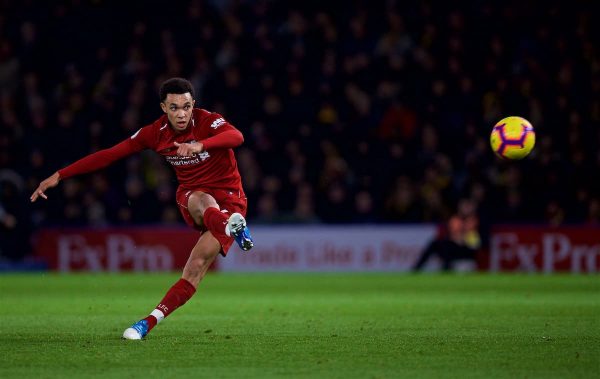 The way Liverpool managed the game after going 1-0 and then 2-0 up was hugely pleasing – they never looked like giving Watford any hope, even after Henderson was sent off.
Even though the game was already wrapped up, for Firmino to get on the scoresheet late on and end his drought was really important and should hopefully see him kick on from here and get back closer to the level he's capable of on a consistent basis.
JACK: The end result; although Watford's form was perhaps exaggerated in the buildup—they'd won three of their last 10, losing five—they clearly put up a fight.
After a really slow start that saw neither Salah or Firmino thrive the front three found their feet as the game went on, making up for an anonymous midfield.
Mane did really well on and off the ball, Shaqiri was the main creative outlet and Firmino's second half was excellent—he was everywhere, in a good sense.
Van Dijk was solid, as ever, at the back, although I thought he struggled when Andre Gray was brought on, while Trent's free-kick was sublime.
Credit should go to the travelling fans, too, who made themselves heard throughout despite a fierce atmosphere developing among the home support as big decisions went against Watford.
The bad…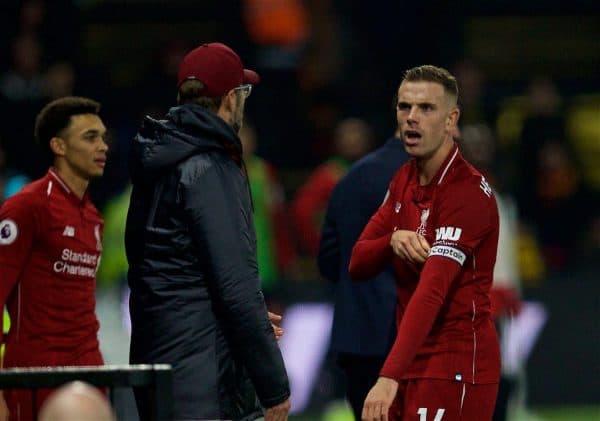 HENRY: I thought Henderson had a really poor day at the office, culminating in his sending off.
From minute one he didn't seem up to speed with the game and both he and Gini Wijnaldum were awful for the first hour, in particular.
I often feel those that claim Henderson "only ever passes backwards" are being lazy in their assessment of him, but that was the case on Saturday.
Too often, he chose the easy option and he was a big reason why Liverpool were so toothless until Salah opened the scoring.
His red card was born out of frustration, arguably at both his own performance and the referee's, but it's not what you expect of a Reds captain.
Liverpool's all-round showing was again not the best, too, which should not be ignored just because they ended up winning 3-0.
There was a lethargy about their play for a fair chunk of the match and it took 39 minutes to register a shot on target.
The level of performance does need to improve if the Reds are to win the Premier League – they will come unstuck eventually if it doesn't.
JOEL: The midfield didn't quite have the right balance as both Henderson and Wijnaldum were very risk-averse in their use of the ball.
It was all a little too slow, sideways and predictable without any real link between midfield and attack, especially in the first half.

Wijnaldum did step up a gear as the game went on, however, but for Henderson it was an afternoon to forget.
He was walking a tightrope after mouthing off to the officials despite already being on a booking, and made a completely needless challenge on the half-way line with the team already 2-0 up to get himself sent-off.
Thankfully, the team were able to see the game out comfortably thereafter, but it means Liverpool are now without their captain for the Merseyside derby next weekend.
JACK: Following on from Henry and Joel, I thought Henderson was awful.
While he has certainly performed well at stages this season, these poor games are too frequent for the captain of a side fighting for the Premier League title.
Too often he was simply stood too close to another team-mate, needlessly asking for the ball, and his work in possession had little purpose.
The red card capped it all off, stupidly losing his focus in the midfield battle when already on a yellow—the last two fouls that led to the second caution came with Fabinho already stripped and ready to come on.
On another note, the Vicarage Road PA calling the Watford players "the Golden Boys" all afternoon made me cringe.
…and do you like the 4-2-3-1 formation?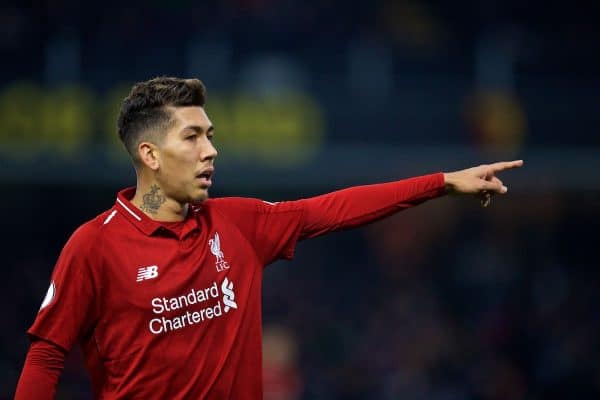 HENRY: I prefer the 4-3-3 formation because it brings more balance and goal threat to the attack.
Klopp has essentially taken his two best players from last season – Salah and Firmino – and changed their roles, and neither are playing as well because of it.
Salah seems easier to keep quiet in a more central area, despite scoring more regularly at the moment, while Firmino's impact on games is not as great deeper.
I would like to see Shaqiri play as a No. 10, with Salah on the right and Firmino leading the line, as was the case last season.
The 4-2-3-1 is certainly bringing results, though, which should not be ignored, and it may be that it becomes the right formation once the players are fully up to speed with playing in it.
Let's not forget how much success it has brought Klopp in the past.
JOEL: In recent weeks we've seen Klopp reverting to his favourite formation of old, the classic 4-2-3-1 which he used with great success at Dortmund and stuck with during his early days at Liverpool.
The advantage of this system is it allows Klopp to field four attackers in order to break down stubborn, defensive opposition, with Shaqiri supplementing the usual front-three from an inside right position.
Against Fulham, for instance, it worked well as Shaqiri was heavily involved in all of Liverpool's best attacking play and the midfield double pivot of Fabinho and Wijnaldum controlled the game with ease.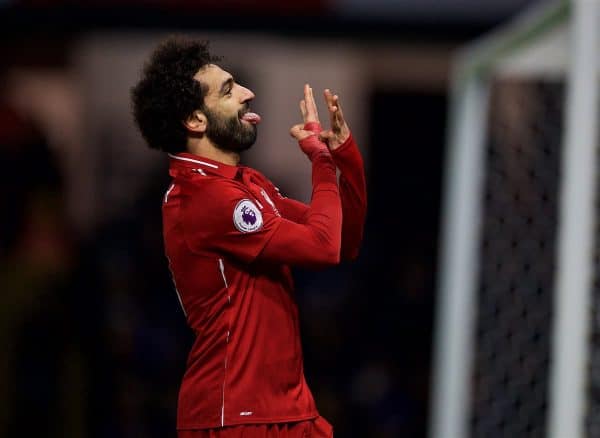 However, the knock-on effect of this system is that with Salah playing centrally up front, Firmino is operating in a much deeper role which seems to significantly limit his influence in games, whereas he was the attacking linchpin of the side playing as the spearhead of the attack last season.
It's a trade-off Klopp is prepared to make at the moment, and while Firmino did score and help set up another goal against Watford, I'm not sure this system is getting the best out of either him or Salah.
It might well be a period of adaptation as he adjusts to his new role – and against lower quality opponents I think four attackers is definitely the way to go – but in upcoming games against the likes of PSG, Everton and Man United, I would still like to see Klopp revert to that 4-3-3 shape of last season.
It would see Firmino play centrally, Salah come in off the right and perhaps Keita playing that advanced midfield role, linking with the attack in a similar manner to Ox last season.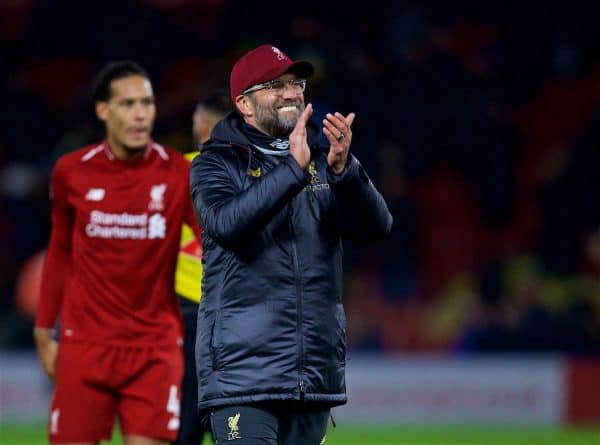 JACK: Fittingly, I think this game showed the good and the bad of Klopp's 4-2-3-1.
Throughout the first half I was sat shaking my head as Firmino dropped deeper than Henderson and Salah found himself in a mismatch with Adrian Mariappa, of all people, with his back to goal.
This led to the best chances coming from Shaqiri's diagonal balls (Mane's improvised overhead kick, for example), but launching passes into the box played into Watford's hands.
But then a clear shift in approach in the second half saw Firmino vacate the centre circle and instead focus on driving runs into the final third, returning to his creative, relentless best.
As a result, Mane and Salah were both in better positions to trouble the Watford defence, and it's no surprise all three goals came in the second half.
The key seems to be Firmino's role, and it helps no one if he's playing closer to Van Dijk than Salah.