Xherdan Shaqiri is eagerly anticipating a huge upcoming week for Liverpool and it showcases why he has quickly become a vital member of the squad.
The likeable No. 23 has had a big impact since joining from Stoke City in the summer, playing alternately as starter and impact sub for Jurgen Klopp's team.
His most recent outing saw him play from the right wing in the win at Watford, with Shaqiri a big beneficiary of Klopp's switch to 4-2-3-1.
He knows it's not a given he'll be in the side every week—but says it's more important that everyone in the squad is prepared for when they are called upon.
Moreover, Shaqiri's enthusiasm for the challenges which lie ahead almost mirror those of supporters and show what he has brought to the squad: a determination to enjoy the progress of the team, a willingness to give his all and the appreciation that he's part of something special.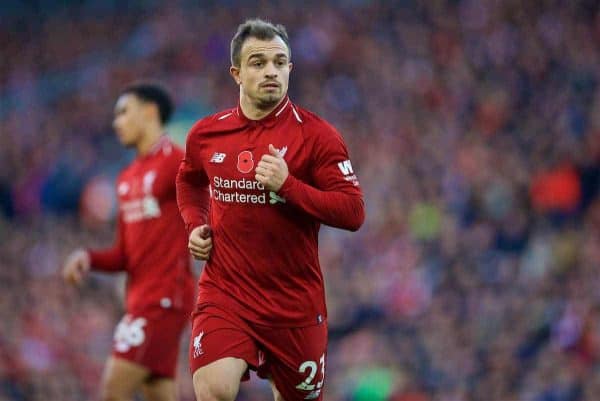 "We don't know how the coach is going to make the starting XI but everybody has to be ready," Shaqiri said.
"It's going to be a difficult game in Paris and a good game to show how good we are. We go there to try to win, for sure.
"Then it's my first derby, so it's going to be very special. I want to see and to feel the atmospheres in these derbies. I'm looking forward to it."
It's this down-to-earth nature which has quickly endeared Shaqiri to the Anfield crowd, along with his capacity to bring flashes of explosive ability to the attack.
The versatile wide man was also asked for his views on the Premier League title race, and while he's speaking of domestic action, his answer could also be applied to Europe this season and Liverpool's challenge this week in Paris.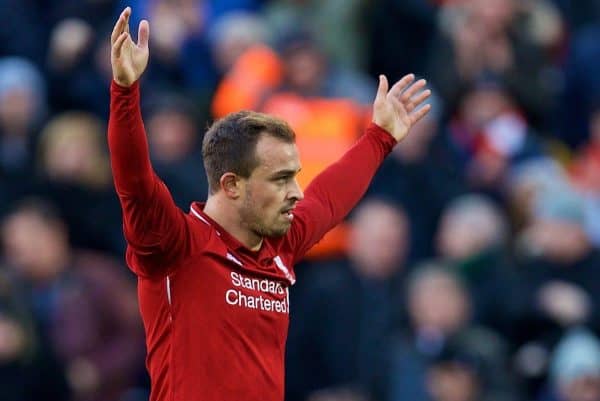 "We're going to be there until the end.

"We don't have to look to Man City, we just have to look to ourselves and try to give good performances on the pitch and win games.

"We have to look game to game. When you win games like this, [it proves] we're going to fight to the end for a lot of things. I think we just have to keep going, keep working hard and win games."
The Reds have to focus on getting the results themselves, not be concerned over whether Napoli will beat Red Star, or indeed if PSG will afterwards.
Progression to the last 16 remains in the Reds' own hands, and focusing on producing a good performance—overdue in the Champions League after two defeats in three—will go some way to qualification.
Keep working hard, keep winning games, and another epic adventure on the Continent could well be in store this season.