Liverpool will play Bayern Munich in the Champions League last 16 and supporters have been giving their thoughts on an exciting draw.
The Reds learned their fate in Nyon on Monday, with Jurgen Klopp's former rivals Bayern standing between his team and a place in the quarter-finals.
They will play the first leg at Anfield on February 19, with the second leg at the Allianz Arena on March 13.
Spirits are high at Anfield at the moment, particularly after Sunday's 3-1 win over Man United, and Liverpool will feel they can beat anyone on current form.
Bayern have great pedigree in the European Cup, however, winning it five times, including victory over Klopp's Borussia Dortmund team in the 2013 final at Wembley.
Meanwhile, United will face Paris Saint-Germain, Man City have been pitted against Schalke and Tottenham have a tough battle with Dortmund on their hands.
Here's how fans reacted to the draw on social media and our forums.
The general mood was bullish, to say the least…
https://twitter.com/jacklusby_/status/1074627084323041280
What a tie. Two European giants going head to head. Can't wait. Bring on Bayern Munich, Anfield will be rocking

— Jeff Goulding (@ShanklysBoys1) December 17, 2018
Bayern have good players, but they're not as good a unit under Kovac. Confident

— John O'Sullivan (@NotoriousJOS) December 17, 2018
https://twitter.com/Ste_Halliwell11/status/1074625742456176640
"Bring them on, we fear nobody!"

– sms1986 on the forums.
"Second best scenario after Porto I think."

– This is Anfield writer Joel Rabinowitz.
Bayern Munich it is. Pretty happy with that, should be a great tie.

— Joanna Durkan (@JoannaDurkan_) December 17, 2018
https://twitter.com/LFCStanleyHouse/status/1074625460145926144
Boateng & Hummels will struggle 1vs1 vs Mane & Salah. The biggest decider will be how we play in midfield both with and without the ball. The fitness/availablity of Robben & Ribery could be key. Both aging but both hugely influential.

— Red (@TaintlessRed) December 17, 2018
"Bayern with their aging squad and their slow defenders? They will hate that draw."

– Livvy on the forums.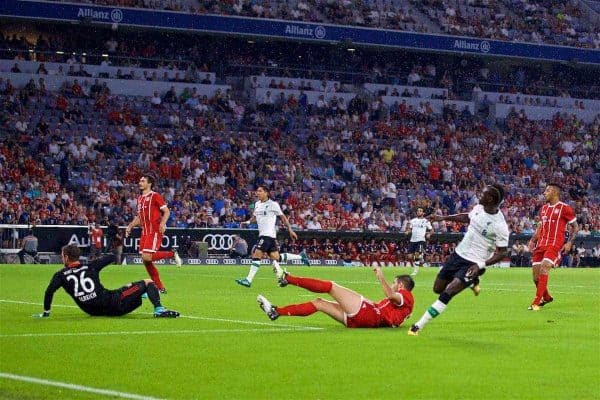 Liverpool – Bayern. That looks a horrible draw…for Bayern. Two months to it, still. Plenty can happen in between but struggle to see Liverpool not going through at present.

— Archie Rhind-Tutt (@archiert1) December 17, 2018
Bayern next eh? The bigger they are… The harder they fall.

They got a club nobody wanted in the draw!

Bring it!

If you get a chance to go to the Allianz don't pass it by, pretty damn awesome in pre-season last year!

— GaGs (@GagsTandon) December 17, 2018
https://twitter.com/simoncollings82/status/1074626023701078017
"Bayern are struggling at the moment.We should be able to beat them easily."

– Menghis Chivas on Facebook.
Klopp's former Dortmund player Mats Hummels, now at Bayern, was straight on Twitter after the draw…
I ? u my former coach ?

— Mats Hummels (@matshummels) December 17, 2018
Some were desperate to get Real Madrid, though…
Wanted Real Madrid. But it's cool. We'll take Bayern. #LFC

— Ravi (@ravi_hiranand) December 17, 2018
Gutted we didn't get Real Madrid. #LFC #UCLDraw

— Sule Szoboszlai (@Mr_Benzene) December 17, 2018
"I was hoping for revenge against Real Madrid."

– Brian Ngoni BaKeisha Kandamby on Facebook.
Liverpool vs Bayern Munich, would have preferred Real Madrid but on our day we can defeat anyone, and Bayern's form hasn't been that consistent. Bring it on ? #UCLdraw #LFC

— Lewis Barton (@lewisbarton_) December 17, 2018
https://twitter.com/KnowingLfc/status/1074625495877279745
Away from Liverpool, fans couldn't help but have a laugh at United's expense…
Manchester United out then….

— The Redmen TV (@TheRedmenTV) December 17, 2018
https://twitter.com/FootballFunnnys/status/1074624516641439744
"You have to worry for United's defence……"

– Show me the Mane on the forums.
Mourinho after hearing man United will face PSG #UCLDraw pic.twitter.com/cxb36CfIsE

— Kevo Kiptindinyo (@Kiptindinyo_) December 17, 2018
Man United's defence vs PSG

Champions league round of 16

Date: 12/13 Feb or 19/20 Feb
Time: 20:00pm
Channel: Comedy Central

— Mike (@mikec60) December 17, 2018