Liverpool Football Club says farewell to one of its all-time greats with the passing of former wing wizard, Peter Thompson at the age of 76.
Thompson, born in Carlisle in 1942, rose to prominence as a highly sought after winger plying his trade at Preston North End. In 1962 his team were pitted against Liverpool in the FA Cup and the pacey youngster caught the eye of Bill Shankly, after he had knocked the Reds out of the cup with the only goal of a tie that went to two replays.
The Liverpool manager quickly snapped up the 20-year-old, paying £37,000 for his services. However, the deal very nearly fell through at the last minute. Talking to LFChistory.net some years ago, he told the hilarious tale of how he arrive at Anfield and was immediately greeted by thousands of Reds.
Such was the buzz surrounding his capture supporters had turned out in their droves to catch a glimpse of their new hero. Thompson asked 'what are they all here for?' Shanks' simply replied "You." The player was then whisked away on a tour of Melwood and finally found himself in the chairman's office, where a pen was placed in his hand.
This was a momentous moment in his football career. He was about to sign for a team that would go on to conquer all of Europe and become a household name all over the globe. It was the opportunity of a lifetime. But, perhaps flushed with the hype surrounding his arrival on Merseyside, he almost threw it all away by asking for a signing-on fee.
Shankly grimaced and you can imagine his face turning puce. "You what? I am giving you the chance to play in the greatest city in the greatest team that is going to be in the world and you want illegal money. Get out!"
Fortunately for both men and for Liverpool Thompson thought quickly and grabbed the pen from the great Scot's hand, immediately signing the contract. He would go on to play 416 times for the club, scoring 54 goals and winning two league titles, in 1964 and 1966, and Liverpool's first ever FA Cup in 1965.
He would also be a runner-up in the 1966 European Cup Winners Cup final in 1966 and was on the bench for the 1971 FA Cup final defeat to Arsenal. Peter also tasted disappointment at international level, having been cut from the initial 28 man England squad for the 1966 World Cup.
His reputation for beating his man on the wing and then going back a number of times to beat him again, would delight and frustrate in equal measure. and Some complained that Thompson didn't score enough goals for a player of his ability. His manager, though, knew exactly what he brought to the team, saying:
"He could run forever, but more importantly in football he could run with the ball – probably the hardest thing to do. He could run every minute of every game, every week, every year better than anybody else."
Injury eventually ended his time at Liverpool with the boss forthright in letting him know that his time at Anfield was up. Shankly famously had no time for players who were injured. Thompson was granted a testimonial though and Shankly was happy to eulogise about his former winger in the match programme.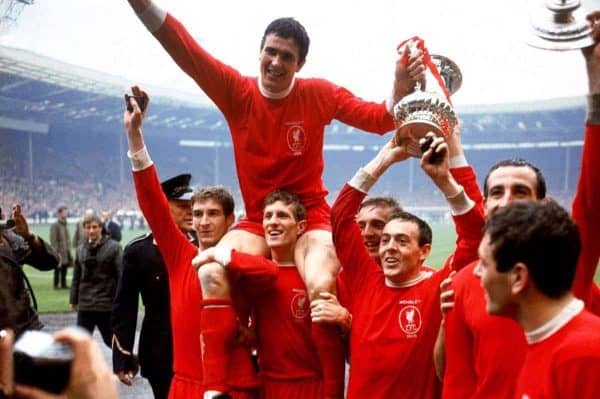 "His work rate was outstanding, his fitness unequaled, his balance like a ballet dancer. I have no hesitation in placing Peter up among the all-time greats – alongside such players as Tom Finney, Stanley Matthews and George Best. They say he didn't score enough goals, they said his final pass wasn't telling enough. Well, if he had scored goals as well as everything else he did, he would have been in the same category as Jesus Christ!"
Peter Thompson belongs to a pantheon of great Liverpool players who worked tirelessly to build the empire we adore today and who made the people happy. May he rest in peace. Our thoughts are with his family and friends. YNWA.