Divock Origi's winner against Everton was a moment to savour, but where does it rank among Liverpool's greatest late Premier League strikes?
The Reds failed to hit top gear in a pulsating Merseyside derby on Sunday, but one unforgettable moment proved priceless.
Origi's header in the dying seconds, after Jordan Pickford could only fumble the ball onto the crossbar, led to incredible scenes inside Anfield.
It was the 31st time Liverpool have scored a stoppage-time goal in the Premier League era – more than any other team.
Having scrolled back through the annals of the last 26 years, here's what we think are the top 10 from those dramatic winners.
10. Dirk Kuyt vs. Everton (2007/08) – 90+1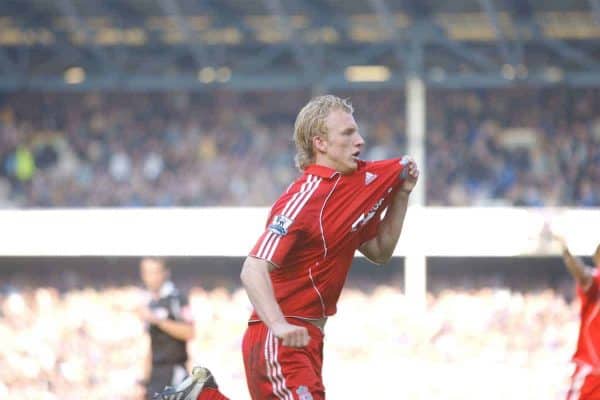 Has there ever been a better big game player than Dirk Kuyt? Even Steven Gerrard finds it hard to compete in that area.
Our first of four Everton entries on this list sees us rewind 11 years to a breathless end to the derby at Goodison Park.
With the scores level and the Blues down to nine men, Kuyt squeezed a penalty through the gloves of Tim Howard, clinching three of the most glorious points imaginable.
It was made even sweeter by the fact that Kuyt shouldn't even have been on the pitch, following a dreadful tackle on Phil Neville.
9. Vladimir Smicer vs. Chelsea (2001/02) – 90+2

This is one of the great forgotten goals in Liverpool's history.
Gerard Houllier's Reds were bang in the title race back in March 2002, but a home draw with Chelsea looked like it would damage their hopes badly.
An Emile Heskey cross was met by a sublime volley by Vladimir Smicer in the dying moments, however, sending Anfield delirious.
It took Liverpool to the top of the table, and while Arsenal ended up being too strong that year, it felt huge at the time.
8. Dirk Kuyt vs. Man City (2008/09) – 90+2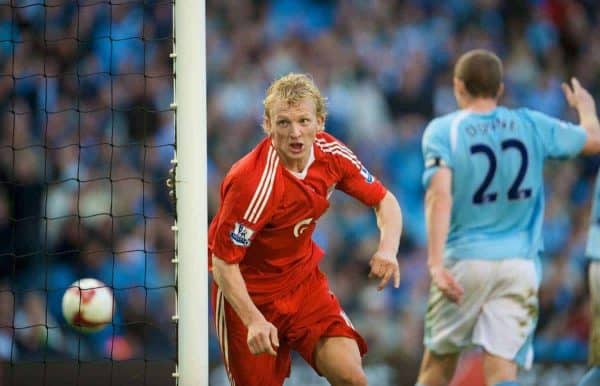 Kuyt was again in typically heroic form during the 2008/09 season – a campaign that so nearly brought title glory.
Having trailed 2-0 away to Man City at half-time, a Fernando Torres-inspired comeback saw the Reds level the scores in the second-half.
With time almost up, Kuyt arrived in the right place at the right time, firing home before celebrating with the away fans.
It summed up the team spirit that existed in that 08/09 team.
7. Adam Lallana vs. Norwich (2015/16) – 90+5

This was the first time we officially saw the wild side of Jurgen Klopp, in what was a crazy game at Carrow Road.
Liverpool led 1-0, trailed 3-1 and then found themselves 4-3 ahead, only for Sebastien Bassong to rifle a late strike past Simon Mignolet.
With time almost up, Adam Lallana hit a shot into the ground and into the net, sealing a stunning 5-4 victory.
The celebrations that took place were even better, with Klopp losing his glasses in the melee and showing precisely why he is the perfect man for the Reds.
He just 'gets' it.
6. Sadio Mane vs. Everton (2016/17) – 90+4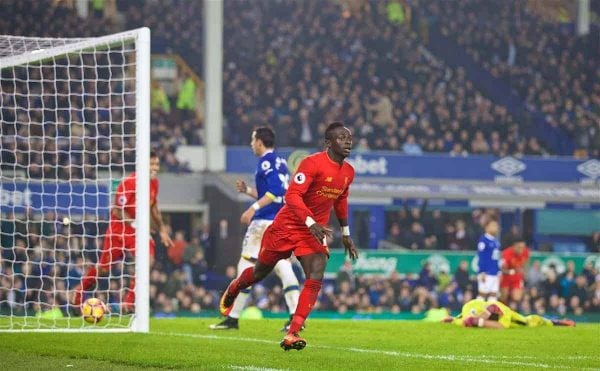 Last-gasp winners against Everton are starting to feel like the norm these days.
Sadio Mane's back in 2016 was the perfect early Christmas present for Reds supporters, on one of those frustrating days at the office.
The Blues were about to revel in holding their rivals to a draw – sound familiar? – only for Mane to score the most beautifully ugly goal.
Daniel Sturridge's shot came back off the post and the Senegalese was on-hand to tap home, as Liverpool took home the spoils yet again.
Red pyro filled Goodison.
5. Steven Gerrard vs. Fulham (2013/14) – 90+1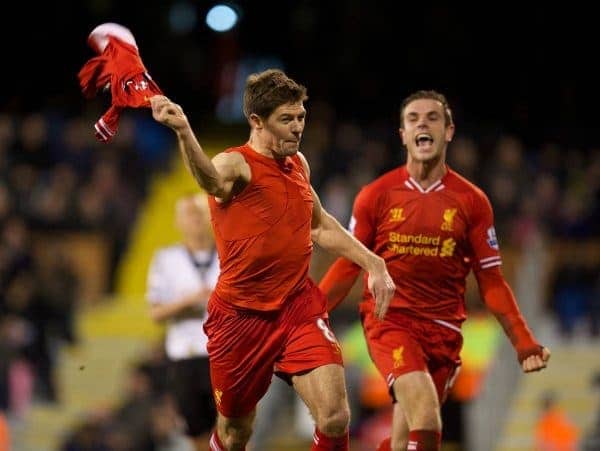 If there was a night that officially signalled the start of Liverpool's 2013/14 title charge, it was February 12, 2014.
Before the game, Brendan Rodgers' side were still not considered genuine challengers, but their 3-2 win at Fulham, and the manner of it, changed everything.
Kolo Toure did his best to blow his team's chances, with the Ivorian scoring a disastrous own goal earlier in the contest, and it was 2-2 as stoppage time arrived.
Sturridge won a penalty with the final whistle imminent and Gerrard stepped up, buried the spot-kick and ran off swirling his shirt over his head.
Without that goal, the Reds would never have come so close to winning the league that year.
4. Yossi Benayoun vs. Fulham (2008/09) – 90+2

If Gerrard's Craven Cottage winner was special, Yossi Benayoun's five years earlier was even better.
Liverpool destroyed their opponents back in 2009, but the woodwork became Fulham's best friend all afternoon and two fatal points looked set to be dropped.
Despair turned to joy with 92 minutes on the clock, as the ball eventually fell to Benayoun and he did the rest from a tight angle.
Ryan Babel was lining up a reckless long-range shot about three seconds before the goal – we should forever be thankful that he thought otherwise and passed to Gerrard.
That ball would still be in the River Thames!
3. Stan Collymore vs. Newcastle (1995/96) – 90+2

"Barnes… Rush… Barnes… still John Barnes… COLLYMORE CLOSING INNNNNNNNN!"
Still widely seen as the greatest Premier League match of all time, Liverpool's 4-3 victory over Newcastle had the perfect finale.
Both teams were slugging it out for the title, along with eventual winners Man United, and the match ebbed and flowed in memorable fashion.
A 3-3 draw seemed like a done deal, only for veteran Reds legends John Barnes and Ian Rush to combine, before Stan Collymore pounced.
It remains one of the most famous Kop end goals of all time.
2. Gary McAllister vs. Everton (2000/01) – 90+3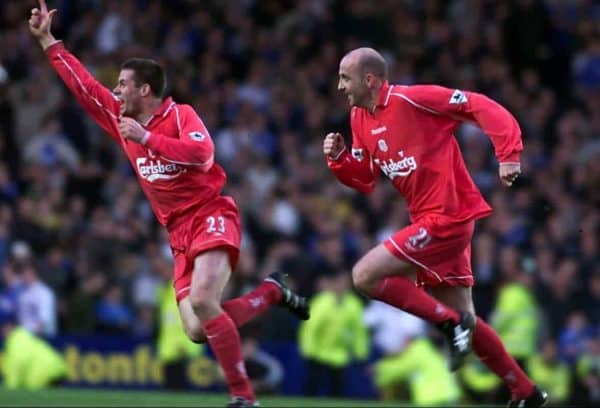 Did anyone really think Gary McAllister's winner at Goodison would ever be topped in terms of derby day drama?
One of Liverpool's most significant late goals ever, without it you just wonder how the Reds' 2000/01 season would have panned out.
McAllister took aim from an outrageous distance, when delivering his free-kick into the box made far more sense, only for the ball to nestle into the bottom corner.
Houllier grinned like a Cheshire cat, the away fans lost the pot and the home faithful did their best to exit Goodison as quickly as possible.
What followed next was Champions League qualification for the first time ever and a legendary cup treble.
1. Divock Origi vs. Everton (2018/19) – 90+6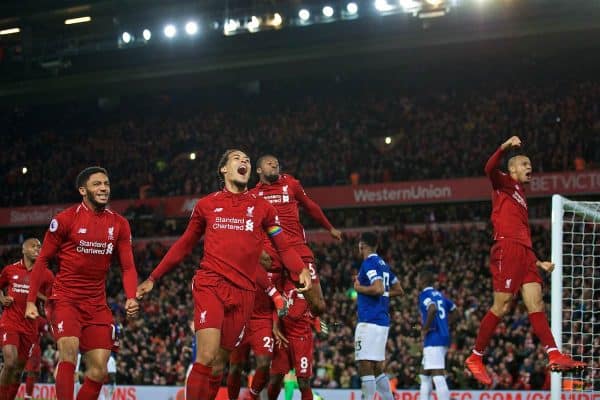 Maybe it is short-termism, maybe we're still a little too over-excited, but Origi's effort on Sunday goes straight to number one.
Liverpool were never at their best against one of the strongest Everton sides to come to Anfield in years and the visitors arguably deserved a point.
When Virgil van Dijk's disappointing shot looped up in the air all hope seemed lost, only for something quite remarkable to occur.
Pickford's little arms could only parry the ball onto the bar, allowing Origi to head in from a few yards out.
Anfield has rarely been louder at that moment, and as the Reds continue to search for that invaluable maiden Premier League title, it could be such a big moment come May.
---
Stay tuned to This Is Anfield tomorrow when we'll have a quiz on all 31 stoppage-time winners.