The media lauded Xherdan Shaqiri's impact in Liverpool's 3-1 win over Man United and felt the victory showed the gulf in class between the great rivals.
Another big occasion, another huge result delivered.
The Reds stormed past United and back to top spot of the Premier League table with a thoroughly deserved victory.
Xherdan Shaqiri made himself forever a Kop legend, coming off the bench to net a match-winning brace after the scores were level at half-time through Sadio Mane and Jesse Lingard goals.
Liverpool dominated the game from start to finish, and Jurgen Klopp will be over the moon with his side's efforts, not only in this win but throughout what was a huge week in the season.
Here's how the media assessed a wonderful afternoon at Anfield.
The watching journalists reflected on a big win for Liverpool…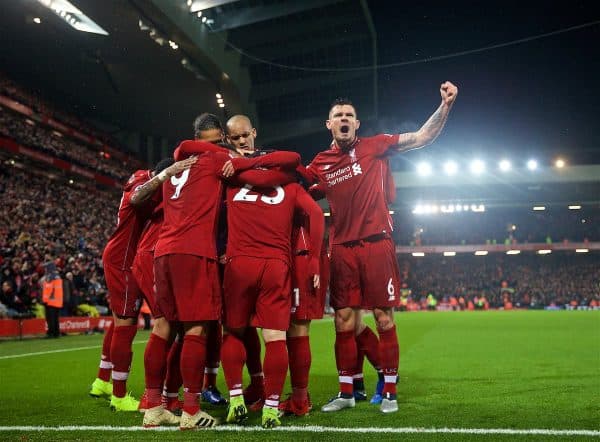 Our man Joel Rabinowitz assessed it was a victory that showed the progress that the Reds have made under Klopp:
It was a real marker point of how far Liverpool have come under his tenure, to exert their superiority over their rivals in such an emphatic and bullish manner.
For Football365, Steven Chicken focused on Liverpool's efficiency, explaining how the Reds showed once again that they now 'know' how to win:
This was not a vintage Liverpool performance, but their title push has not been built on the extravagant, blistering stuff of last year which produced big scores in both directions.

[…]

Liverpool are good, not in a way that makes them cool and exciting, but in a way that makes them find a way to win.
The Liverpool Echo's James Pearce noted how "momentum continues to grow" and praised Liverpool's work so far in navigating a demanding December:
A hectic December was always going to be pivotal for Liverpool and so far it's gone like a dream.

Five games, five wins, including a last-gasp derby victory over Everton a thrilling Champions League triumph against Napoli and now embarrassing United. Momentum continues to grow.
Rabinowitz also commented on how Liverpool's performances have gone up a gear in recent weeks, and assessed how the Reds are hitting top form at a crucial time:
The performances are now matching the results after a strangely prolonged period in which Liverpool appeared to be lacking in cohesiveness, which can only be good news heading into the most intense period of the season.
Reporters felt the match highlighted the gulf between the clubs in various ways…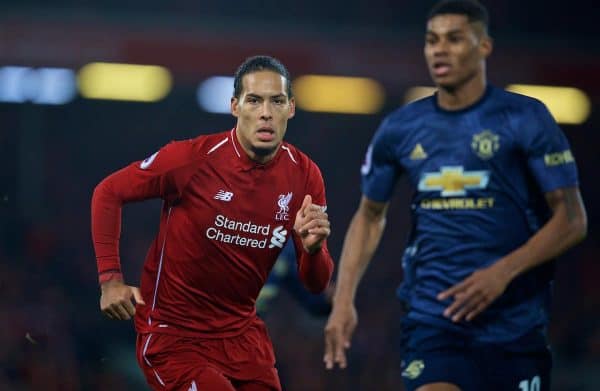 First of all, Goal.com's Neil Jones thought it was best highlighted by the gap in quality between the sides on the pitch:
The gulf between the sides, spoken about before the game, was patently evident on the field. These are teams heading in very different directions.
The Independent's Miguel Delaney labelled the gap in class between the sides "embarrassing":
The gulf between the teams in terms of quality was often embarrassing, and that's even allowing for the hard work Liverpool made of this match.
Pearce commented on the "cultural chasm" between the two teams and managers:
Attackers are defenders at United, with Marcus Rashford doing much of his most vital work yesterday helping out at left-back.

There is a cultural chasm between United and Liverpool now, a difference in philosophies, parked bus versus high-performance sportscar.
Jones was among several reporters who felt the game showed the contrasting success of both clubs in the transfer market, noting how Klopp's focus on philosophy over chasing big names has paid off:
United's policy of buying stars and chasing names simply hasn't worked, with Mourinho looking increasingly forlorn.

[…]

Klopp, by contrast, has been busy building a squad capable of meeting all challenges head-on.
Reporters lauded Shaqiri's impact from the bench and also praised the recent contributions of the whole squad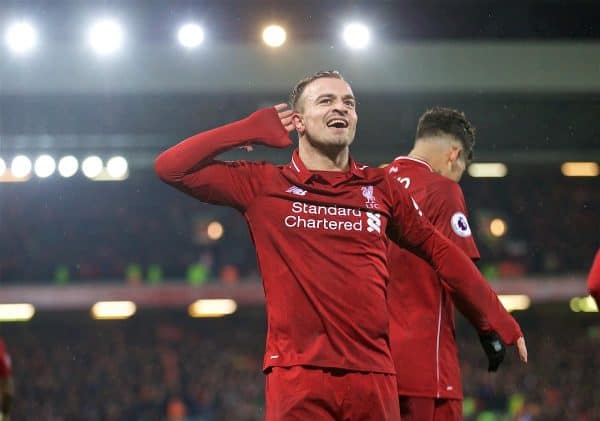 Jones labelled Shaqiri "one of the signings of the season" and is in no doubt that the Swiss has already repaid his transfer fee:
Xherdan Shaqiri's his name. Super sub, difference maker, Anfield hero. One of the signings of the season, surely.

[…]

Shaqiri was the least-heralded of Liverpool's summer arrivals, but the man signed from relegated Stoke City has already delivered a return on his investment.
The Liverpool Echo's Ian Doyle thought Shaqiri's match-winning cameo was Klopp's was reward for being so positive in pursuing victory rather than settling for a point:
Where Mourinho was betrayed by his negative hand, Klopp was rewarded for his positivity, for his insistence on attack, for an unshakable belief that every game is there to be won.
And on a similar note, Delaney felt Klopp earned the luck of Shaqiri's deflected winners through his desire to chase all three points:
This is the product and value of being proactive, and this was a lesson for the Portuguese and his team.

[…]

And sure, there was an element of luck about both of the key goals given they were both from those deflections, but that was no blind luck […] It came from Klopp proactively responding to what was happening, and his team looking to force the issue, and also from Mourinho's approach.
Pearce attributed the squad depth as key to Liverpool's recent run and lauded the way back-up members have "stepped up and delivered":
The depth of Klopp's squad has been crucial. Joe Gomez, Joel Matip, Trent Alexander-Arnold and James Milner have picked up injuries but others have stepped up and delivered.
And Doyle felt Shaqiri's impact typified the belief in the collective at Anfield, and explained how a competitive, in-form squad will be key to driving the Reds' pursuit of glory forward:
But Liverpool's title challenge won't rely solely on the 11 who start any particular game.

Their continued unbeaten run has been forged on a squad ready to step in at any time – witness Nathaniel Clyne's remarkable effort on his first Premier League start since May – and a character that viewed United's equaliser as a challenge rather than a devastating blow.
ESPN's Glenn Price believes the performance and result, most importantly, showed Liverpool do have the squad to compete for the duration of the title race:
This was another reminder that Liverpool have a squad capable of winning the Premier League.
Certain journalists discussed how Klopp outshone Mourinho in the tactical battle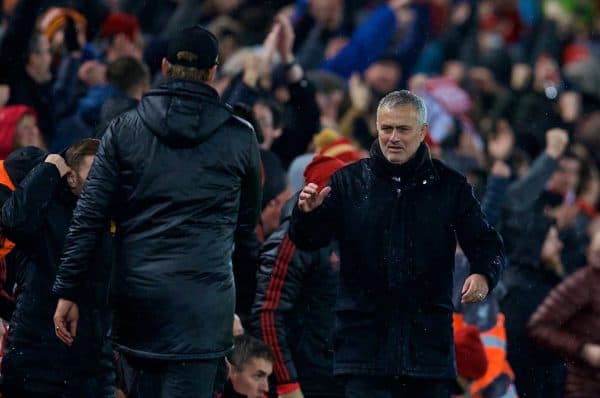 Price was among a number of reporters who felt United simply couldn't deal with Liverpool's flexible formation:
In possession Liverpool were in a 4-2-3-1, out of it they were an organised 4-4-1-1. United simply couldn't handle what Liverpool had to offer in the opening half hour.
Rabinowitz praised Klopp for again being bold with his changes in pursuit of winning the game:
Just as Klopp's decision to bring on Divock Origi proved decisive in the Merseyside Derby, this was yet another example of where the manager has been able to win the game from the bench late on by utilising his squad depth.
For The National, Richard Jolly assessed Klopp's decision to switch Mane to the left, allowing Shaqiri to find space on the right, as a particularly key move:
If the Swiss was a catalyst, so was Jurgen Klopp, who merits much of the credit for a seismic win. He switched Sadio Mane, the other scorer, to the left when Shaqiri came on.
Focusing on the contrasting performances, the Telegraph's Jason Burt thought the Reds simply played at a "different pace and intensity" to United:
In the end they were simply overwhelmed by far, far superior opposition.

[…]

Liverpool played at a different pace, a different intensity, a different level to United.
The Mirror's David McDonnell felt United simply failed to live with Liverpool's work-rate out of possession and quick inter-play with the ball:
United had no other option, as their hosts bamboozled them with their clever movement, quick interplay and superior work-rate, which exposed the glaring inadequacies of the visitors.
The media were impressed with a number of individual performances…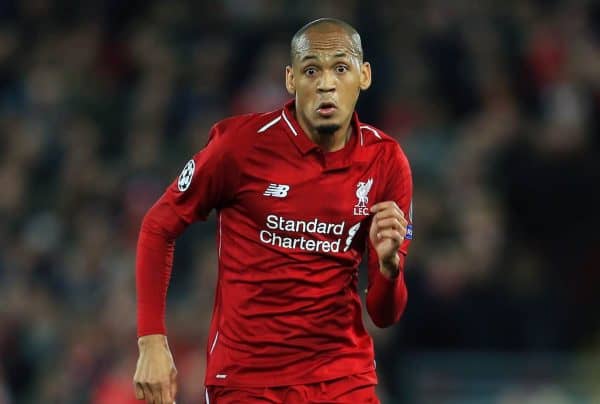 Price thought Fabinho was "vital" to the win and thinks the Brazilian is making a real claim to be considered a first choice starter:
Another summer recruit, Fabinho, was vital in this crucial win.

Delivered a perfect, defence-splitting through ball for Mane's opener. There was a lot more, too. […] Looking at his performance here, it will be hard to take a starting berth away from him.
The Guardian's Andy Hunter thought Roberto Firmino shone in support of Mohamed Salah with "his best display in a long time":
Aggressive, creative, tireless. Prospered behind Salah to give his best display in a long time – 8/10.
Our own Henry Jackson reserved praise for Nathaniel Clyne, assessing the right-back did "especially well" given his lack of football this season:
Clyne was handed his first Premier League start of the season after James Milner was ruled out with a muscle injury.

The 27-year-old was the Clyne we all remember: solid defensively but limited going forward, although he did his best in the final third. Considering his lack of game time, he did especially well.