Jurgen Klopp has provided an optimistic fitness update on Liverpool midfielder Alex Oxlade-Chamberlain after he returned to outside work at Melwood.
Oxlade-Chamberlain shared a picture of his first run on the training pitch on Christmas Eve, celebrating "that feeling when you're finally back out on the grass for the first time in eight months."
This was met with widespread positivity among supporters, with the 25-year-old becoming a favourite on the Kop in his first campaign on Merseyside.
He scored five goals and assisted a further eight in 42 games for Liverpool after his £35 million move from Arsenal, but has been sidelined since an unfortunate challenge on Roma's Aleksandar Kolarov in April left him with multiple ligament damage.
Expected to miss the majority of the campaign—with next pre-season his initial return date—Oxlade-Chamberlain is now on course for a possible comeback much sooner, according to Klopp.
"The best news was he really started going on the pitch and from the first step it looked completely normal," the manager excitedly told reporters on Friday.
"Not like when sometimes players come back and start running, not really limping but it's not the picture you have in your mind.
"From the first step it looked like Ox, and there was no reaction, which is nicer.
"No pressure on him but it looks like he may be back in normal training in February; late February, March.
"So that gives us hope that he will be back this season.
"That's the moment. We are usually not that excited about something like this—a lot of things can happen—but it looked so positive.
"And it's just nice to have him around with a smile on his face again, with good reason.
"He's obviously happy and we're very happy about the improvement."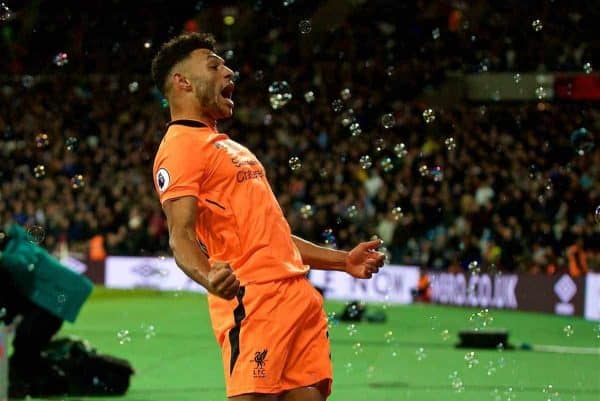 Asked to elaborated further on his comments, likely in an effort to avoid hyperbole, Klopp acknowledged the need to not sensationalise his update, but continued to take an optimistic approach.
"It's a surprise, and if anybody from the medical department listens to what I said they'll have a breakdown!" he joked.
"It looks really good. It needs time and each little muscle needs to adapt to the intensity.
"But what he did so far, if you look at the little sessions he does outside, it looks like he can play tomorrow.
"It's a long way to go, but it's a boost for the whole dressing room. He's such an important part of that.
"If he could be back in the team that would be really good.
"We don't know, but it's a surprise, he's ahead of schedule. We won't push it too much, but we won't hold him back.
"We don't have to talk about his progress over the next month, or couple of months.
"But if he makes further steps like he did in the last couple of weeks he can play Premier League football this season, which is nice to know."