Jordan Henderson has warned against dropping standards before the crucial Premier League game against Man United, saying their rivals will sense an opportunity to cause an upset.
The captain has had an up-and-down season so far as Jurgen Klopp has continually shuffled the pack in midfield.
Alternating between a two or a three in the centre of the park means Liverpool have started on several occasions with the No. 14 on the bench, though he has back in the team for the must-win game in midweek in the Champions League.
That particular test was passed, but the Reds have another huge clash to focus on against rivals Manchester United.
Henderson spoke to LiverpoolFC.com in the buildup about the Reds' changed approach this season—but says the Reds aren't any less exciting than last term.
Indeed, Henderson feels there are improvements in other areas which have contributed to the change, rather than any kind of drop-off in attack.

"We have defended very well – we've got a lot of clean sheets this season. To win trophies, you need to have that really, along with the attacking power and goals we've got.

"So far, it has been a good combination and we need to keep that going for the rest of the season if we want to do something really special. So far it has been good – hopefully it can get better, we can keep improving and keep winning games.

"We play the way that we play – I don't think it has changed too much.

"We have controlled [matches] and maybe become more mature as a team in certain instances in games, where we have controlled the game a lot better, with the ball and even without the ball.

"I can definitely see that the maturity has helped us win games and keep clean sheets.

"But our style of play is there for everybody to see. We're still an exciting team to watch, we want to be at a high intensity level. We want to score goals as well as defend well, that has never changed. The maturity in certain games has been much better this season."
While Henderson wears the armband when he's on the pitch, several others have had to do the honours this season at different points.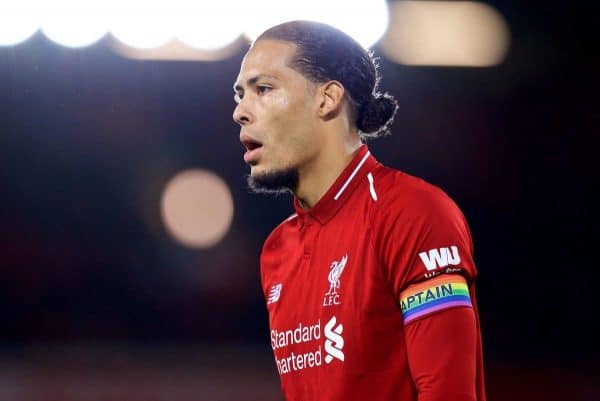 Virgil van Dijk and Gini Wijnaldum were voted third and fourth captains respectively by the squad members earlier this term, while James Milner is of course vice-skipper.
It's a big part of the reason for the Reds' unbeaten form, says Henderson, having so many players who can take charge and show the way to victory.
"There are a lot of leaders in the group and there is a lot of experience in big games as well. That helps, of course. The group has got so many good players in it, a huge squad.
"The lads that haven't been playing have been coming in and doing a really good job as well – everybody is fighting for their place and I think that can be really healthy if you use it in the right way."
On the Anfield clash on Sunday, Henderson is sure United will try to react and find another result against their rivals—but the skipper is adamant Liverpool must simply continue to do what they have all season.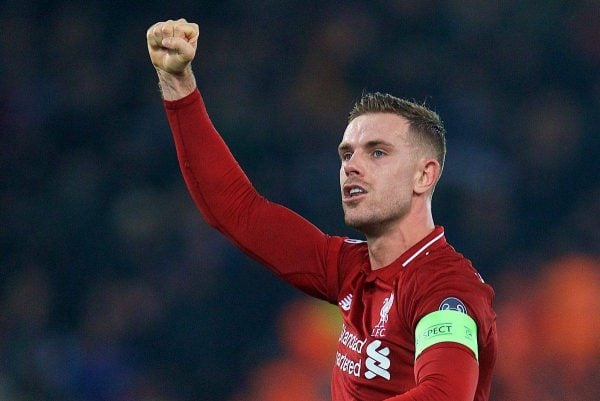 "United will think it's the perfect opportunity to come here and kick-start their season. We've got to make sure that doesn't happen.
"It'll be a tough game, like it always is against United – they're a good side with many good players. As a team, we've just got to focus on what's important: that's our performance level and to keep doing the things we've been doing."
Having started in midweek in the win over Napoli, Henderson will be hoping to retain his place for the latest big test.
His position may well be dependent on which formation Klopp opts to utilise from kick-off, with Gini Wijnaldum and Fabinho having been the double-pivot of preference of late.
Either way, a much-improved second-half showing against the Italian side must set the tone for Henderson's season going forward, as he bids to lead the team to the league title.