Liverpool's Boxing Day win over Newcastle gives the Reds a six-point lead at the top of the Premier League at the halfway stage—but Jurgen Klopp isn't getting over-excited just yet, with some crucial matches coming up.
It was already a very merry Christmas for Liverpool fans, as the Reds sat top after wins over Wolves and Man United recently.
The home victory over Newcastle, however, came at the same time as Man City contrived to lose their second match in succession, 2-1 at Leicester.
In between the two supposed title favourites now lie Tottenham, who recorded a fifth straight win to jump into second, a point ahead of City.
Jurgen Klopp isn't much interested in title talk at this stage, but there's no question that Liverpool are in their best-ever position in the Premier League era to harbour genuine ambitions of finally lifting the title.
The top end, the bottom line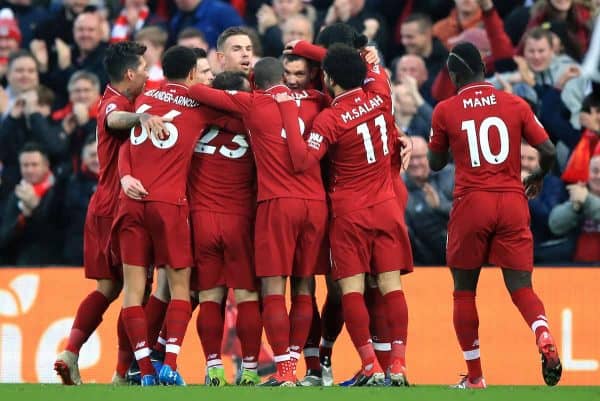 A six-point gap isn't so big to think the title is already wrapped up, but it does give the Reds a confidence-inducing buffer.
In fact, barring an improbable Reds collapse of successive defeats, coupled with Tottenham overhauling a 12-goal swing in goal difference, Klopp's side will remain top even after the match at the Etihad Stadium on January 3.
There was a time when Man City's goalscoring form meant they had a so-called 'extra point' with their superior goal difference; that has now been wiped out by the Reds' near-impregnable defence.
Both teams have +36, with Spurs lagging some way off on +24. The Reds haven't scored as many as City, but no club can touch how solid the Reds' back line has been.
Goals conceded in #PremierLeague 18/19:

7 – Liverpool
8 – – – –
9 – – – –
10 – – – –
11 – – – –
12 – – – –
13 – – – –
14 – – – –
15 – Man City
16 – Chelsea*
17 – – – –
18 – Spurs
19 – – – –
20 – – – –
21 – – – –
22 – Leicester, Wolves

???? Well that's quite the transformation

— Karl Matchett (@karlmatchett) December 26, 2018
Record-breaking Reds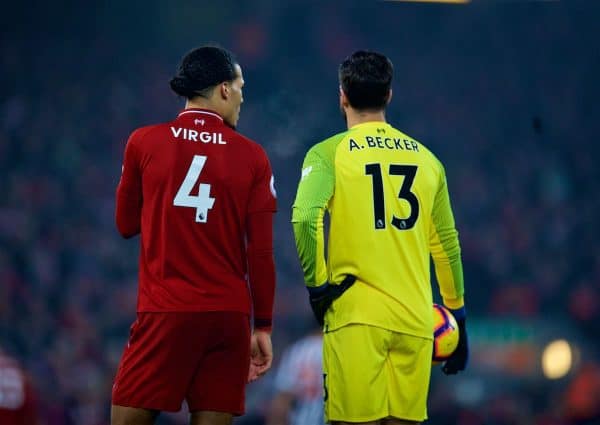 It's now eight wins in a row for Liverpool in league play, and the Reds have gone the entire first half of the season unbeaten.
Indeed, every other club has lost at least three times in the top flight, highlighting just how impressive and relentless Klopp's team have been.
The unbeaten run at Anfield in the Premier League now stretches to 30 matches; only five times in the club's entire history have the team previously achieved that, while the points tally had already been a record-setter before the Newcastle game.
Prior to this season in the Premier League era, the Reds had always needed at least 23 matches to reach 48 points. It's now 51 in just 19, and the joint-third longest unbeaten run from the start of a league campaign ever.
With confidence high, squad players contributing and certain players' form through the roof right now—subtle nods to Mohamed Salah, Alisson Becker, Andy Robertson—there's every reason to hope the results can continue.
Which would be handy, given the upcoming fixtures.
Forward thinking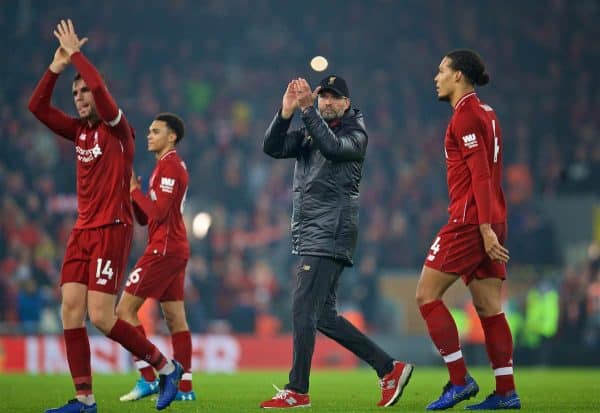 There are now two huge games coming up either side of the new year, and before the FA Cup third round.
Liverpool face Arsenal at home and Man City away, while City's next match is away to Southampton.
Spurs are home to Wolves and away to Cardiff, more than likely giving them a further six points in their own ever-more impressive campaign.
With Klopp opting to sub early rather than rotate his team from the start, it has to be hoped that there's more than enough in the tank—and with a reasonable amount of recovery days in between games—to produce two high-energy performances.
Arsenal gave the Reds a tough game at the Emirates earlier this season and are fifth place in the table, though have been inconsistent with results of late.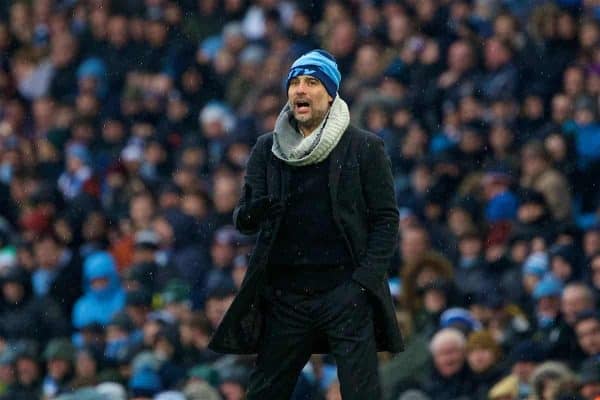 City, meanwhile, are playing an entirely different game now: catch-up rather than pace-setting, meaning they cannot afford and surely will not take the same approach as at Anfield—timid, respectful, happy to settle for a point.
They will look to take the game to Liverpool, exert their authority and come out with a win, meaning the Reds need all their own considerable confidence, work rate and creativity to combat and counter those threats in sky blue.
Rotations can occur in the FA Cup, but it's likely to be a full-strength side in the next two games.
A little more than a week from now, Liverpool's title challenge could be far closer in nature than on Boxing Day—or being presented with far greater credentials that the trophy could finally be coming back to Anfield.