The significance of Liverpool's best start to a season in the club's 126-year history cannot be overlooked, and Jurgen Klopp deserves most of the praise.
Think about this: in 126 years, we have never started a season this well.
Sixteen played, 13 won, three drawn—and the draws coming against the teams currently second, fourth and fifth.
Once again we have the league's No. 1 player for goals and assists combined in the form of the majestic Mo Salah (15, level with Eden Hazard).
Only two players in Premier League history have reached 40 league goals quicker. Less publicised, is that Mo also leads the league in most shots overall (57) as well as most shots on target this season (27).
But this incredible start to the season is about much more than Salah's goals.
It's often said that 'goals win you games'. That's true of course, but they only win you games if you score more of them than the opposition does. So there needs to be an addendum to that statement; goals may win you games, but a solid defence wins you titles.
We have conceded an astonishingly low six goals in 16 games (no team has ever conceded fewer over that number of games to start a season) and in none of those games have we conceded more than once.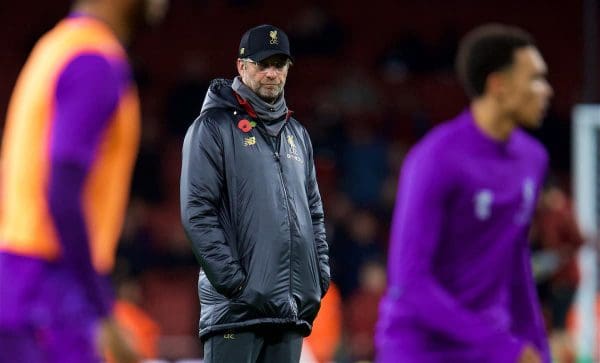 Since Rafa Benitez left the club we have routinely conceded an average of greater-than-one goal per game each and every season. History has shown that you are unlikely to win titles if you leak goals at this frequency.
This season, our goals-conceded-per-games ratio is currently an incredible 0.38.
City won the league last season conceding 0.71 goals per game. The Premier League champions for the previous three seasons before that conceded 0.87, 0.95 and 0.84 goals per game.
In our 'almost season' of 2013/14 we conceded 1.3 goals per game. City conceded fewer than one per game that season and in the end that's why we finished behind them. Currently, they are conceding at a phenomenally low rate of 0.56 and yet that is just under 50 percent more per game vs. our extraordinary 0.38.
It has been many, many years since we could declare that Liverpool have, categorically, the best defence in the top division. So far this season, not only has no team conceded fewer (six), and no team has as many clean sheets either (10).
At the other end of the pitch, last season we were (rightly) being hailed for our mesmerising attacking play. Yet after 16 games last season, (when we still had Coutinho as part of the 'Fab Four') we had scored exactly the same number of goals as this (34), yet were already 16 points behind City—even though we'd lost only twice.
Today, we stand one point ahead of them.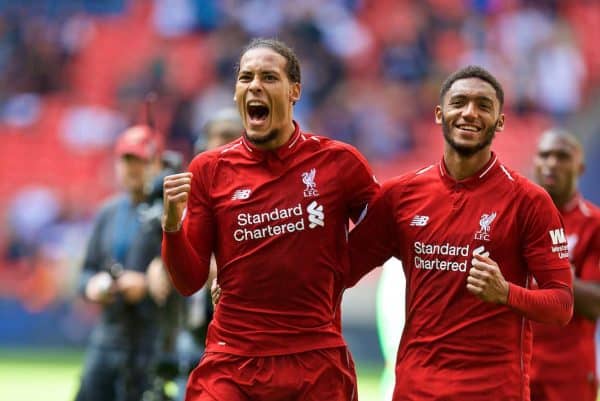 The reason was clear and once again it goes back to the defence; we had conceded 20 goals in those 16 games…14 more than we have this season.
We were also five points behind second-placed Man United at this stage of the season; now we are 16 points ahead of them.
So, after 16 games, we have seen an incredible 17-point positive swing vs. (then) first-placed City, and a massive 21-point swing vs. second-placed United. City are down four points on last season; we are up 12.
Evolution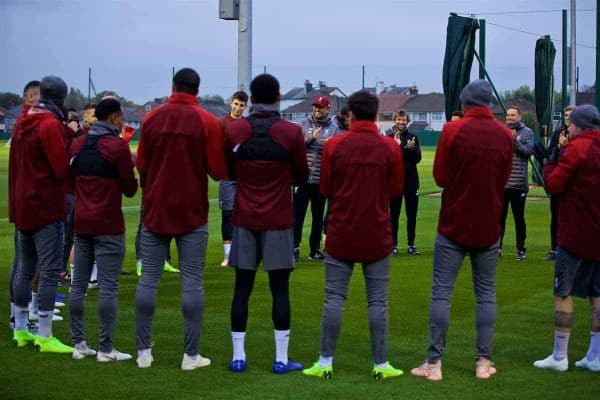 The easy explanation for this defensive solidity is too often lazily explained by pundits as simply "they spent a fortune on Van Dijk and Alisson." Well, if it was that easy, Pogba and Fred would be dominating Premier League midfields, wouldn't they?
No, this has been an astute, calculated, quite brilliant amassing of the essential jigsaw pieces over the course of three years since Jurgen Klopp's arrival at Anfield.
The pundits are correct when they say that "Liverpool have an identity, a specific style." Yes, we do…but it has taken the best part of three years getting the right parts in place, to create a team that is now performing at a level much greater than the sum of those parts.
Going back to Klopp's first game in charge, the back five consisted of Mignolet, Moreno, Skrtel, Sakho and Clyne. The five-man midfield was Can, Lucas, Coutinho, Milner and Lallana. The lone striker was Origi.
On the bench were Bogdan, Toure, Randall, Allen, Ibe, Teixeira and Sinclair.
I think it is fair and accurate to say that, other than maybe Coutinho, the evergreen Milner and possibly Lallana, who still makes the squad albeit in a reduced role, every single one of the other 15 players in the squad that day have been upgraded.
Not one of these other players has, or would, get anywhere near today's squad on a regular basis. For all his recent derby heroics, that also includes Origi.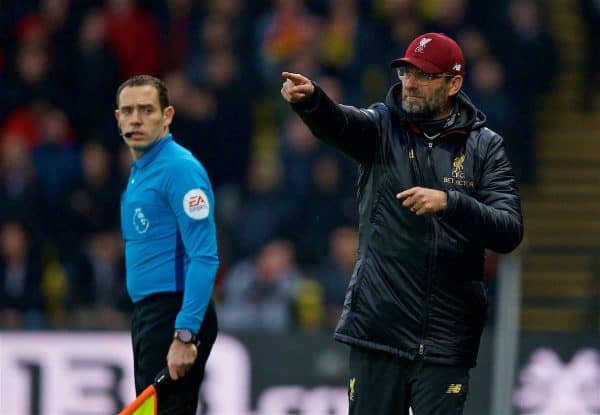 Klopp's focus has been on team dynamics and technical ability. It is so evident now watching us play, just how technically gifted these players are. In every position there is a player with a mix of close control, vision, passing range, ability to make the right decision at the right time, focus and determination.
Mistakes are becoming far less frequent and moments of excellence are increasing. I would go as far to suggest that this is the most technically gifted squad we have ever had.
Of course, to create a great team you need great technically gifted players. But many teams have great players who don't constitute a great team.
Without the right coach with a strategic plan, a blueprint for success and incredible man management, you too could spend half a billion quid and be 16 points behind the league leaders after 16 games.
Klopp's astute, studied and disciplined approach to team-building has been an astonishing masterplan of how to take what was a very average team, analyse the needs, develop a plan and build towards excellence.
Unlike other supposed 'elite' managers, he hasn't bought based on reputation, status or media hype.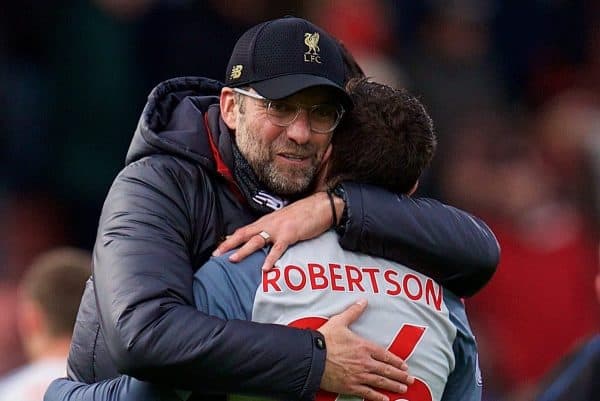 For example, how many managers could turn a relegated left-back in to Europe's finest? Or have an Arsenal bit-part player producing the most exciting football of his career? Or turn a "selfish, lazy, luxury player" from relegated Stoke into a major creative force for the unbeaten league leaders?
While the £130 million spent on Alisson and Van Dijk is touted as the reason Klopp has been able to shore up the defence, rarely is it mentioned that the other three first-choice defenders have cost a total of around £15 million.
Even rarer, is to hear that he has constructed this entire squad with a net spend of around £115 million; around £40 million per season.
That is not just great player and financial management, it is astounding player and financial management.
For those crying, complaining or excusing their own ineptitude by touting Klopp' 'big spending' as the reason for his current success, let's just remind ourselves of net spend across the 'big' clubs since he arrived at Anfield:
---
Net Spend Since Klopp's Arrival, October 2015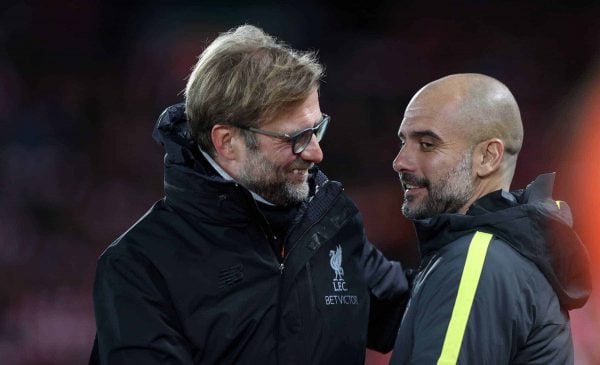 ---
Interesting isn't it? Of course, money is a factor. If you don't have it, you simply can't compete.
But if you do have it, it's how wisely you spend it that is the ultimate measure; and Klopp's record in the transfer market—both inbound and outbound—has been phenomenal.
What helps enormously is that he has a very clear picture of the player he wants for each position. What makes it quite the conundrum is that there is a scarcity of players who fit the Klopp mould.
It's why he waited so patiently for Keita and Van Dijk. He had to sacrifice the immediate term for the benefit of the long term. It's also why players often touted by the press as 'ideal' for Liverpool are overlooked by Klopp, while others deemed unsuitable (Shaqiri, Oxlade-Chamberlain, Robertson) have proven fantastically astute buys.
The XI that played at Bournemouth at the weekend further highlights the point. Salah, Alisson, Van Dijk, Robertson, Fabinho, Shaqiri and Keita have all been introduced to the club in the last season-and-a-half.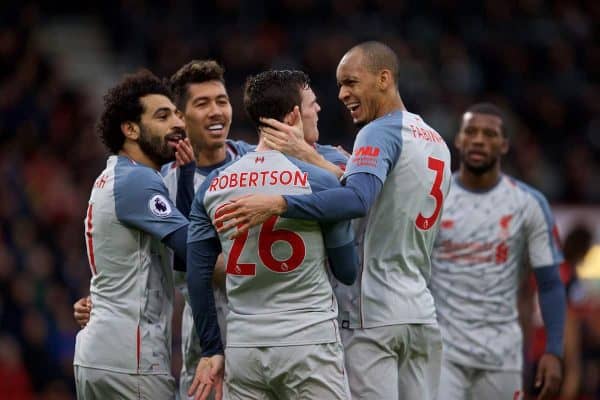 Robertson and Salah were signed in June and July 2017 respectively. The six others all arrived this calendar year. Wijnaldum, Matip and Mane arrived in 2016.
That's eight of the 11 starters and one sub who played on Saturday who were Klopp buys. I doubt that anywhere else in Europe was there a team constructed with nine players of this level of excellence, brought in by one manager over such a short period of time in the role.
Klopp's evolution of the squad basically took place in three phases, or stages for want of a better word. Here are my thoughts on how he went about it.
Stage 1 – The Attack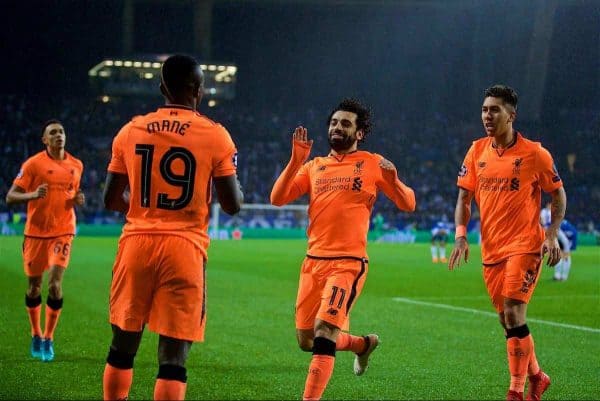 He built, unusually, from the front, eventually constructing a front three that is now the envy of Europe. He quickly realised that of the players he inherited, Firmino was the real deal and, unlike the clearly unsuitable Benteke and Balotelli, was to play a key part in his plans.
It took some time, having to persevere with the aforementioned duo, the injured Sturridge, the hit-and-miss Origi and the erratic Jordan Ibe.
But in June 2016, in came Mane for £30 million and two-thirds of Klopp's forwards wish-list, suitably aided by the mercurial Coutinho, was now in place.
One year later, in came Salah, quickly followed by Oxlade-Chamberlain, and Stage 1 of Klopp's vision would be proven to be in place.
Last season, that magnificent forward trio plundered more than 90 goals between them.
This season, to date, our apparently 'misfiring' front three has 'only' scored 20 goals between them in 16 games (and they have not played in anywhere near all the games). Last season, after 16 games, they had 22.
I'll take our misfiring trio over anyone else's in Europe.
Stage 2 – The Defence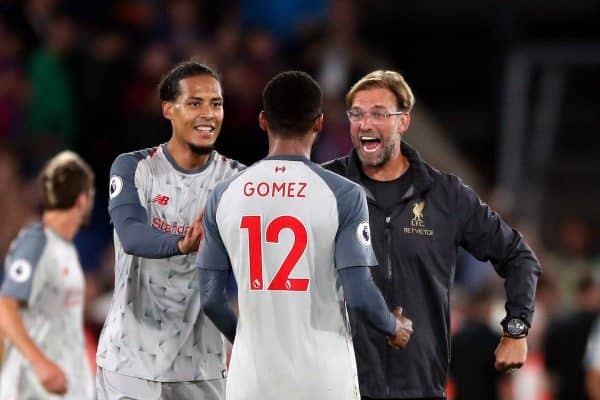 As brilliant as we were going forward last season, the decade old Achilles heel of defending continued to plague us. By our 16th game last season, we had conceded 20 times—mirroring previous season's average goals conceded of 1.25 per game.
In games in October, the defence consisted of Mignolet, Trent, Matip, Klavan and Moreno.
In November, it was Mignolet, Gomez, Matip, Lovren and Moreno.
By the 16th game in December it consisted of Mignolet, Gomez, Lovren, Klavan and Robertson.
Klopp was seemingly forever in search of a magic formula with the players he had but nothing really worked.
By the end of the season, Robertson had proven himself to be the calibre of player Klopp believed him to be when he bought him. Trent and Gomez were battling it out for ownership of right-back; Mignolet's consistently inconsistent performances had earned him a permanent place on the bench.
Karius and Robertson had cemented first choice and the world-record Van Dijk had plugged an enormous gap. It was taking shape but not yet there. Karius had never really convinced anybody he was the answer.
Sadly, for him and for all of us, he proved it once and for all on the biggest stage and Klopp had seen enough.
The magic formula for the back five may well have been accelerated by Karius' final game for the club.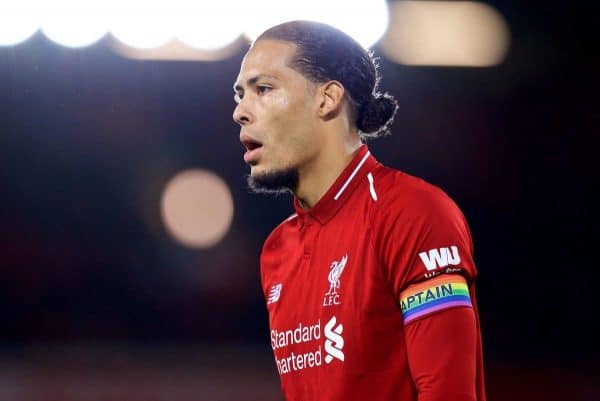 Alisson was swiftly brought in for a then world-record fee, Van Dijk and Robertson were permanent fixtures, and the now 'good enough so you're old enough' development of Trent and Gomez saw each of them take their respective roles in the back line. We've never looked back.
Just like with the forward line, which in Klopp's first game was Origi as a lone striker with Ibe and Jerome Sinclair as the only forward options on the bench, Klopp had revolutionised a defence that had conceded more goals than West Brom and Southampton in his first season into the most effective, watertight defence in England today.
Goals Conceded in Klopp's First Four Seasons


(* 2015/16 games only with Klopp as manager.)
Stage 3 – The Midfield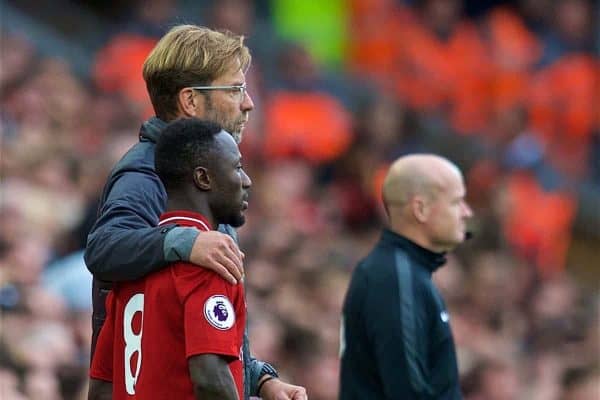 The later focus on the midfield wasn't because Klopp prioritised it behind the other two. It was simply a matter of circumstance.
He was not to know that two essential players, Coutinho and Oxlade-Chamberlain, would a) leave and b) sustain a long-term injury. Leipzig's insistence on holding on to Keita added more delay to the midfield rebuild.
In retrospect, getting to the Champions League final with what by then was a bare-bones midfield was an amazing achievement, but it didn't disguise the overall need. Klopp knew that quality midfield reinforcements remained the next major priority.
In came Keita, Fabinho and Shaqiri. These were not players of promise or future prospects, these were genuine stars; but they also fit Klopp's blueprint to a T. These were the exact players, with the exact skill sets, that he needed.
Klopp's evolution of the squad to meet his blueprint was now closer than ever. For too many seasons, and something that had become even more apparent since the retirement of Steven Gerrard, we had lacked midfield creativity, guile, power and goals.
Coutinho's exit and the Ox's injury only exacerbated the issue. As always, Klopp recognised, acted and fixed what was a genuine need if Liverpool were to get back to elite status.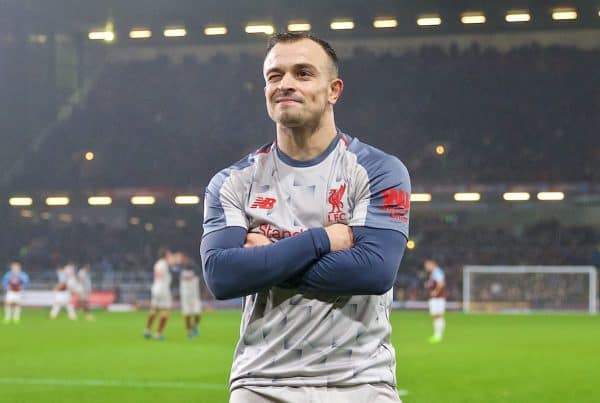 For a man with the big smile and even bigger heart, nobody is more ruthless when it comes to the transfer market.
Of course, just as it did with Robertson, it has taken some time for each of these players to a) learn their role to the manager's expectations and b) understand the physical demands of the Premier League. Recent performances suggest their education and acclimatisation is going rather well.
Shaqiri is the creative lynchpin between the midfield and the forwards we have lacked since Coutinho's exit and Ox's injury.
Keita offers bite, energy, power and a goal threat (he'll score soon, trust me.)
Fabinho can guard the back four one minute, and drive through the centre of the pitch the next. All three are hard-wired to always look for the forward pass first, are technically superb and don't mind mixing it with the cloggers on an 'as needed' basis.
To be honest, we've been too bloody nice for far too long, and having a few Souness/Case/McMahon types in the centre of midfield will do us no harm at all.
The result of Klopp's player revolution is quite possibly the most balanced squad I have seen since at least the 1980s and quite possibly longer.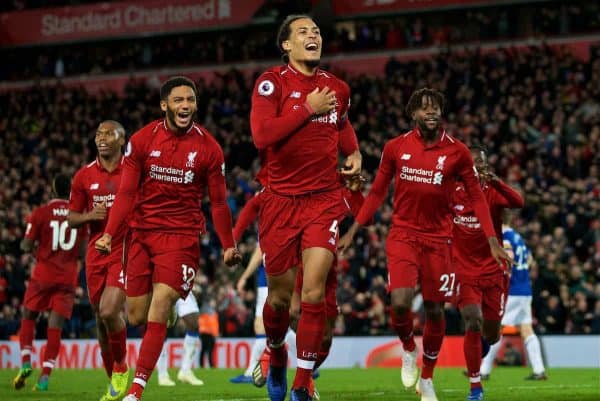 Here are a few relevant facts to ponder:
– The Liverpool teams who conquered England and Europe in the '70s and '80s never started a top-flight season this well.
– All of our legendary defences including the likes of Clemence, Lawrence, Lawler, Smith, Yeats, Strong, Hughes, Thompson, Lindsey, Neal, Kennedy, Lawrensen, Hansen, Nicol, Gillespie and Jones (apologies for those other greats not listed) could not keep 16 successive teams to only six goals.
– Alisson is unbeaten in his first 16 league games. No Liverpool debutant has ever gone 16 games unbeaten before.
– Sir Roger, Keegan, Rush, Fowler, Torres, Owen, Sir Kenny and Suarez have each been eclipsed by the exquisite Salah for top-flight goals scored in one season (Rushy also got 32 in one campaign but it was a 42-game season) as well as the fastest to 40 goals. He took 25 games fewer than Fowler and Owen to achieve 40 Premier League goals and 26 fewer than Suarez!
Among Europe's Elite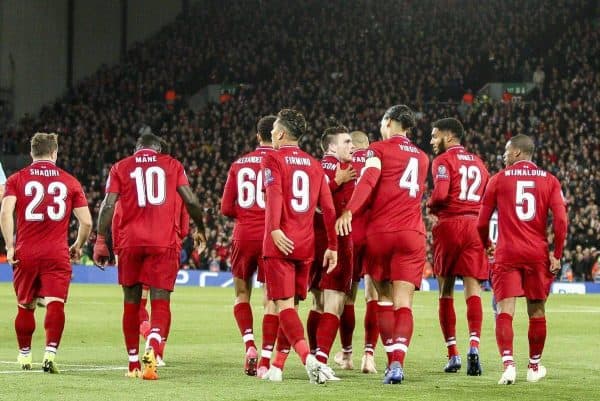 So just how good is this start? Well, the best in 116 years is not bad for starters, but let's compare it to the rest of Europe's top leagues:


As you can see, measured against the very best in the continents top-flight leagues, no one can match our defensive record. If we were playing in LaLiga, we might possibly have the league sewn up by now.
In the other leagues where the first-placed team is unbeaten, they are seven, eight and 13 points clear of the pack. Other than City, we're at least six points clear of anyone else.
It goes to show just how incredible this start has been. It is generally accepted that the Premier League is more competitive than the others in Europe, yet our record thus far is on par with the elite clubs in their respective leagues…and Real Madrid and Bayern Munich don't even make this list.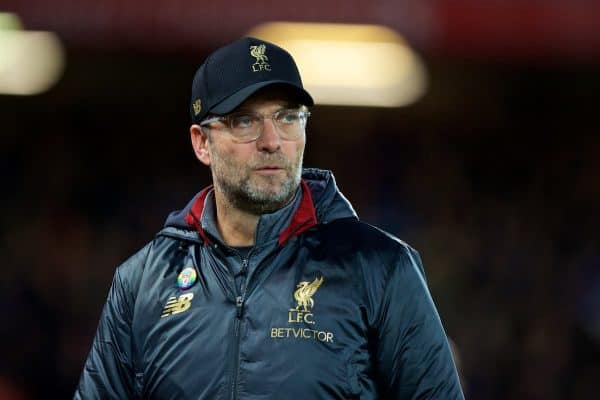 It's been a remarkable evolution by a remarkable manager, and there's nothing to suggest that his masterplan, his drive for excellence, is anywhere near complete yet.
Of course, we have to put trophies in the cabinet to turn this remarkable renaissance into a genuine success story, but that's for another day and another article.
For now, let's just celebrate what has transpired over the first three years of Jurgen Klopp, and what is our best ever start to a season.
Happy Christmas to all Reds everywhere!