Jurgen Klopp believes Mohamed Salah proved his genuine world class all over again with his "exceptional" hat-trick in Liverpool's 4-0 win at Bournemouth.
Cherries boss Eddie Howe hailed Egypt hitman Salah as "one of the best in the world" and Reds manager Klopp was quick to commend that view.
Klopp reserved special praise for Salah's second goal, where he rode out Steve Cook raking his studs down his Achilles to angle home in style.
"Whatever you do in a football game you need someone to finish it off, and what Mo did around his two goals in the second half is just exceptional," said Klopp.
"I don't know many players who would score those two goals.
"The first in the second half was a foul actually but he wants to score, stays on his feet and still scores. Not the most impressive finish, but surprising.
"It's very good for us; it's just really brilliant what he did, I love that mindset. His desire to score goals is obvious; nobody should be surprised about that.
"And his third goal is outstanding again. Really how he set it up and all that stuff, that was good."
And of Howe ranking Salah in the world's elite striking echelon, Liverpool's German boss added: "Well, I think Eddie Howe is one of the best managers I ever met to be honest, so how could I say anything different?"

Liverpool equalled their 2008 club-record unbeaten Premier League run of 17 matches with their rout at Dean Court.
That stretch without defeat started with the 4-0 thrashing of Brighton at Anfield on the final day of last season.
And now the Reds could set an outright club record in the Premier League by avoiding defeat against bitter rivals Manchester United on December 16.
Klopp hailed the milestone for his side, but admitted with Manchester City still soaring too that it is unclear so far just what heights anyone must hit for league glory this term.
"I think I said a few years ago that we have to write our own history, so that's part of our history," said Klopp.
"So of course it's important but it's not the most important thing in the world.
"It's just that we really want to be as successful as possible. And really, nobody knows what that means. Because this league is so difficult.
"I've said before, 42 points I usually have in April, and it's December. So that's massive.
"All the credit goes to the boys because they really fight for each other."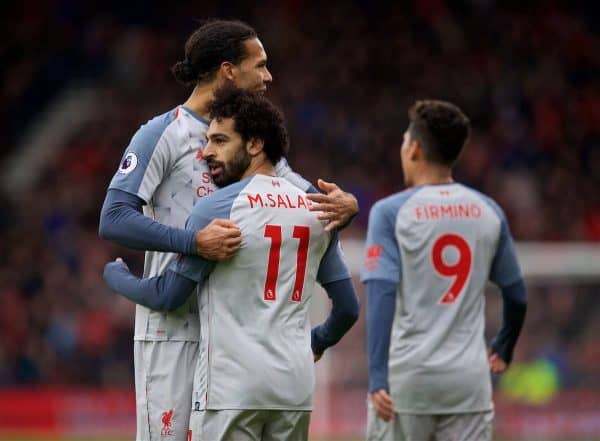 In hailing Salah's match-winning showing, Howe admitted frustrations with the way his side slipped off the pace after the interval.
"He looked very good today, his movement was very good, he was razor-sharp, we did struggle to handle him; he's one of the best in the world," said Howe.
"We had to open up once they were in front, and that produces more chances on the counter-attack.
"The frustration would be with the second, third and fourth goals.
"We were well in the game at 1-0 down and I thought we were set up to have a really good second half.
"But the second goal just seemed to knock the stuffing out of us."