Enjoy this brilliant extract from Stanley Park Story, a book by Jeff Goulding, ahead of the derby on Sunday.
This Sunday, the Reds will host Everton at Anfield for what is the 100th Merseyside derby on home soil. The battle on the Mersey is now the longest-running continuous derby in English football, with both teams contesting the fixture every season since 1962.
The Reds of Anfield and the Blues of Goodison have also made the city the most successful football region in the country, with the clubs sharing 61 major honours between them. This is an illustrious and much-storied rivalry.
Stanley Park Story; Life, Love and the Merseyside Derby, a novel by This is Anfield's very own Jeff Goulding, is a fictionalised memoir charting more than half-a-century of one of the greatest sporting rivalries, between Liverpool and Everton football clubs.
Through the eyes of the people who lived through it all, we are treated to a Scouse-eye view of the social, cultural and political forces that shaped the people of Merseyside and launched the city onto the global map.
The book's central characters are Tommy – a Red – and Jimmy – a Blue. They share a love-hate relationship throughout the story, which is filled with comedy, drama, conflict and shared tragedy. This is no ordinary football book.
The story begins in September 1962. With Liverpool and Everton both spending time in the second division, there hasn't been a league derby in 11 years. As we are introduced to the characters, Shankly has already returned the Reds to the big league.
However, the men from Anfield, and their supporters, are viewed as upstarts by the much more successful Blues. The stage is now set for a titanic struggle on the banks of the Mersey, as two great rivals, separated by no more than a few acres of parkland, prepare to do battle at Goodison Park.
In this sample chapter from the book, Tommy and Jimmy's new- found friendship will see them both climb onto the famous old Gwladys Street stand together to watch the return of the derby. There is great excitement and nerves are frayed, with so much at stake. Honour, pride, glory or months of misery – it all hinges on the outcome of this contest. They have been comrades since they met earlier in the year, but for the following 90 minutes they will be sworn enemies. Let battle commence.
---
WHEN it came to the battle for footballing supremacy, Red and Blue were far more than just labels, of course. But no matter how cruel the tribal insults became, if you were an Evertonian, a Liverpudlian could just as easily have been your brother, father or neighbour.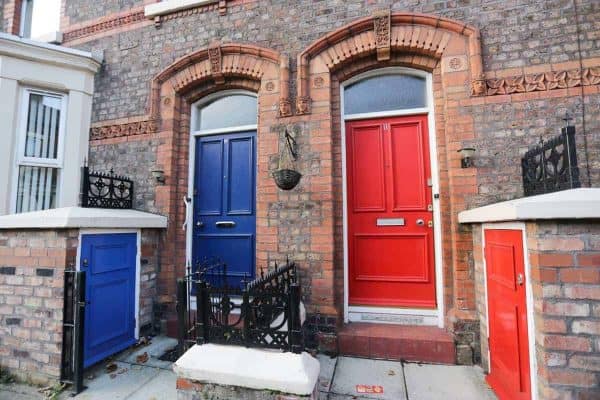 So Liverpool in the 1960s was, as it had always been, a giant melting pot of different tribes and cultures. You could be a Catholic or a Protestant, a Blue or a Red, but that didn't necessarily stop you becoming family.
In 1961 just two things divided Anfield and Goodison. They were Stanley Park and the football league. Everton were in the First Division; Liverpool were fighting to get out of the Second. By the summer of 1962 only the park separated them, and it has been that way ever since.
Jimmy woke up on 22 September 1962 with a spring in his step. It was Saturday, which meant no work and a trip to Goodison for the game. But this was no ordinary football match: this was the derby, and the first one in more than 11 years.
His stomach was in knots and he felt like a kid on Christmas morning. The game had consumed him for weeks, but the last five days in work had been unbearable. The nervous anxiety had been overwhelming and he couldn't wait for the referee's whistle and the end of the phoney war.
He felt confident, but the Reds had been annoyingly mouthy in work. Like their manager, Shankly, they had ideas way above their station. Everton were flying in the league and trailed top spot by just two points, yet Harry Catterick had been reserved. He didn't go in for the sort of bravado in which his counterpart regularly indulged.
The Blues' boss knew the game inside out and prided himself on a scientific approach to football. He didn't go in for hyperbole and rhetoric, but Jimmy did.
He'd told more than one Liverpudlian that week that they were going to get their arses kicked and he was secretly looking forward to Monday morning, when he was going to enjoy rubbing their noses in it.
Jimmy had arranged to meet me in the Willowbank before the game for a pint. My dad had been off work since his heart attack and as Jimmy had a licence to drive the wagon he was the obvious choice to take on the round. It meant regular work for him from that day on.
We made sure Dad still got a cut from the fiddle money. He was grateful for that and when he eventually got back behind the wheel, he made sure Jimmy was kept on.
Jimmy became quite close to our family, but he'd still enjoy making my life a misery after the game if Everton won. He'd only have me to torture this time, though, as my dad had gone back into hospital. We'd agreed to have one pint after the match and be at the hospital in time for visiting.
So, with confidence soaring, Jimmy went downstairs and sat himself down at the kitchen table. A note next to the teapot, which was still warm, said that Elaine had taken Eve to the shops. She'd see him after the game.
He poured himself a cuppa and sat back to read the Echo derby special, which sat neatly folded on the table. Beneath the headline, which screamed 'DERBY DAY IS HERE AGAIN', was a picture of the Everton team, resplendent in their blue kit. Above it, a cartoon Kopite, complete with rattle, danced with a Toffee Lady, her head furnished with a scarf and a dress billowing around her legs.
Looking at that team, Jimmy felt there was just no way they could lose. Liverpool had suffered more defeats than victories up to this point. He scanned the faces of Bingham, Vernon, Labone, Young and West. They looked tough and resolute.
'Who've they got?' he said out loud to the empty kitchen.
Jimmy was convinced that the Everton boss, Harry Catterick, had snatched Liverpool's only decent player. Everton had signed Johnny Morrisey from under Shankly's nose. The rest of them were no match for the Blues, he thought.
Morrisey had been at Liverpool since 1957, but he had only made 17 starts in five years because of the form of Alan A'Court. Everton seized their opportunity in 1962 and signed the player just weeks before the derby. Shanks had no idea. The board had done the deal without telling him.
Jimmy finished his tea and decided to throw a couple of rounds of bread under the grill, before turning on the wireless. The sun was out and it looked a great day for a game of football.
The radio crackled into life, halfway through a great song, Elvis's 'It's not you'. Jimmy cursed his luck at missing the start of the song. Music, of course, was the other big thing in the city back then. The Beatles hadn't conquered the world yet, but they'd release a record soon and were already dominating the local music scene.

As the song faded out it gave way to the news. Not surprisingly, the impending battle at Goodison Park featured heavily. The headline was that Ian St John wouldn't be playing and would be replaced by Kevin Lewis.
Jimmy beamed. He couldn't stand the Scottish forward. Liverpool had paid £37,500 for him and they'd been robbed as far as he was concerned.
Kopites loved him, though, and after he'd scored a hat-trick in the Liverpool Senior Cup Final against Everton, he'd seared his name into derby folklore. The Blues had edged the tie 4-3, but we had found a new hero.
Jimmy polished off his toast and left the house a half hour later. His mood was soaring, and, as he marched down the road, a song bounced around inside his head. 'We hate Shankly and we hate St John, but most of all we hate Big Ron, and we'll hang the Kopites one by one, on the banks of the Royal Blue Mersey.'
By midday the Willowbank was already full, and the air was thick with ciggie smoke and the smell of beer. A crowd of kids were sat on the pavement outside the door, waiting for their dads who were inside. These were the days when Scousers went to the game in suits, even ties. The old guard wore flat caps, but the heads of the younger generation were adorned with no more than Brylcreem.
You could tell Reds and Blues apart if they were wearing a stripy scarf; otherwise it was impossible, until the banter started. Jimmy spotted me fighting my way through a crowd in front of the bar, clutching two pints and trying desperately not to spill them. I had a rolled-up cigarette perched on my lower lip and was concentrating deeply as I dodged elbows and wayward cigarettes.
Jimmy eyed me struggling and made a beeline for me, rescuing one of the pints from my grasp.
'Alright, la',' he said.
I took a drag on my ciggie and blew smoke at the ceiling, before answering.
'Yeah, you?' I said.
'I'll be even better at full time,' he replied.
It had started already, and I felt a rush of excitement.
'I see you're as cocky as your captain today.' I was smirking when I said it.
'What do you mean?' He had no idea what I was on about.
Jimmy had missed Roy Vernon's column in the Liverpool Echo in which he had boasted about how Liverpool's attacking line would 'perish' in the face of the Everton defence. To be fair, both teams had been at it, and Ron Yeats, our towering centre-half had been crowing about how there was nothing Everton striker Alex Young could do to surprise him.
'You lot have got a nerve talking about being cocky, haven't yer? The way Shankly goes on, you'd think your lot had already won the bleeding lot.'
It was true. Bill Shankly had set about tackling Liverpool's inferiority complex, by telling anyone who'd listen how great his players were. It had worked on some, but not on Evertonians, who'd been dining on First Division football since 1954. They'd also won the coveted FA Cup twice, something Liverpool had failed to do, despite a few attempts.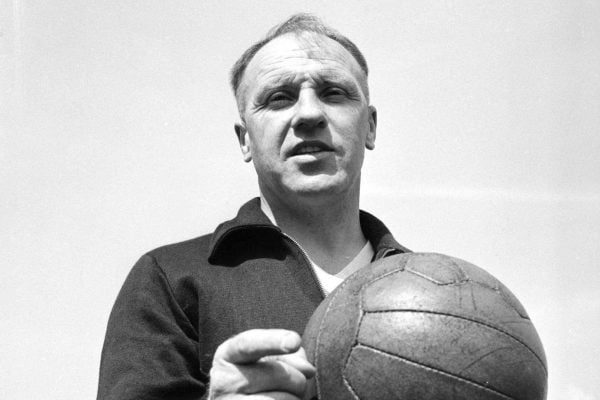 'I haven't heard him making any brave predictions this week, have you?' I said.
Shankly had realised that the team he had led to promotion were underachieving. He probably hoped they'd choose the derby as the game in which they would finally ignite their season.
'Not surprised, are you?' said Jimmy. 'He's probably shitting hisself.'
I laughed and asked if he was coming with me to see me dad after the game.
'Yeah. I'll see you back in here, we'll have a quick one and jump the bus into town. That okay?' he replied.
I said it was and we continued the football related back and forth until it was time to wander up Priory Road to the ground. The air was filled with the excited chatter and laughter of Reds and Blues, walking side by side into battle.
We got to the turnstiles by half-past-one. The crowd was huge and was already snaking its way around the stadium. We were both in the Gwladys Street end. Segregation was unthinkable and completely unnecessary back then.
As we reached the front of the line, a fella in front of Jimmy was handing the steward on the turnstile a coin. He pocketed it, before allowing the bloke to lift his kid over. That sort of stuff was going on at every game and reported attendances were always taken with a pinch of salt.
Inside the ground, conditions could be uncomfortable even during a run-of-the-mill league fixture. In the derby, there was barely a hair's breadth between us.
As kick-off approached, supporters were beginning to sway from side to side. In the days of standing on the terraces, the crowd would take on a life of its own. It would resemble a flock of birds, swooping and soaring in formation, their movements in perfect synchrony.
Songs would start in the same way. A small group would get one going and then everyone would join in. They'd be pitch-perfect and never miss a beat. Anfield and Goodison were like the world's greatest orchestras, with never a need for a conductor.
You'd never end the game in the same place as you started it, having been buffeted and shoved around, like flotsam on a great sea of people. The packed conditions would breed camaraderie and great humour. The atmosphere generated in those days was incredible.
Behind us a group of Blues began singing 'We Shall Not Be Moved'. They sang it in tune, not like today. It was a song, after all, not a chant. In response and immediately to Jimmy's right, a group of Liverpool fans chanted 'Liverpool, Liverpool!' Then came an inaudible shout followed by laughter.
'What did he say?' I asked.
Jimmy was killing himself laughing at this point. 'This fella just shouted, "Some bastard has pissed in me pocket!" Then he goes, "My butties were in there."'
I laughed too, before quickly checking my own pockets. Luckily, they were dry, for now.
That may sound barbaric to the modern football supporter. It was. However, once you were in the middle of the crowd, there was no way you were seeing a toilet until you got back to the pub. Supporters would while away the hours before games drinking pints of beer, before queuing in the street outside the ground for up to an hour or more. It was therefore easy to understand how they'd end up relieving themselves where they stood.
Kick-off was minutes away and the tension was palpable. The sound of drums and flutes rang out, as both teams spilled from the tunnel to the sound of 'Johnny Todd'.
'Fucking Z Cars?' I shouted.
Everton had started running out to that tune at Goodison Park during the 1962/63 season. Jimmy had no idea why they had chosen that one as their anthem. It had been the theme to the TV show Z Cars, a hard-hitting crime drama, filmed in Kirkby, Liverpool. He loved it nonetheless and would say how it made the hairs on the back of his neck stand on end.
All four sides of the ground roared and the noise was ear-splitting. God knows what the players and match officials made of it. Surely they wouldn't have been able to hear themselves think, let alone the sound of each other's voices.
Nobody in the terraces heard the referee's whistle, but the game was underway and a sudden surge from behind launched us forward towards the goal. Jimmy ended up behind the net. I was several rows back. We had been separated. That would be it for the rest of the match, and we wouldn't see each other until we met in the pub afterwards.
Everton raced at the Liverpool defence and the Reds seemed to wilt. Suddenly Jimmy Furnell, the Liverpool goalie, fumbled the ball and Roy Vernon immediately pounced on it and slotted it home. Pandemonium erupted all around me.
There was barely a minute on the clock and Everton were in front. The whole stand seemed to shake as the Blues celebrated. None of us were aware that the referee had blown his whistle for a foul on Furnell. Joy turned to fury and some fella shouted angrily, 'Nothing fucking wrong with that, ref! Nothing at all.'
Behind him a Red shouted, 'It was a foul; keeper had the ball.'
'Bloody fix, more like it.' Came the reply.
Then Everton had another goal, prodded home by Dennis Stevens this time, chalked off for offside. Evertonians were fuming. Liverpool were rocking, and I feared the worst. A Blue standing in front of me turned and said,
'These have got no chance, lad. Not a cat's chance in hell.'
'We'll bloody murder them,' said another.
I wasn't wearing any colours. They had no idea I was a Red. 'We'll see lads,' I said. They smirked and looked away, as they realised I was a Liverpudlian.
Just six minutes later, their words were starting to sound prophetic. It had been a breathless opening, a real spectacle. Liverpool's defence were all over the place and a breakthrough seemed inevitable. Then it came. Gerry Byrne handled the ball in the penalty area and a huge roar went up.
A crowd of players surrounded the referee and it seemed to take an age for him to signal a penalty. In truth he'd pointed straight to the spot, but I didn't see it.
Scenes of delirium greeted the decision. I was disconsolate. This could be embarrassing. Jimmy told me later that he thought some of the Liverpool supporters near him looked like they would lynch Byrne, if they could have got their hands on him.
'Who's taking it?' shouted someone to my left. 'Vernon of course,' came the reply.
Vernon was a goal machine for Everton. Tottenham's Jimmy Greaves would be the First Division's top marksman that season, but Roy Vernon's goals would play a big part in bringing the title to Goodison in May.
I had no doubt he'd score. As the Reds lined up on the edge of the 18-yard box, the Everton skipper calmly charged towards the ball and smashed it to Furnell's left. The keeper made a half-hearted attempt to paw at it, but it was hit with such power he had no chance.
It was 1-0 and one-way traffic so far. I had gone quiet, along with many Reds, who were nervously chewing their nails.
'This is what it's like playing a real First Division side!' the fella in front of me taunted, his voice filled with mischief.
'Game's not over yet is it?' I said.
'Might as well be,' he retorted, and laughter filled the air.
I would have my revenge, though. Just over five minutes later the game was level again and it had been the man standing in for Ian St John who bagged the equaliser.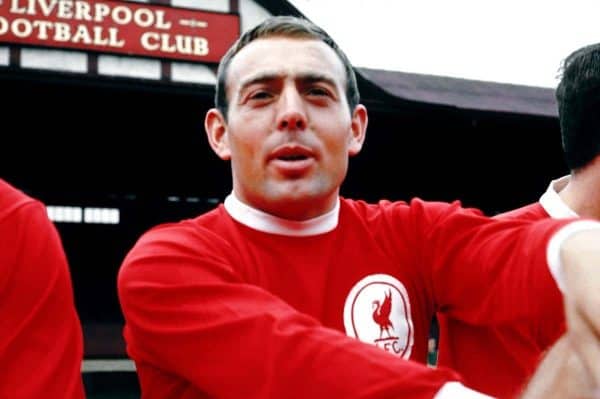 A'Court had made a blistering run down the left-wing and careered towards the Blues' defence before swinging in a looping cross. George Thomson should have dealt with it easily. Instead, Callaghan nipped in and stole the ball from him before delivering a chip from the byline to the waiting Lewis, who knocked it in gleefully.
I screamed at the top of my voice. Others swung their scarves in the air. Our first goal in a league derby for more than a decade, and it tasted sweet.
A Blue shouted, 'Hello, they've woke up have they? It's the first real chance they've had.'
'Yeah, and we scored it,' I replied. I was in my element.
Jimmy maintained he was never worried and with the half-time whistle signalling a temporary respite in the battle, the only thing exercising his mind was how he was going to relieve his bladder. The place was so packed, the chances of making the toilet were non-existent.
He could see that the bloke in front of him had a newspaper under his arm. He tapped him on the shoulder and nodded at the paper.
'You finished with that, la?' he asked.
Seeing the look of desperation in Jimmy's eyes, the guy nodded and handed the paper to him. Jimmy shouted a warning to those around him, and a circle formed as he relived himself through the rolled-up copy of the Daily Mirror.
In 1962, there was no nipping down to the concourse for a pie and a pint or checking your phone for the latest scores. The facilities were antiquated and basic. Nobody questioned it. We didn't know any different.
As the game resumed, there was no sign the atmosphere would burn itself out. In games like that, you'd start to tire after a while. The constant toing and froing took its toll and with all the shouting, your throat would be raw by full time, and your mouth parched.
Somehow, the Blues' supporters would overcome their fatigue and laryngitis in the 62nd minute. The ball was looping around in Liverpool's penalty area and a series of tackles and lunges went in to try and clear it, most notably from our keeper, Jimmy Furnell.
He missed the ball and the player completely, and none other than Johnny Morrissey latched on to the chance and struck the ball home. The Blues were back in front.
A roar, so loud it would have rattled the windows of the terraced houses around the ground, split my ears. Our lads looked dejected. Of all the players to grab the second, it had to be Morrissey, a former Liverpool player stolen from under Shankly's nose.
To Jimmy it was nothing short of poetic and he screamed his lungs out. He knew he'd pay for it later, but he couldn't care less. He was no doubt thinking of me, and the stick he was going to give me.
Everton tried to put the game to bed but somehow failed to make their dominance pay. As the game approached its conclusion, the gung-ho atmosphere was replaced with a sense of nervous tension. Blues were biting their lips apprehensively as the clock ticked down.
They were seconds from victory. Then, for them, disaster struck.
Again, Alan A'Court picked up the ball in the Everton half, on Liverpool's left flank. He had acres of space in front of him and the Blues seemed to be dropping off him. He launched another looping cross into the box which was headed down by Kevin Lewis. Then, through a scramble of legs, Roger Hunt poked the ball into the net.
The Reds were beside themselves with joy. We danced and punched the air. All we'd achieved was a draw, but you'd have thought we'd won the FA Cup.
For Jimmy, it was bitterly disappointing. Everton were going for the title and this was a point dropped. He cursed his team's luck as the referee sounded the final whistle.
The gates opened and the crowd spilled out into the night. The fresh air was a welcome relief from the stuffy, cramped conditions inside, but the sense of despair wouldn't leave Jimmy as he strode down the road towards the pub.
He must have expected me to be in celebratory mood and seemed genuinely surprised to find me as disappointed as he was. He asked if I was kidding, but I wasn't.
'Fancied us to win that,' I was saying as I stood at the bar holding a crisp pound note in the air, hoping to attract the barmaid's attention.
'You're kidding, aren't you? We absolutely battered you,' Jimmy said, incredulous.
'Well I wouldn't say that. If it wasn't for the referee, Hunt's goal would have won the game for us,' I argued. I wasn't winding him up, either. I meant it.
'How many of those have you had?' said Jimmy, nodding towards my pint glass. 'We should have been 3-0 up before you got your first goal. The referee saved your lot from an absolute hiding.'
I laughed. 'Neither of them was a goal for me. The first was an obvious foul and the second a mile offside. As for your penalty, there's no way Byrne meant to handle that ball; definitely accidental.'
'You lot have been in the Second Division so long you've forgotten the rules of the game,' he said. I can still remember the look on his face, and it still makes me laugh to this day.
'Maybe,' I countered, with a twinkle in my eye, 'but you still haven't beaten us in the league for over 20 years.'

I felt like the cat who'd got the cream and it clearly infuriated him, probably because I was right. Everton had not held bragging rights in the league since 1951.
That game had been a cracker, too. It had been a 2-0 win for the Blues at Anfield, with Jimmy McLaughlin McIntosh getting both goals. He was a big, strong and pacey Scottish striker who spent three years with Everton, scoring 19 times in 58 appearances.
Neither side had been anything to write home about back then. Both were scrapping it out in mid-table. Liverpool had won the Goodison derby 3-1, so the victory across the park had been so sweet for the Blues.
Jimmy hadn't been at that game but he remembered the stories about how 'Mac' had stunned a home crowd of almost 50,000 with two goals. Both were stunning headers within two minutes of each other.
Everton had been all over Liverpool, and their defence had completely nullified the likes of Liddell. It was their attack that did all the damage, though. The local press described Everton's strikers as 'fast and devastating'.
In the second half, Liverpool had been attacking the Kop and Jimmy's school-mates had told him the noise had been terrific. Nevertheless, Liverpool got no joy from the Blues' back line.
Later in the game, McIntosh had been knocked out, after crashing into a stone wall behind the goal at the Anfield Road end. He would enter derby-day folklore by jumping up and immediately carrying on with the match. These days, he'd have been in the hospital before the final whistle.
'Is that all you've got? You were totally outclassed today. Ok you got your point, well done, but that's all you'll get this year.'
He was right, but more about that later.
Deciding I was too tired to argue, I finished my pint and suggested we jump on the next bus to see my dad. Jimmy agreed and drained the last dregs from his glass.
We'll finish this later,' he warned.
I laughed. 'I'm looking forward to it,' I said with a wink.
It was dark outside and the post-game crowds had already died down. They'd been replaced by gangs of teenagers, all 'dolled up' and ready for a night in the clubs on Mathew Street. A group of them were stood chatting eagerly and laughing at the bus stop as we approached.

Jimmy grinned as he watched their faces, animated in conversation and full of excitement. They were puffing on their cigarettes, pretending to look like movie stars. Their features lit up as they giggled at jokes he couldn't make out, and their eyes sparkled as they were caught in the lights from the passing traffic.
He reflected on how this was a different world to the one he had been born into. It was like the snows of a seemingly never-ending winter had finally thawed and the first flowers of spring were in bloom.
It was the 60s and the post-war austerity his parents had endured was fading fast. He realised he was still a young man and, as far as he was concerned, he was living in the centre of the entire universe. It felt good to be alive in a city that would soon live in the consciousness of every teenager on the planet. Then he thought of Eve and the life she would go on to live, and he smiled to himself – she was going to have a fucking ball, he thought.
---
You can follow the author, Jeff Goulding on Twitter @ShanklyBoys1.