Liverpool completed a remarkable comeback against Arsenal with a 5-1 win cementing their place at the top of the Premier League with a nine-point gap.
Jurgen Klopp's long-term vision looks almost complete. After finishing off the pace behind their rivals for the past three seasons, Liverpool are now the side to catch in England.
For all the joy the Champions League has brought, it is the elusive league title that everyone connected to the team in Red wants. For the first time in 29 years this looks a real possibility.
It has become something to seriously consider during the month of December, with Arsenal in town Liverpool had the chance to add the final 'W' to the eight previous this festive season has brought.
However, it didn't look to be going the way of the league leaders early on.
Arsenal left Anfield stunned after 11 minutes when Ainsley Maitland-Niles converted Alex Iwobi's precision cross.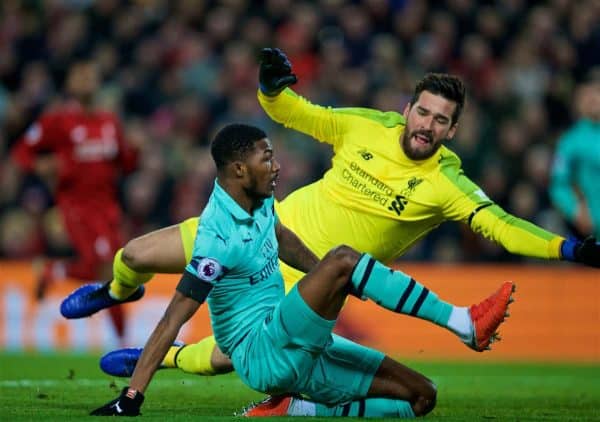 It was only the eighth goal the Reds had conceded in the league all season and it had come to a perceived strong side; how would Liverpool react?
Well, the answer came just three minutes later.
Stephan Lichtsteiner and Shkodran Mustafi panicked, their pinball defending caused the ball to fall at the feet of Roberto Firmino—the Brazilian pulled off a no-look finish to level the score.

Remarkably, the forward had his second just two minutes later.
Receiving the ball some 30 yards from goal he weaved his way through the Arsenal defence before striking into the bottom corner—it was a wonderful finish.

Two soon became three, and then four. First Sadio Mane tapped home from close range after a lofted ball from Mohamed Salah found him completely unmarked.
The Egyptian then went from provider to finisher, winning then converting a penalty on the stroke of half-time.


As the teams came out for the second half, Arsenal had the look of a dejected side but it was to get worse for the Gunners.
Just after the hour mark Sead Kolasinac pushed Dejan Lovren in the area, Michael Oliver pointed to the spot again.
Salah, the Liverpool designated penalty taker, opted to give the spot kick to his Brazilian attacking team-mate.
Firmino stepped up and banged away his hat-trick and with it Liverpool's fifth of the game. The rout was complete.


The Reds now sit nine points clear at the top of the table thanks to Tottenham's slip at Wolves.
Man City will take on Southampton on Sunday in what is a 'must win' game for them ahead of their clash with Liverpool on January 3.