It has been a fantastic 2018 for Liverpool, but which moments stand out as the most pivotal over the last 12 months?
The Reds finished off the year in style at Anfield, thrashing Arsenal 5-1 to go nine points clear at the top of the Premier League.
Although no trophies have been won in 2018, it has still been an unquestionably positive year, with giant strides made and a Champions League final reached.
The hope is that Jurgen Klopp's side push on now, securing that priceless first Premier League title come May.
There have been numerous significant moments at Liverpool in 2018—here's a chronological look at the top 10.
Van Dijk Joins the Reds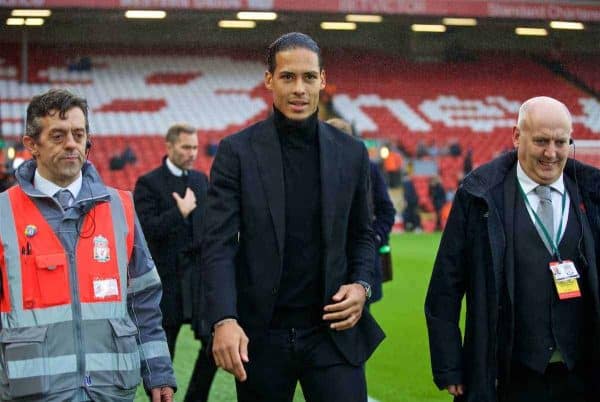 OK, so Virgil van Dijk actually joined Liverpool just over a year ago—December 27, 2017, to be precise—but he was officially eligible to play for the Reds in January.
From his memorable match-winning debut against Everton onwards, the £75 million Dutchman has been a colossus, with no centre-back in the world superior on current form.
The difference that he has made to this Reds side cannot be understated, with the defence transformed since his arrival.
Van Dijk is quite possibly Liverpool's most important signing of the decade and the first name on Klopp's teamsheet.
City's Unbeaten Run Ended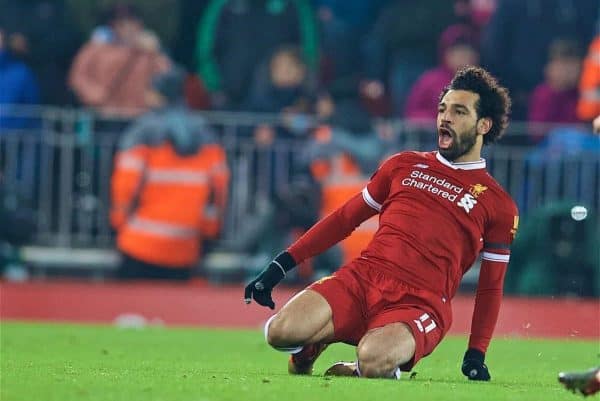 Man City rocked up to Anfield in January unbeaten in the Premier League and threatening to emulate Arsenal's 'Invincibles'.
On a memorable afternoon, Liverpool showed exactly why they are the champions' kryptonite, though, winning 4-3 and blitzing their opponents during a second-half spell.
It was a moment that proved the Reds could go toe-to-toe with Pep Guardiola's star-studded outfit and their Champions League quarter-final victory over them further proved that theory.
Ironically, it is Liverpool who head to the Etihad on Thursday looking to preserve their own unbeaten record.
Liverpool Reach the Champions League Final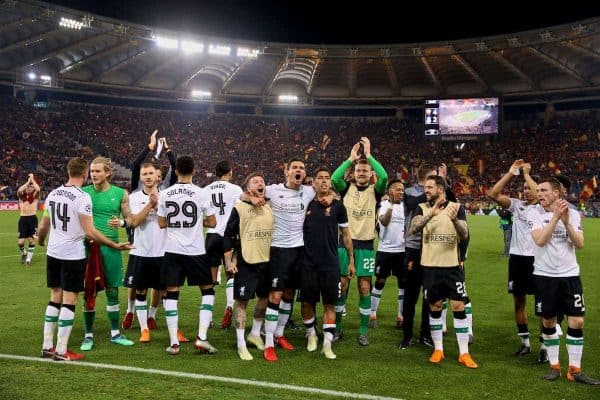 As soon as Liverpool thumped Bayern Munich in a pre-season friendly in the summer of 2017, there was a feeling that they could be a huge Champions League force in 2017/18.
That is exactly what happened, as Klopp's men tore Hoffenheim apart in the play-off, cruised through their group, then beat Porto, City and Roma in the knockout stages.
Although the Reds lost 4-2 in the semi-final second leg against Roma, the final whistle at Stadio Olimpico was a truly great moment.
The scenes that followed will forever be remembered, as Klopp, the players and the travelling supporters all celebrated together.
The final in Kyiv may have ended up being a heartbreaking affair, but that night in Rome will always feel special.
Heartbreak in Kyiv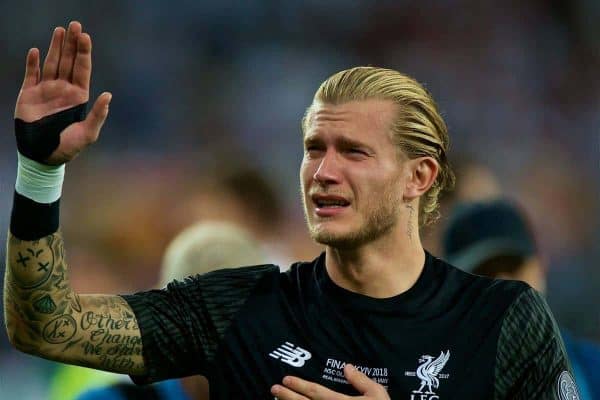 May 26, 2018 was set up to be one of the greatest days in the history of Liverpool Football Club, but it all ended in tears.
An incredible run to the Champions League final had been produced, with Real Madrid standing between the Reds and European Cup No. 6.
Liverpool were the better team for much of the first half in Kyiv, but Mohamed Salah's injury after a cynical challenge by Sergio Ramos changed everything.
Loris Karius' two disastrous errors were ultimately the key reason for the Merseysiders losing 3-1, in a game that left supporters feeling flat at the unjust nature of it all.
The main hope is that such a heartbreaking loss spurs the entire squad on moving forward, using it to their benefit in the title race.
Reds Snap up Alisson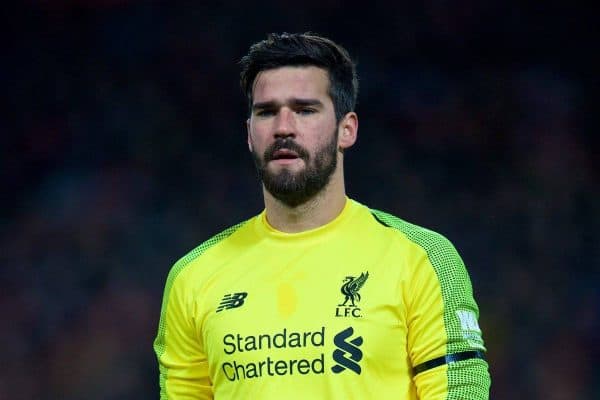 Karius' Champions League final nightmare was the ultimate sign that Liverpool needed to significantly upgrade between the sticks.
Klopp didn't mess around, securing the services of Alisson for £65 million, just a few months after he had been powerless to prevent Roma being knocked out by the Reds.
The Brazilian has had a Van Dijk-esque impact for Liverpool, if not quite at that level, bringing an aura in the penalty area lacking since Pepe Reina's peak.
To win big trophies you need a world-class goalkeeper—Alisson is precisely that.
Sturridge's Late Chelsea Strike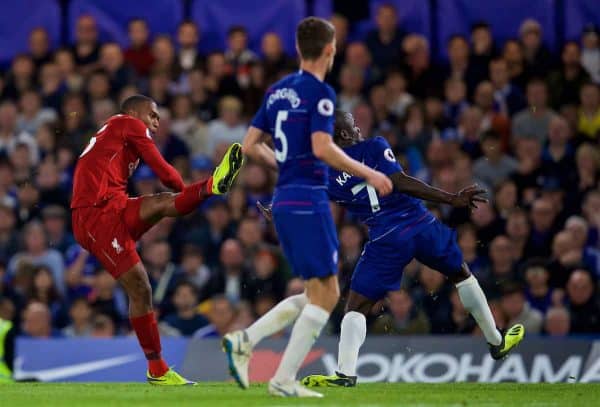 Back in late September, Liverpool's early unbeaten run looked set to be going up in smoke, as Chelsea led 1-0 at Stamford Bridge.
Substitute Daniel Sturridge proved that he still has plenty to offer with a stunning late equaliser, however, making the eventual draw feel like a win.
It is worth noting how much the Reds' confidence would have been dented with defeat in west London, on a day when they struggled to find top form.
Sturridge's beauty is one of several moments that will feel particularly key if Liverpool do go on to lift the Premier League title this season.
Mahrez's Missed Penalty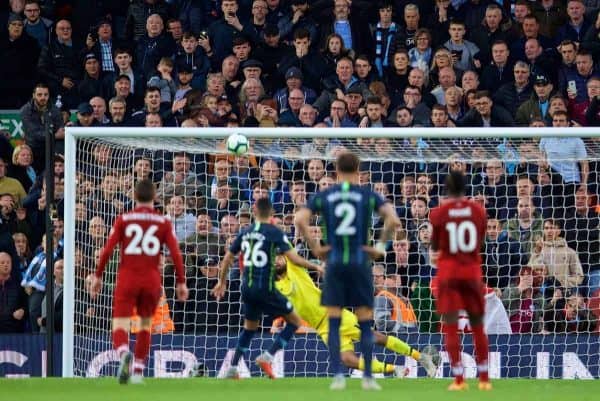 When Liverpool and City met at Anfield in October, many were expecting a goal-filled affair between two of Europe's best attacking teams.
Surprisingly, it turned out to be a cagey contest, with the pair respecting the threat the other posed and a draw seen as a decent result for both.
Disaster struck when Van Dijk fouled Leroy Sane in the 85th minute, though, gifting Riyad Mahrez an opportunity to sneak a win.
The Algerian blazed his penalty over the crossbar, however, keeping Liverpool unbeaten and level on points with City and Chelsea.
It feels a little like Ruud van Nistelrooy's missed spot-kick against Arsenal in 2003/04—let's hope it proves as costly.
Alisson to the Rescue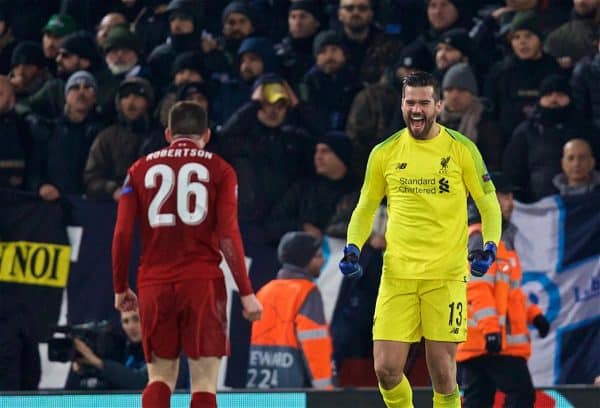 In a match that brought back memories of Olympiakos in 2004/05, Liverpool found themselves needing to beat Napoli 1-0 or by two clear goals to reach the Champions League knockout rounds.
Klopp's side were superb at Anfield, outplaying their opponents throughout and leading through Salah's strike.
In the dying seconds, Napoli were gifted a glorious chance to break Reds hearts, as the ball fell to Arkadiusz Milik with the goal gaping.
Alisson came to the rescue, spreading himself and making a huge save, outlining why he is one of the best in the world.
Had it been Karius or Simon Mignolet in goal, there is every chance Liverpool would have crashed out.
Unforgettable Derby Triumph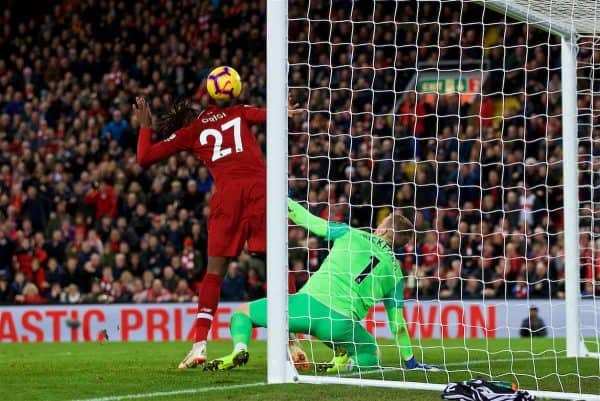 Of all the seismic moments in the Premier League so far this season, this one could be the biggest.
Liverpool hosted Everton in the 232nd Merseyside derby in December, with the Blues' aim to dent their rivals' title bid and hopefully win at Anfield for the first time this century.
They looked to have ground their way to a frustrating 0-0 draw, only for one of the most remarkable derby moments of all time to occur.
Van Dijk's skewed volley looked like it was sailing over the crossbar, but it hovered above it, Jordan Pickford spilled the ball and substitute Divock Origi headed home.
On such fine margins are trophies won—it would be fitting if Everton gifting Liverpool a last-gasp winner made all the difference come May.
Arsenal Turnaround Highlights Belief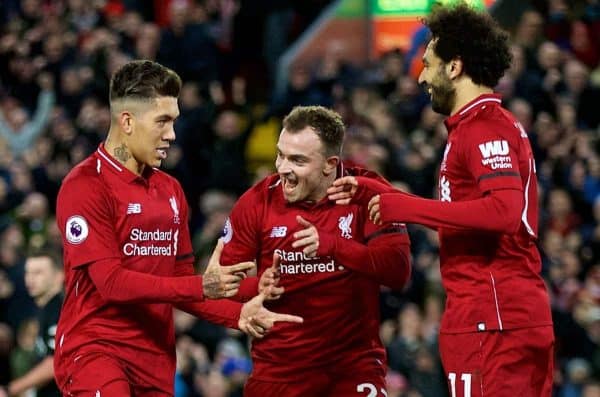 The 3-1 victory over Man United is worthy of a brief mention, but they were so poor under Jose Mourinho that beating them can't be seen as too significant.
It was Saturday's thrilling 5-1 mauling of Arsenal that proved far more noteworthy, especially given the nature of the win.
Tottenham's defeat at home to Wolves gave the Reds even more incentive as the Gunners came to town, but Ainsley Maitland-Niles' opener stunned Anfield.
While past Liverpool teams would have fallen apart at that moment, the current crop dusted themselves off, went 2-1 up in no time and eventually humiliated their heavyweight opponents.
If signing Van Dijk was the perfect way to begin 2018, this was the ideal way to end it.