Andy Robertson's journey from Queen's Park has instilled a humility that has remained with him at Liverpool, as he showed in support of the city's foodbanks.
Robertson is one of the most down-to-earth characters among a squad of them at Anfield, with Jurgen Klopp's focus on the personality of a player key.
The Scottish left-back joined the Reds from Hull City last summer, having previously turned out for Queen's Park and Dundee United in Scotland, after his release from Celtic in 2009.
And his humble upbringing and the difficult route he took to the top have ensured he remains grounded, as he showed with his gesture to young supporter Alfie Radford in March.
He sent a letter and a signed shirt after it emerged Alfie had donated his savings to Fans Supporting Foodbanks, a joint initiative run by Liverpool and Everton fans, outside Anfield.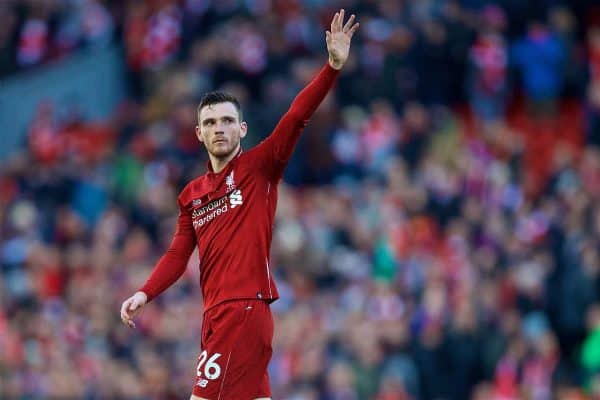 Now, in a video produced by the club, Robertson visited volunteers at the North Liverpool Foodbank to get further insight into the problems they both solve and face.
"When I was growing up my mum and dad always gave to [foodbanks], whether it was money or food. So I've kind of always been brought up with it," he told coordinator Victoria Ponsonby.
"But for my 21st, I'd just moved down to Hull, so I thought what's the point in people giving typical 21st presents like champagne or vodka?
"So [I asked] if they could give donations and I could give it to the foodbank up in Glasgow, which helped them massively.
"And from that, my family have really bought into it: they had a Christmas party last year, my brother organised it, and instead of giving presents for everyone they brought bags of food."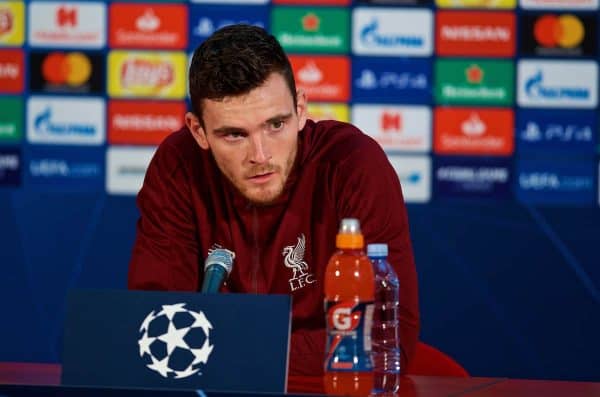 The left-back spoke to those involved in the initiative, and heard the touching story of Steve Middleton.
Steve now works with Fans Supporting Foodbanks every matchday after turning to foodbanks when he was so impoverished he contemplated suicide.
And ahead of the Merseyside derby, Robertson issued a call for support from fans attending the game at Anfield.
"It's two teams but one city, and if we can try and get the numbers down, especially before Christmas, then I'm sure we can all be proud of ourselves."
---
Drop-off points for matchday can be found at the Anfield Road fanzone, the club shop and Homebaked on Oakfield Road.
The five most-needed items at the North Liverpool Foodbank are long-life milk, long-life fruit juice, tinned vegetables, tinned meat and mashed potato.
Donations can also be made at St Andrew's Community Network, 16 Larkhill Lane, L13 9BR (9am-5pm, Monday to Friday) or at your local supermarket collection point.
For more information, visit www.standrewslive.org.uk/community-network.