Liverpool are very different proposition this season, and a host of clear shifts from Jurgen Klopp are behind their challenge for the Premier League title.
The Reds' 4-0 win at Bournemouth on Saturday saw them leapfrog Man City to the top of the table, with the champions' 2-0 defeat to Chelsea later in the same day cementing their place at the top.
Liverpool now head into this weekend's huge clash with Man United knowing three points will keep them above City, having already enjoyed their best-ever start to a league campaign.
Until their victory at Dean Court, it was questionable whether Klopp's side could be as enjoyable to watch as last season, but they are now pairing a more controlled approach with an improving attacking bent.
Analysing their 16 games unbeaten in the top flight as part of Sky Sports' Monday Night Football, Jamie Carragher and Gary Neville highlighted a series of changes as pivotal.
Firstly, Carragher assessed Mohamed Salah's shift into a centre-forward role, suggesting it was to allow him less defensive responsibility, with his return to the right wing for 'big' games testament to this.
He added that while United would historically fall into this bracket, whether to deploy the 4-2-3-1 with Salah up front "will be the first big question mark for Klopp going in to this game."
Focusing on the Reds' defensive improvement—having conceded the fewest goals of any side at this stage of a top-flight season (six)—Neville asserted it was "not just Van Dijk."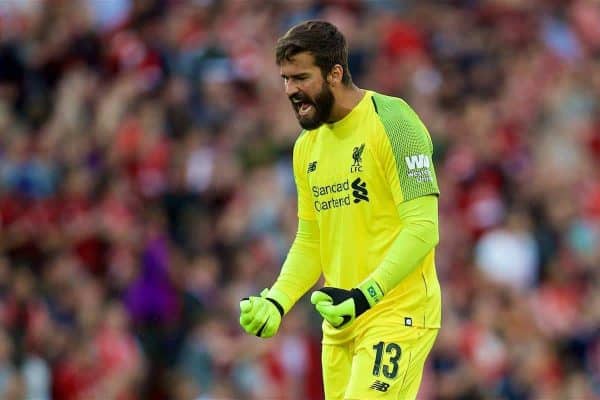 The ex-Man United full-back highlighted the lack of a truly top-level goalkeeper prior to 2018/19, with the arrival of Alisson coinciding with an improvement of Liverpool's save ratio from second-lowest (64%) to highest (86%).
Neville also described Andy Robertson as "a Denis Irwin-like signing," adding that "he's shocked me like you wouldn't believe."
Interestingly, he recalled how, when working as part of England's coaching staff, the Three Lions targeted Robertson as a weak link for Scotland.
Most important, however, is a change in style from Klopp, from high-intensity attacking play to a measured approach, with Neville arguing that previously, "if you got through the first hour, you were alright."
"They're willing to be more patient," Carragher added, and this is perhaps the key to their improvement, and why they now stand as clearest challengers to City for the title.