Despite seeing Liverpool fall to a 2-1 defeat to Man City on Thursday, Jurgen Klopp remained upbeat as he took in the bigger picture in the Premier League.
Klopp's side headed into Thursday's clash at the Etihad safe in the knowledge that victory would put them 10 points ahead of City at the top of the league.
Instead, goals from Sergio Aguero and Leroy Sane ensured Roberto Firmino's diving header was a mere consolation, as the hosts shortened the gap to four.
Some clarity is required, however: Liverpool suffered their first loss in a remarkable 21 games in the league, having previously won 17 and drawn three, and remain comfortably in pole position.
This was the focus for Klopp as he delivered an emphatic assessment in his post-match press conference, in what likely serves as much as a message to his squad as it does the narrative-driven media.
"I have so much faith in my players, you can't imagine," he explained.
"If somebody would have told me after both games against Man City that we are four points up, I would have paid money for it that you cannot believe.
"It's something that is not possible!
"You wanted to tell us 'if this happens', 'if that happens', and Pep said something similar 'the season is over if we lose tonight'.
"Football is like this. If we win tonight and are 10 points ahead and then from that win no games anymore, then nothing happens.
"So for us it's really important that we just take it game by game, because there's no other chance.
"If we would have won the title five times in the last 10 years then we would say 'we go 100 percent'.
"But we don't have the experience in that. Why should we behave like somebody who won it all the time?
"That's true we didn't win it for a long time; the club didn't [and] we never won it as a team. That's how it is.
"We want to finish the season as good as possible. That's alright, we can do that, and we're still in a pretty good position, so it's all fine for us!
"Not in the moment, it feels really shit. But it's only a moment.
"Tomorrow we wake up, it still feels average, and then we have the opportunity to work on it, prepare for the next game, and that's what we will 100 percent do."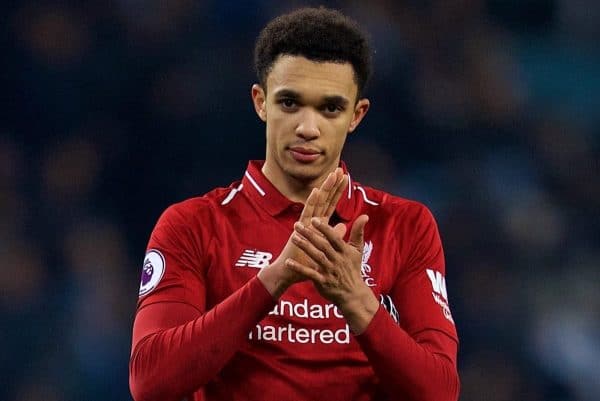 This is a welcome take from the manager in a situation that could have seen a measure of negativity spread among supporters, as though it is a 2-1 loss to City, Liverpool are still in control.
The next five games in the league see the Reds take on Brighton (A), Crystal Palace (H), Leicester (H), West Ham (A) and Bournemouth (H)—all sides beaten in the first half of the season.