It's no secret that James Milner is an influential figure in the Liverpool dressing room and Gini Wijnaldum says that extends to when the No. 7 isn't playing.
Milner's versatility, professionalism and work rate make him an integral part of Jurgen Klopp's squad, a go-to player when a specific role needs filling—and the vice-captain of the first team, of course.
Nominally an energetic central midfielder, Milner has at different times appeared for the Reds in a holding capacity, at full-back and even wider in a four to offer protection down the flank this season.
But Wijnaldum, often a partner of Milner's in the centre of the park, says it's far from just on the pitch where the Englishman's influence is felt.
Indeed, speaking to Premier League Productions, Wijnaldum says Milner is almost an extension of the coaching staff in the way he helps the rest of the squad.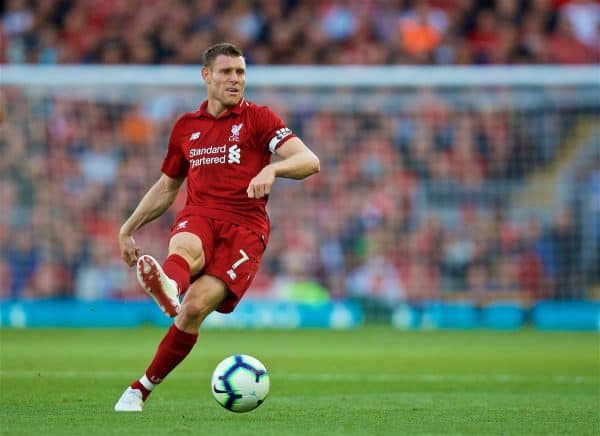 "It's not only his quality that he has shown this season but also the way he treats everyone, the way he tries to help the team.

"Even if he's not training or playing, he always tries to help the team stay sharp and be aware of everything that can happen. He is a manager in the form of a player!

"He was quite unlucky when he got injured [in December] but even then before games he came into the dressing room and spoke with the players, trying to keep them sharp.

"So he was always involved, even when he was not in the 18. He was still part of the team. He would try to help the players on training days and everything.

"He has a big impact on how we perform right now."
It won't come as a surprise to learn that Milner is so involved in the overall development of the squad.
As one of the more lead-by-example players on the pitch who is utterly unafraid of any confrontation, it's easy to imagine the 33-year-old acting the part of the elder influencer.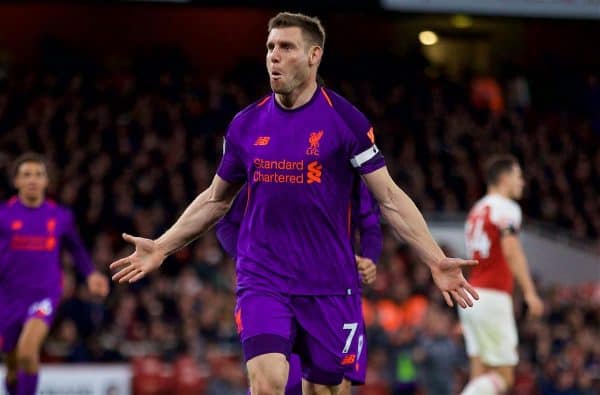 More than two years older than anyone else in the squad, Milner is sometimes jokingly referred to as the old head, and such reliability comes across in, for example, his penalty taking.
It's also a key part of his persona which means Klopp relies on him so much to fill in wherever needed, such as at full-back when injuries have hit.
That won't be the case next time out, though, with Milner suspended and a shortage of options meaning youngster Rafa Camacho may start at right-back.
But even though he won't be involved in the squad against Leicester, it's clear from Wijnaldum's words that Milner will still be offering guidance to those who feature, particularly if it's an inexperienced player like Camacho who he can help through the 90 minutes in a different way.