The media largely understood Liverpool's approach in the 2-1 FA Cup exit at Wolves but were unimpressed with form of several first-team hopefuls.
The Reds' FA Cup journey ended at the first hurdle as Jurgen Klopp's much-changed side fell to a narrow 2-1 defeat.
A brilliant finish from Divock Origi sadly counted for nothing, as goals from Raul Jimenez and Ruben Neves were enough to take the hosts into the fourth round.
It means all the focus for Klopp's side is now on the Premier League title push and producing another strong Champions League campaign in the second half of the season.
Here's how the media assessed events at Molineux.
The majority of the media understood Liverpool's approach to the competition…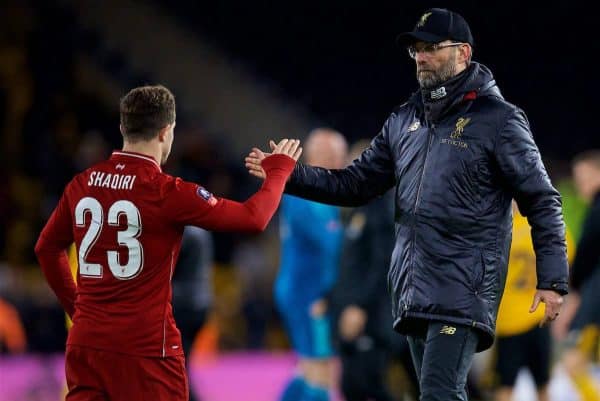 The Mirror's John Cross thinks Klopp could live to regret passing up the chance of FA Cup success if the Reds fail to land the Premier League or Champions League:
"Another chance of silverware gone but Jurgen Klopp has his eyes on bigger prizes this season.

"However, if Liverpool do not take advantage of their four-point lead in the title race or crash out of the Champions League then you feel this was a night Klopp may live to regret."
The Guardian's Daniel Taylor understood the bigger picture to Klopp's approach, but believes the time to judge whether it was right will be at the end of the season:
"They do, however, clearly have other priorities and it was certainly difficult to remember the last time a team from Anfield has seemed as indifferent to the FA Cup as Jurgen Klopp's team did during this dishevelled defeat.

"The time to judge whether Klopp was entitled to take such a risk will probably be at the end of the season, when we know whether the current Premier League leaders have held on to their position at the top of the table."
The Liverpool Echo's James Pearce dismissed any criticism of Klopp's approach, rightly assessing how the Premier League is the main priority:
"Disrespect or merely common sense?

[…]

"On this occasion criticism really should be muted. Even the doom and gloom merchants need to take a step back and look at the bigger picture. In fact they just need to look at the Premier League table."
This is Anfield's Joel Rabinowitz also thought Klopp was right to rotate so heavily after a hectic December and festive schedule:
"Given the intensity of Liverpool's remarkably successful December, and the ongoing pressure of leading the way in the Premier League title race, it only made sense to make significant changes here."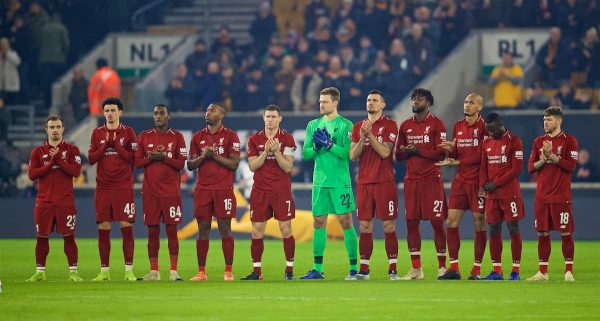 However, the Evening Standard's David Lynch believes claiming victory at Brighton on Saturday will instantly justify Klopp's decision to play a second-string side:
"Accusations that this defeat will sap confidence are inevitable, of course, but can easily be silenced with a convincing response at Brighton and Hove Albion this weekend.

"In truth, it is only in the event of a win on the south coast that Klopp can truly feel his bold selection here has paid off."
And Pearce rightly noted that this loss will be forgotten should the Premier League trophy arrive at Anfield in May:
"Deliver the Holy Grail come May and this miserable defeat will barely get a passing mention.

[…]

"The FA Cup was always a distant third priority behind the Premier League and the Champions League and Liverpool played like it."
Reporters discussed the potential impact of the cup exit and a second straight loss…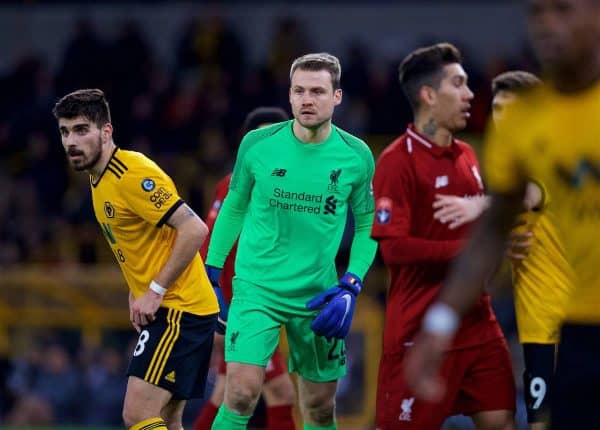 First of all, ESPN's Glenn Price rightly noted that the disjointed performance was understandable, a result of so many changes and an untried lineup featuring:
"There were certainly no complaints from Liverpool supporters about the nine changes Klopp made. The performance was understandably disjointed."
Lynch hit the nail on the head when assessing that the second straight loss will have no bearing on the first-choice players—and especially those who didn't feature at Molineux:
"Wolves away is a tough game as it is, even without nine changes being made to the XI.

"As such, the Reds dressing room is unlikely to take this one too hard – adding a 19th league title is all that matters this season."
Rabinowitz pointed out how a lighter schedule could now benefit the Reds' title pursuit and Champions League campaign:
"The focus remains very much on the league and Bayern Munich on the horizon, and a lack of extra games from going out of both domestic cups can only serve as a blessing in terms of focusing on those two main priorities."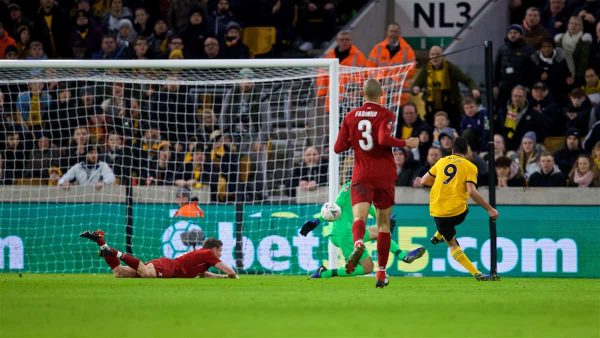 Our own Karl Matchett explained that he expects to see Liverpool's strongest team—injuries dependent—in practically every game from now on:
"Rest and recuperation can be factored in with just the Champions League as an added competition to challenge for, meaning the Reds have a minimum of 19 matches left to play—and a maximum of 25.

"Injuries which can't be accounted for aside, there won't be much reason to chop and change, other than for form and tactical choice."
The senior players who featured came in for criticism for uninspiring performances…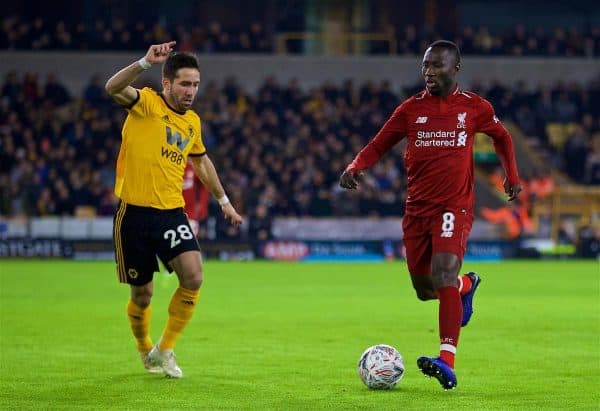 Price assessed the cup tie as "an opportunity squandered" for all of those given a chance to impress:
"Some senior on-the-fringes players did not cover themselves in glory here.

"This was a game in which they could have given something the manager to think about, but it was an opportunity squandered."
Matchett picked out five first-team hopefuls who failed to take their chance to shine:
"Naby Keita, Daniel Sturridge, Xherdan Shaqiri, Alberto Moreno, Divock Orgi: Mission failed.

[…]

"It was a night when the rotation players needed to find their range and rhythm, showcase why they should have more involvement going forward and put pressure on the starters—as well as gain more game time for themselves in future with a win. A night failed on all accounts, unfortunately."
Lynch was particularly disappointed by Naby Keita and thinks that the Guinean's form is now becoming a worry:
"Keita's performance in particular should come as a worry to Jurgen Klopp, the Guinean again providing flashes of promise amid an otherwise ineffective showing.

"The man who inherited Steven Gerrard's No. 8 shirt is yet to start showing himself worthy of such an honour, and his manager can't be criticised for not playing him into form with a title challenge in full swing."

Taylor was among several to be very unimpressed by Liverpool's strike duo, and criticised Divock Origi and Daniel Sturridge for a lack of effort:
"Their strikers could probably cite a lack of service but it was still a lacklustre effort from Daniel Sturridge and Divock Origi."
Rabinowitz was unimpressed with Simon Mignolet, assessing that the Belgian should have done better with the goals and that the gulf in quality between him and Alisson was evident:
"Could have done better to make things more difficult for Raul Jimenez with the opening goal, and perhaps a little slow to shift across for Ruben Neves' admittedly brilliant strike.

"Unconvincing distribution also put team-mates under unnecessary pressure on numerous occasions. A performance which illustrated the gulf in class between him and Alisson."
There were better reviews for the young trio involved – in particular Ki-Jana Hoever…

BBC Sport's Saj Chowdhury thought Hoever was the most impressive of the youngsters and saw signs that he could go on to become a "fans' favourite" with more opportunities:
"But most impressive was Hoever, who joined the Reds from Ajax in the summer.

[…]

"He also produced one of the moments of the match when he raced out from defence to set up a Liverpool attack. The Dutch player could become a fans' favourite if he gets given more first-team chances."
The Liverpool Echo's Paul Gorst thought Rafa Camacho was deliberately targeted by Wolves, but assessed that the right-back "stood up to the task":
"Camacho was clearly targeted as the weak link and being an 18-year-old making your debut in a position that's somewhat unfamiliar, it was easy to see why that was the case.

"The versatile Portugal Under-20 international though stood up to the task, even when the big crutch of Lovren's guidance was taken away from him early on."
Gorst also reflected on a promising night for Curtis Jones, who showed signs he can have "a long future at this level":
"Jones appeared to tire in the second period, understandably, but he provided enough to hint he has a long future at this level."