Liverpool's trip to Brighton this Saturday is certainly an important one, but Chris McLoughlin believes it is still too early to hype up the Premier League title race.
Let me guess. You're thinking what a big game Brighton vs. Liverpool is in the title race, right? How the Reds need to put the defeat to Man City behind them and get three more points on the board to fend off the advances of the crude oil champions?
You're dreading the possibility of another slip-up, too. Worrying that if Liverpool don't win at the Amex—which isn't accepted everywhere—and City keep scoring goals like they're going to be banned after Brexit that the momentum will have shifted and our four-point lead will disappear quicker than a January gym newbie.
Me too. But maybe we shouldn't be. The players certainly won't be going to bed thinking it's must win or else.
Indeed, not focusing on the bigger picture is something that Jurgen Klopp has drummed into his players as much as gegenpressing, counter-attacks and hitting the first man from every corner.
Gini Wijnaldum provided evidence of that following the 2-0 win at Wolves on the Mad Friday before Christmas.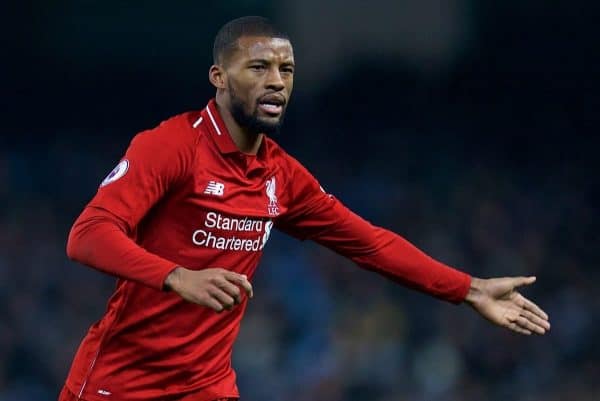 "When we played Wolves away a lot of the players didn't even know against who City or Tottenham were playing," he revealed. "We were just focused on our own game and trying to get the most out of that one. That is why it goes so well."
As a Liverpool supporter that might seem like an alien concept to you.
How on earth do they stop themselves from staring at the league table for hours, analysing the fixture list like Inspector Clouseau with a big magnifying glass and working out so many permutations and points possibilities that it turns out you're better at maths than your school certificates say?
It's all part of being professional. Of taking the emotion we're all going through out of it. Of concentrating on their jobs. Of sticking to what they've been doing in the first half of the season. And it's also January.
You know, the first month of the year. The one when you've got no money, when the slight possibility of snow has the Daily Express predicting a world-ending ice age with made up weather terms like 'glaciergeddon' and when the supermarkets start selling Cadbury Creme Eggs.
It's also four months away from May, when the Premier League season ends, which is why when I asked a now-retired ex-Liverpool player this week if he thought the Brighton game was a test of nerve for Klopp and his players that he responded with the kind of firm "no" usually reserved for "fancy an early night?", or "would you like to play at right-back for Neil Warnock at Cardiff?"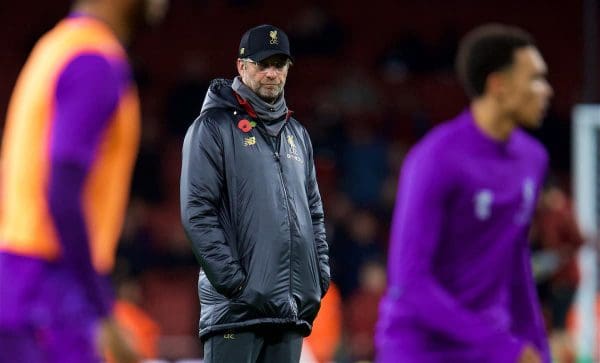 For those inside the game the title race hasn't truly got going yet. This is the calm before the storm.
The first half of the season is all about putting yourself in a position to compete, the next three months are about remaining in contention and then, and only then, do you start to think about winning it come April and May.
Klopp summed up how he and his players see it before the Anfield win against Ar5ena1.
"Nobody celebrates the half-time whistle of the season. It gets really exciting when you have five games to go and you are six or seven points up," he said.
"People don't see it, but I'm a pretty calm person. Not during the 90 minutes but in general. I don't get that easily excited about different things. It's only about us.
"If we lose a game people will immediately see it as slipping through our fingers again or whatever, and that's just not our situation.
"We were not the hunters and now we are not the hunted or whatever. We are just a football team who want to play the best season of our lives."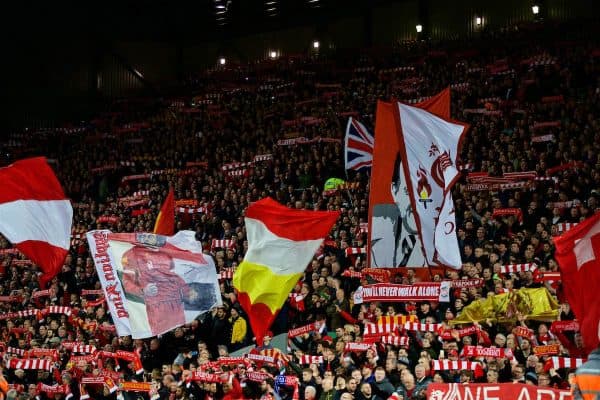 Of course, that hasn't stopped media stakeholders with products to sell from hyping up the title race already, not least due to the complete lack of any contest last season.
And it won't stop us Liverpool supporters emotionally invested in it from experiencing feelings at both ends of the Richter scale depending on results, but I think Klopp is onto something here.
If we all can't keep our nerve now, in January, by overthinking it what chance have we got come April and May when the TV companies arrange it so all the title contenders play on different days (as you'll note is already happening this weekend with Liverpool, City and Spurs) so a stage-managed punch-by-punch race can be played out?
No chance, is the answer, so do yourself a favour, take a deep breath and don't spend every waking moment obsessing over the title race and ramifications of every result. Well not yet, anyway…
---
Chris McLoughlin writes for This Is Anfield each Friday; he's also senior writer for the Official LFC Matchday Programme and LFC Magazine. You can order the new edition of LFC Magazine here.