Liverpool fans have been voting for a week on the best goal scored by the Reds at Anfield in the Premier League—and we now have a winner.
Roberto Firmino struck the 1,000th goal by a Reds player on home soil since the top-flight re-brand back in 1992/93, in the win over Crystal Palace.
Down the years there have been some amazing and memorable strikes at the stadium, so we set about to determine which was the best in the eyes of the fans.
This Is Anfield have been running polls on Twitter to allow supporters to cast their votes, after we selected an initial 32 finalists.
Divided up into eight groups of four, fans were invited to select their favourite from each quartet of strikes, with categories such as 'outrageous long-rangers,' 'vital strikes' and 'tremendous technique.'
Two from each group progressed and a knock-out style voting process ensued.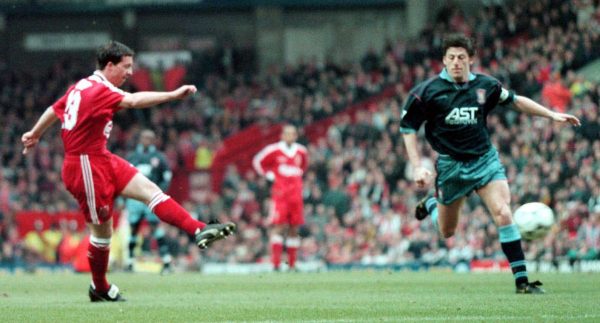 Judging by the early talk on social media and the time which has passed since some goals went in and are still talked about, we were expecting a couple of particular favourites to emerge.
Robbie Fowler's breathtaking effort against Aston Villa back in 1996 seemed to be a big hit for many—yet only ended up taking second place in Group A and suffered an early knock-out exit.
Similarly, Fernando Torres' incredible swivel-and-volley against Blackburn Rovers is often spoken about being a favourite goal of all time for many—yet suffered a surprising quarter-final defeat.
In the end, two iconic Liverpool legends fought out the final, with Steven Gerrard's long-range missile against Manchester United from 2001 the first option…
…and Luis Suarez's exquisite lob, the first of an eventual four-goal haul against hapless a Norwich City in 2013, being the second.
More than 20,000 votes were cast across the quarters, semis and the final itself combined—and the former skipper and No. 8 emerged as the fans' victor.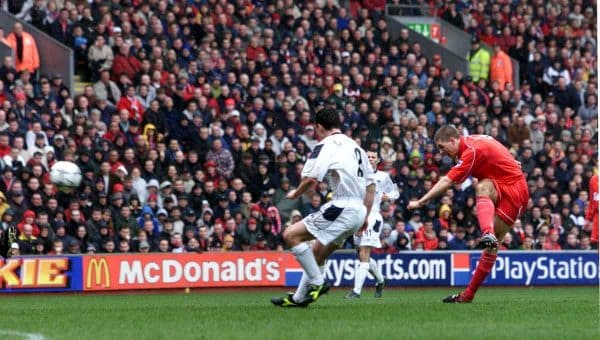 Gerrard collected 54 per cent of the votes in the final to ensure his goal is crowned Anfield's greatest Premier League strike.
#LFCWorldCup – Anfield's best Premier League goals

?? THE FINAL!

Steven Gerrard vs. Man United, 2001
?
Luis Suarez vs. Norwich, 2013

— This Is Anfield (@thisisanfield) January 29, 2019
Others including Divock Origi's Merseyside derby winner and Mohamed Salah's solo run against Tottenham fared surprisingly well in our #LFCWorldCup, suggesting perhaps that there was an amount of recency bias affecting some of the decision-making.
It's also possible, of course, that favouritism toward certain players over others might have been a factor—though perhaps some might say the player netting the goal makes a difference into how much it means to some supporters.
Certainly, a few strikes—Stan Collymore's late 4-3 winner over Newcastle, John Arne Riise's ferocious free-kick against Man United, the aforementioned Torres goal and Gerrard's own brilliant, bending volley against Middlesbrough—didn't go as far into the tournament as many predicted.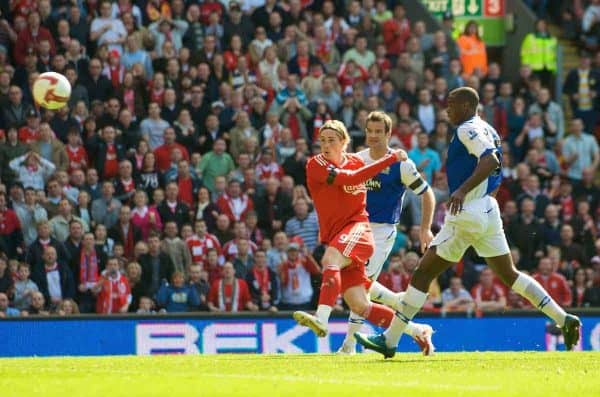 What's for sure is that there have been plenty of sublime and unforgettable strikes at Anfield down the years.
And, should Jurgen Klopp's team end up with a certain piece of silverware this season, there could yet be one ahead of us which rivals even the greatest and most memorable of all time!