Who has contributed to the most goals for Liverpool this season? There are some surprises in our look at some alternative statistics.
When football commentators reel off a few stats during a game, this is almost always followed by the assertion that most important is the one in the corner of the screen.
But a team's performance within a game and especially across a group of games of a season can be better analysed by looking deeper into different statistics and data.
The scoreline is the most important number, but the underlying figures often help explain why the scoreline is what it is—at least across a number of games, even if there might be anomalies in a single fixture.
Here is a compilation of some alternative stats, alternative assists and various types contributions to goals for Liverpool so far this season.
Penalties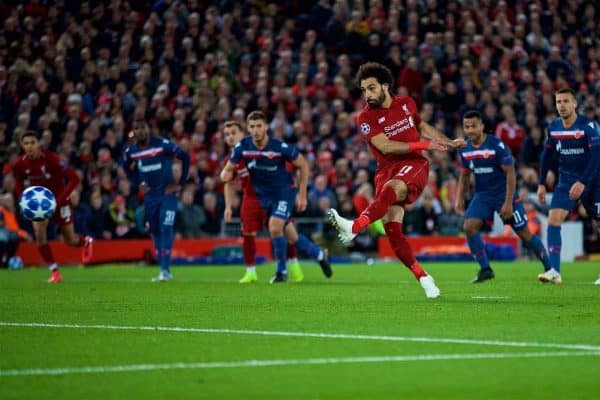 There was a time when Liverpool were dubbed 'Penaltypool' for the amount of penalties they were awarded due to their trickiness in the box, especially when the likes of Luis Suarez and Raheem Sterling were at the club.
The amount of spot-kicks awarded decreased dramatically in recent seasons:
Crystal Palace had seven PL penalties at Selhurst Park this season.

Liverpool have had six at Anfield across the last three seasons.

I know everyone grumbles about their team not getting enough pens, but that's nuts.

— Andrew Beasley (@BassTunedToRed) May 14, 2018
However, more recently they appear to be on the rise again, especially since Salah has been playing through the middle.
Here are the penalty charts, including penalties won (PA) and penalties scored (PG).
Penalty Assists
Mohamed Salah – 3
Sadio Mane – 2
Georginio Wijnaldum – 1
Dejan Lovren – 1
Penalty Goals
Mohamed Salah – 3
James Milner – 3
Roberto Firmino – 1
Assists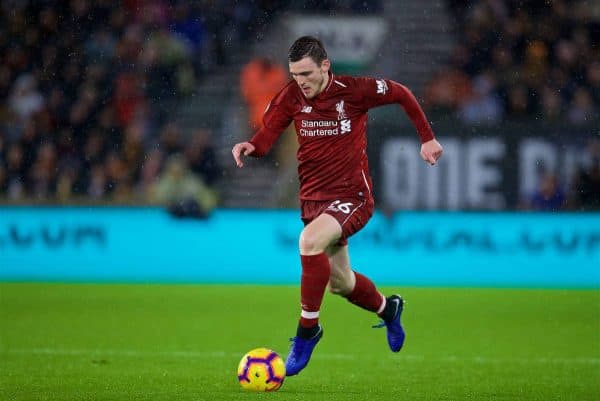 This data includes deflected assists (DA). Crosses or shots which have been deflected can often be more instrumental in the creation of a goal than standard assists.
Sadio Mane has had some of these this season, but perhaps the most obvious one is Xherdan Shaqiri's free-kick which rebounded off the bar and was tucked home by Salah.
These are included in the total assists and total contributions stats, but the top players for deflected assists alone are:
Deflected Assists
Sadio Mane – 4
James Milner – 2
Mohamed Salah – 1
Georginio Wijnaldum – 1
Roberto Firmino – 1
Xherdan Shaqiri – 1
Virgil van Dijk – 1
Andy Robertson – 1
Naby Keita – 1
Second Assists
Also included in the list of goal contributions are 'second assists'.
As with standard assists these can vary in their effectiveness, but it's often the case that the through ball or cross which leads to the assist can be more instrumental in a goal than the assist itself.
These are sometimes called 'hockey assists' because when a goal is scored in ice hockey, the last two players to touch the puck before the goal are given an assist.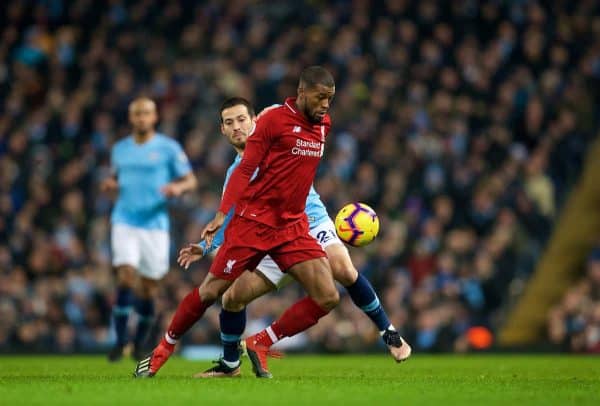 Below is Liverpool's second assists chart for the season so far, in all competitions.
Note the inclusion of Alisson, who has played an important part in a number of goals this season but has only registered one second assist so far, which is still good going for a goalkeeper.
Andrew Robertson – 5
Sadio Mane – 4
Georginio Wijnaldum – 4
Trent Alexander-Arnold – 3
James Milner – 2
Roberto Firmino – 2
Xherdan Shaqiri – 2
Virgil van Dijk – 2
Naby Keita – 2
Fabinho – 2
Joe Gomez – 2
Mohamed Salah – 1
Daniel Sturridge – 1
Alisson – 1
Jordan Henderson – 1
Presses Leading to a Goal (PLG)
Much of Liverpool's off-the-ball work is based around pressing. Teams have tried to find ways to nullify this, but Jurgen Klopp has reacted to this and found different ways, and different areas, for his team to press.
PLG must, therefore, be one of the most satisfying things for Klopp to see on the pitch.
He once said that "no playmaker in the world can be as good as a good counter-pressing situation."
A couple of players have contributed to goals in this manner this season, and the definition used here are goals where the move immediately after winning the ball has resulted in a goal.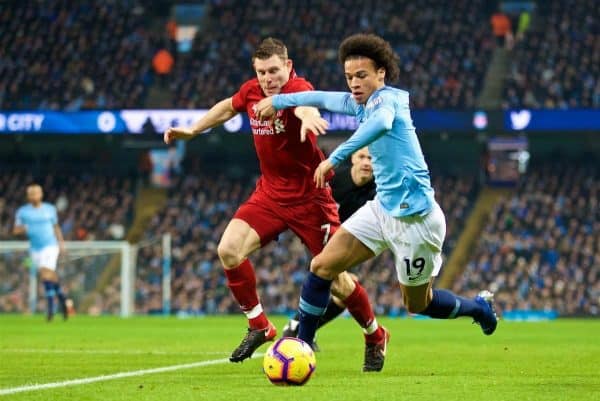 For more detailed information on this it's worth checking out Anfield Index's Under Pressure, who also track things like presses leading to shots and total pressing actions.
Here are the players who've contributed to a goal through pressing so far this season:
James Milner – 2
Sadio Mane – 1
Fabinho – 1
Finally, the standard assists chart, which also include deflected assists and penalty assists, but not second assists.
These will be different to those shown on other sites due to the definitions explained above.
Total Assists
Mohamed Salah – 11
Andrew Robertson – 8
Sadio Mane – 7
Roberto Firmino – 5
Xherdan Shaqiri – 5
James Milner – 5
Trent Alexander-Arnold – 3
Virgil van Dijk – 3
Georginio Wijnaldum – 2
Fabinho – 2
Daniel Sturridge – 1
Dejan Lovren – 1
Divock Origi – 1
Naby Keita – 1
Adam Lallana – 1
Goals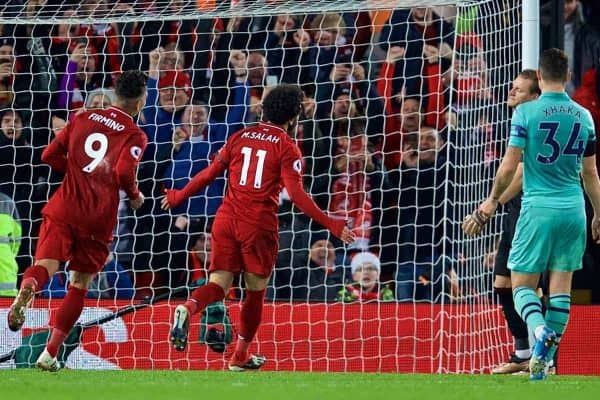 The easy one. Simply total goals scored including penalties:
Mohamed Salah – 16
Roberto Firmino – 10
Sadio Mane – 9
Xherdan Shaqiri – 6
James Milner – 5
Daniel Sturridge – 4
Divock Origi – 2
Georginio Wijnaldum – 1
Trent Alexander-Arnold – 1
Fabinho – 1
Virgil van Dijk – 1
Dejan Lovren – 1
Joel Matip – 1
Total Goal Contributions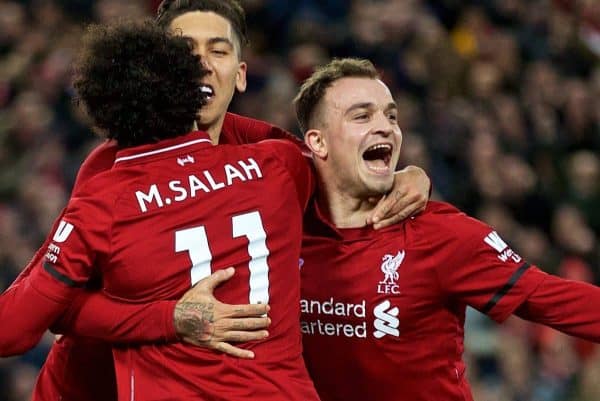 Hockey players' tallies of goals plus assists are simply points, but here we've added up all the PLG, assists, deflected assists, penalty assists, second assists and goals to produce a 'contributions' chart.
There is a chance that a player can contribute twice to one goal if they win the penalty then score it, make the pass before the assist and then score the goal (Shaqiri vs. Man United), if they make the PLG then the assist, or if they make the PLG and then score the goal.
It seems right to reward a player twice if they've made such a big contribution to scoring a goal. The ultimate achievement would be making the PLG, then the second assist, then scoring the goal itself.
But it's also for this reason that second assists are not given here for penalty wins (PA), or, slightly more unfairly, deflected assists (DA):
Unsurprisingly, Salah (28), Mane (21) and Roberto Firmino (17) top the rankings in terms of overall goal contributions, but it is interesting how prominently Andy Robertson (13) features.
Furthermore, Georginio Wijnaldum (seven), Fabinho (six) and Virgil van Dijk (six) rank fairly high, particularly as players who, unlike Milner (14), are predominantly focused on more defensive duties.
The only outfielders to appear and not contribute to a goal so far this season are Alberto Moreno, Nathaniel Clyne, Rafa Camacho, Curtis Jones and Ki Jana-Hoever.
But three of those debuted at Wolves in the FA Cup, one has joined Bournemouth on loan and the other has made just five outings, with Robertson the established first choice at left-back.