Alex Malone is one of the organisers of a new initiative from Liverpool supporters in the United States; a celebration for Liverpool fans in Las Vegas, Nevada, USA.
Twenty-something years ago, I attended one of the first ever Glasgow Celtic Fan Conventions in Las Vegas.
Many of my good mates are Celtic fans, and with Sir Kenny, Gary Gillespie and YNWA links, plus the incredible support they gave us after Hillsborough, I was happy to join them. I wore my green and white Liverpool shirt.
It was great; a breathtaking, majestic celebration of their football club.
Fans from, literally, all over the world with their banners, flags, and hooped shirts could be seen singing, dancing and partying the weekend away. It was, truly, a fantastic experience.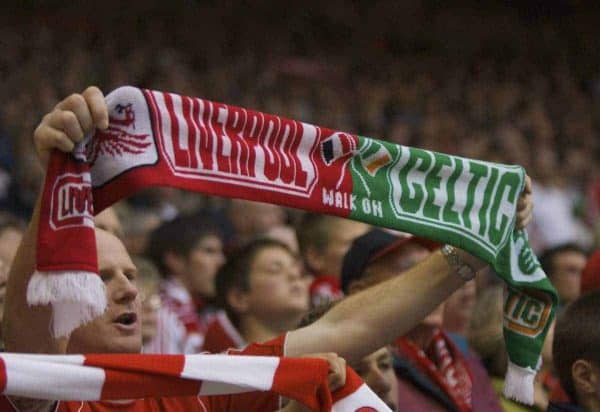 I dreamed back then that we, the Liverpool fans, could one day replicate it. With our legions of global fans and world-famous team, why not?
Other fans across the US and Canada had the same idea. To cut a very long story short we somehow managed to find each other. A casual chat over lunch one day, a few random emails, phone calls and texts and fate had brought five of us together.
Months and months of hard work, phone conferences and planning later, the dream is now a reality.
We are delighted to officially announce KOPCON 2019. The first ever Liverpool Supporters Convention to be held in Las Vegas, Nevada from Thursday May 30th to Sunday June 2nd
KOPCON is a 3-day weekend of celebration of our great club designed by Liverpool fans, for Liverpool fans. An occasion with one simple goal; to bring together the global family of Liverpool fans to celebrate our mutual love and support of the World's Greatest Football Club.
The Location
Located in Las Vegas just one block off the strip, and formerly the Las Vegas Hilton, the Westgate Resort & Hotel was once the world's largest. It has hosted a multitude of world-famous events over the years, including the Leon Spinks, Muhammad Ali world-title fight. Elvis played there over 600 times.
Today, it has the world's largest race & sports venue. The Superbook® is a 30,000 sq ft sports venue with a huge 220ft by 18ft 4K video wall… and the Saturday of KOPCON happens to be the day of the Champion's League final!
Imagine if we make the final…
The Official Events
It all kicks off with Thursday Pub Night at McMullan's Irish Pub – the Liverpool Supporters Pub of Las Vegas.
We are delighted to announce that music and entertainment will be provided by renowned Liverpool fan, singer & performer, Marc Kenny.
Currently performing at Liverpool home games, Marc also performs at & coordinates events with current & ex-Liverpool players. Recent shows have included the likes of Virgil Van Dijk, Jurgen Klopp, Jan Molby, John Barnes & Peter Beardsley, amongst many others.
What better way to kick off the weekend than a pub full of Liverpool fans booming out our repertoire of legendary, classic songs in a Liverpool Las Vegas pub?
To help recover from Thursday, Friday is Pool Party day. A section of the Westgate's huge outdoor pool will be cordoned off exclusively for KOPCON.
Bring your banners, your flags and your best singing voice. Soak up a few drinks, the Vegas sunshine and relax with a cold drink or two. Just about a perfect way to spend a Friday afternoon with fellow fans.
Friday evening is left open for you to catch your breath, relax, or better still, explore the many world-famous attractions Vegas has to offer.
And finally, to cap off a fantastic 3 days, Saturday marks the grand finale: It's Legends Night.
In one of the Westgate's massive convention rooms we are hosting the main event, where we are honoured to announce that ex-Liverpool players Terry McDermott, David Johnson and Howard Gayle will be joining us as well as a second performance of the weekend from Marc Kenny.
The Players

Terry McDermott was a mainstay in the Liverpool teams which won five English League titles and three European Cups. He won footballer of the year in England in 1979/80.
A true Liverpool legend, he also scored THAT goal against Spurs… considered by many to be the greatest goal of all time.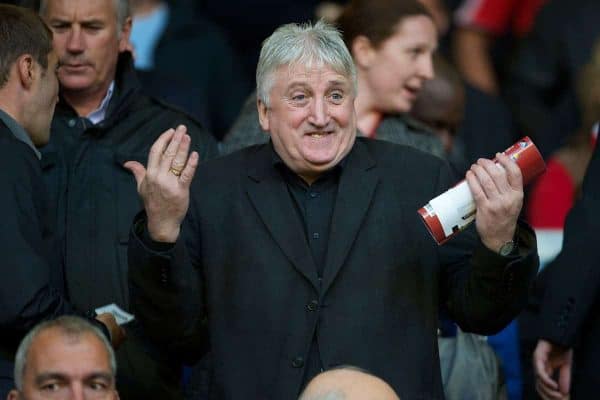 David Johnson only won a mere four League titles and three European Cups.
In six seasons he bagged 55 goals in 148 appearances for the Reds. He was also the player who hit the 50-yard cross-field pass to Steve Heighway which seconds later resulted in that very same goal!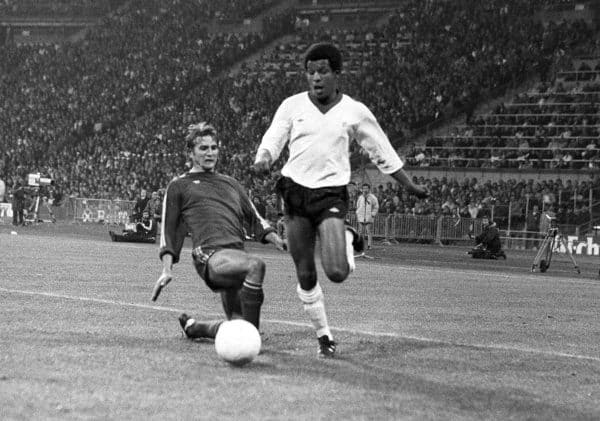 Howard Gayle makes up the trio of Scouse born and bred ex-players. Yet another European Cup winner, Howard has the honour of being the first ever black player to play for us, paving the way for future greats such as Barnes, Van Dijk, Sturridge and many, many more.
He played in the European Cup semi-final against Bayern Munich in 1980-81 and was in the squad for our glorious win against Real Madrid that same season.
All 3 will be signing autographs at a meet and greet and then joining us for the main event in the evening. Don't expect an early night!
So there you have it…
This is the first of what we hope will be an ongoing, possibly annual fan celebration of our club. We invite you to join us. We want you to join us to make this an occasion to remember.
The room rates we have negotiated are fantastic, the hotel is fantastic, the line-up is fantastic, and – well – to top it all, it's happening in legendary Las Vegas!
If you've ever considered a trip to Vegas, or simply want to experience it again, this is your chance.
One ticket price (see the website for details – tickets are on sale now) gains you access to Pub Night, the Pool Party and Legends Night.
I began this piece talking about Celtic and it's only right I finish it by giving them a huge shout-out and 'thank you' for their help.
This event may well not have happened if it hadn't been for the incredible amount of support and advice their North American Fan Club has given us in making KOPCON 2019 a reality. Jimmy O'Hara and Tam Donnelly, you have our sincere gratitude in making this dream event a reality.
In fact, if 3 nights isn't enough for you, as the Liverpool convention winds down on the Sunday, the weeklong 2019 Celtic Convention begins the same day… in the same hotel!
If you're interested, wish to know more, or can't wait to join us, simply go to kopcon.org for further detail and to book your room and KOPCON tickets.
We look forward to seeing you in Vegas.