The media felt the small details went against Liverpool in the 2-1 loss to Man City, but believe the Reds can remain positive for the title race.
Liverpool tasted defeat for the first time in the league this season, as the fine margins fell the way of City in the title showdown to narrow the gap to four points.
Unlike Sadio Mane's first-half effort, Leroy Sane's winning goal spun in off the post after Roberto Firmino had levelled Sergio Aguero's opener.
The result is disappointing, but it's a loss Liverpool must move on from and react positively to with the Reds still currently in control of the title race.
Here's how the media assessed a high-quality game between two excellent teams at the Etihad.
Reporters pointed out the fine margins and believe Liverpool can therefore remain optimistic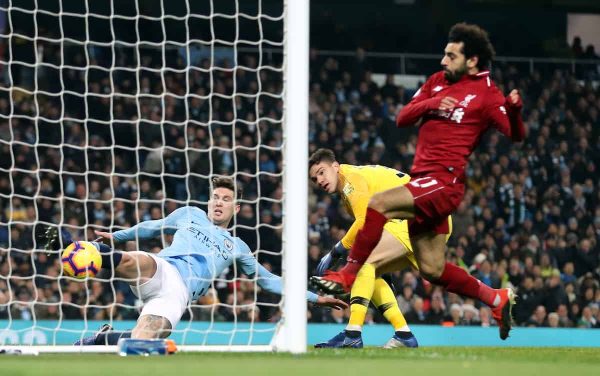 Our man Karl Matchett reflected on the small details going against Klopp's side before noting the key margin between the rivals at this moment:
Liverpool hit the post, and the ball rolled out. City hit the post, and the ball rolled in. Add to that, goal-line technology ruled out what could have been an opening goal for the Reds by a width of just 11mm, as John Stones just managed to clear—somehow right between Mo Salah's legs as he closed in.

[…]

Fine margins—but the biggest one of all remains the gap of four points at the top.
Standard Sport's David Lynch was among the large number of journalists who thought Vincent Kompany should have been sent off:
That is apart from one controversial in the first half when Vincent Kompany received a yellow card for a reckless challenge on Mohamed Salah, who would have been through on goal.

Similar tackles have been deemed worth of a sending off in the past and the City captain was fortunate not to suffer the same fate.
The Mail's Martin Samuel believes Liverpool are still the best team in the Premier League this season:
It may still be that Liverpool win the league. They continue to look the best team in it, even if Thursday night's display was uncharacteristically skittish in moments, with passes going astray and nerves apparent.
The Liverpool Echo's James Pearce perfectly summarised the situation:
No need for angry recriminations, no need to feel disheartened. Liverpool's proud unbeaten record bit the dust at the Etihad but the bigger picture remains incredibly rosy.

[…]

This is no time for panic or self-doubt. The Reds are still in the box seat.
The watching media provided analysis on where the battle was won and lost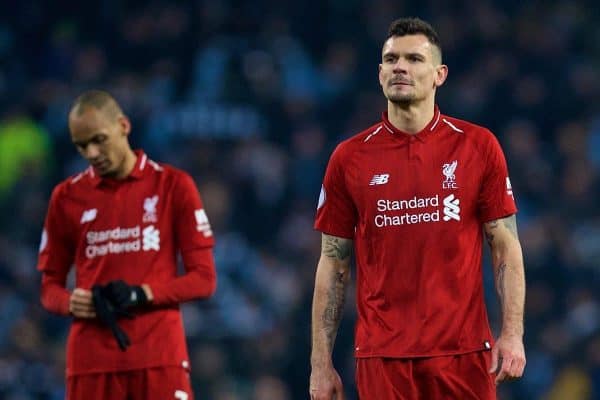 First of all, the Independent's Mark Critchley thought City's greater experience through the spine of their team proved telling:
For this greatest test of their title defence thus far, City lined up with the 32-year-old Vincent Kompany, the 33-year-old Fernandinho, the 32-year-old David Silva and the spritely 30-year-old Sergio Aguero.

[…]

Yet this crucial victory in City's title defence was otherwise the story of their old guard meeting the challenges of the new age.
The Telegraph's James Ducker thought Guardiola's choice to use defence-first pair Danilo and Aymeric Laporte as 'stay-at-home' full-backs was key as it limited Sadio Mane and Mo Salah:
The success with which Danilo and Aymeric Laporte tackled their rather forbidding assignments was always likely to have a telling impact on the outcome of this game and, by extension, largely define Guardiola's gameplan. Shackle Salah and Mane and you suffocate Liverpool, or so the thinking goes.

[…]

Still, it is a curious sight to see the full-backs in a Guardiola side this reluctant to venture beyond the halfway line and that was much the way of it. The tactics were simple: sit tight, do nothing rash, don't get sucked upfield.
An article from the Independent felt that City got their rewards through targetting Dejan Lovren:
As noted by the Premier League's Adrian Clarke on this touch map, it was obvious that Aguero was lurking on the shoulder of the inconsistent Lovren rather than trying to match up against the imperious Dutchman.

[…]

It would be harsh to say that Lovren cost Liverpool this game but he was clearly their weak spot and City attempted to make the most of that.
Looking at things from a Liverpool perspective, the Mirror's Steve Bates thought Liverpool's big error was failing to control Leroy Sane:
The former Schalke star, 23 next week, terrorised Trent Alexander-Arnold and Dejan Lovren and had a hand in Aguero's clinical first half goal.

His pace and hunger for the ball meant he was a constant threat to a Liverpool defence who don't normally have many sticky moments.
Writing for Football365, Matt Stead felt Klopp got his midfield selection wrong, assessing that the chosen three are not enough for the top level games:
Klopp's part in this result should not be forgotten: he got it wrong. The midfield was ineffective in a formation that allowed for no anonymity.

[…]

After spending almost £100m on central midfielders in the summer, Klopp should not still be resorting to a trio comprised of two players he inherited and one he purchased two and a half years ago. Liverpool have grown exponentially in terms of their goalkeeper, defence and attack under the German, but still have a tendency to take two steps back in midfield.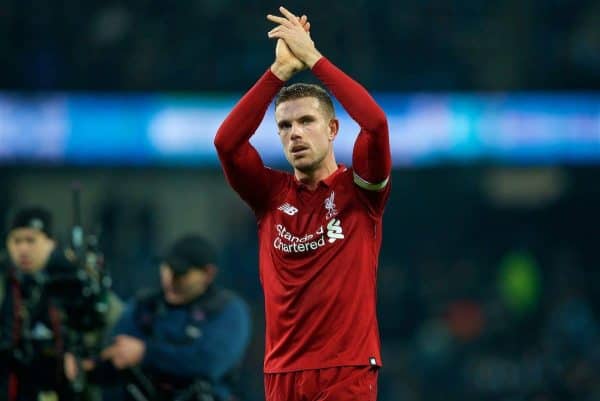 Lynch thought Klopp made an error in not starting Fabinho in particular, highlighting how the Brazilian is a superior option to Jordan Henderson in the No.6 role:
Jordan Henderson struggled to get the ball moving from deep under pressure at times, something that his Brazilian colleague immediately remedied following his introduction.

Fabinho oozes composure and quality in the No.6 position and is handy around the box, too – as his assists against Manchester United and Newcastle proved. Klopp may well wish he had started him from the off.
And the Independent's analysis explained how it was Klopp's decision to introduce Fabinho that was the catalyst for Liverpool getting back in the game:
To try and wrest back control of the fixture, Klopp brought Fabinho on to sit deep in midfield, offering a more conservative option than the all-action Milner.

[…]

Alexander-Arnold and Robertson hooking up in such an attacking position wasn't something that looked at all on the cards in the first half despite their better start. Fabinho's introduction made it possible.
The Guardian's Daniel Taylor thought Liverpool should have played more defensively after equalising to preserve a point:
Perhaps Liverpool might have been better to employ more restraint once Andrew Robertson, the game's outstanding performer, had turned Trent Alexander-Arnold's long cross into the six-yard box for Firmino to equalise with a stooping header.

It is difficult to be too critical after such an absorbing game but Liverpool lost their shape at the key moment and Sané punished them with a brilliantly angled finish.
As expected, there was plenty of discussion on how the result impacts the title race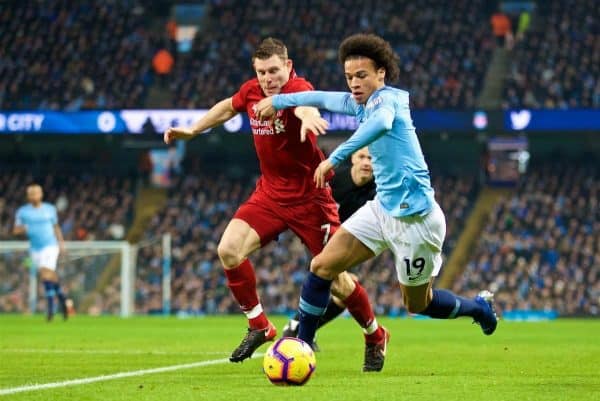 ESPN's Mark Ogden thinks Liverpool are still favourites, citing the importance of the healthy four point gap:
Four points is still an impressive lead for Liverpool, who remain favourites to win the club's first league title since 1990.
However, the Independent's Miguel Delaney thinks the Reds have now lost some of their "aura and momentum" which will give City a further boost:
It is not just that which is reduced. So is some of Liverpool's aura and momentum, as their unbeaten record went with that seven-point lead.
Writing for Goal.com, Neil Jones dismissed any suggestions of a 'title collapse' and backed Liverpool to maintain the push:
Could that nightmare repeat itself this term? Is another spectacular title collapse on the horizon? Simply put, no, there is absolutely nothing to suggest that might be the case.

[…]

Klopp was not getting carried away ahead of his side's trip to Manchester and will not lose focus now.
Lynch made a good point on how the Reds can learn from City's response to their loss at Anfield last season, noting it inspired Pep Guardiola's to embark on an unbeaten run, which should now be Liverpool's aim:
A first league defeat of the season will hurt Liverpool, but they cannot dwell on that feeling too long if they are to end their wait for the title.

City responded to their similarly crushing defeat at Anfield last term by going unbeaten until April – a run that saw them earn a record-breaking 100 points. Klopp will earn every penny of his wages in the aftermath of this loss convincing his players that the same is possible.
Meanwhile, Ogden saw defensive concerns for City despite the win, and assessed that Guardiola's side will have to improve in this regard if they are to keep the pace:
Manchester City have kept the title race alive by beating Liverpool, but the champions will not be able to sustain their challenge unless they tighten up defensively.

[…]

Walker's loss of form, Mendy's injury and Kompany's fading powers have left City vulnerable at the back, but they need to find a way to get back to their best defensively. If they don't Liverpool should overcome this blip and coast to the title.
Reporters discussed the good and not so good individual performers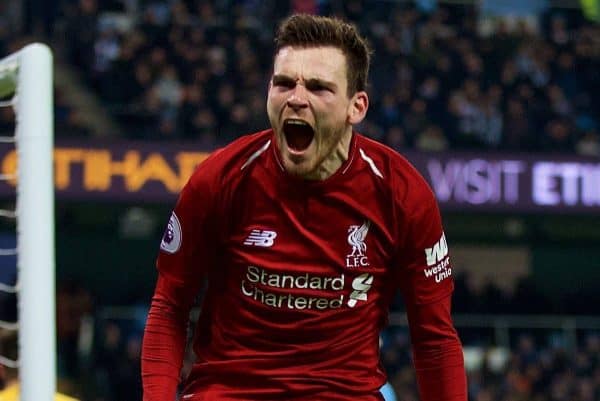 ESPN's Glenn Price was among plenty of journalists to focus on Lovren's poor display, assessing it as a return to the dark days of the Croatian's early Anfield struggles:
Meanwhile, Dejan Lovren's performance will take Liverpool fans back to the beginning of his Anfield career and have them counting down the days until Joe Gomez's return.

[…]

Not alert enough to Aguero's movement and was punished emphatically with the opener. An early booking for cynically bringing down Aguero didn't exactly help him — one of a number of rash decisions he made.
Ogden was critical of Mohamed Salah for another "no-show" against a direct rival and explained that it's vital the Egyptian improves in big games:
This was a game when Liverpool needed Mohamed Salah to produce a moment of magic to maintain their unbeaten run, but the Egyptian forward once more had a no-show against one of the Premier League's big guns.

[…]

Salah is a great player and one reason why Liverpool are still top of the league, but he needs to raise his game against the big clubs if Liverpool are to stay there.
On the positive performers, Bates was impressed with Andy Robertson's display and labelled the left-back "every bit as valuable" as Virgil van Dijk:
The defender only cost £8million in a switch from Hull 18 months ago but the 24-year-old Scottish international is every bit as valuable as £75 million Virgil Van Dijk in his role in Liverpool's back-line.

Full of energy and enterprise, Robertson had a running battle with Raheem Sterling but managed to keep the former Kop star off the scoresheet.
And finally, our own Henry Jackson thought the Dutchman produced another good performance:
Liverpool's key man was yet again a rock at the heart of the defence, barely putting a foot wrong while Lovren floundered alongside him.

The Dutchman was calm in possession, got rid of the ball when required and showcased his aerial prowess.