Fans travelled from far and wide to witness Liverpool in the Champions League final in Kyiv, and we spoke to Brett Curran to get the lowdown on his dramatic and emotional journey from Hong Kong.
Liverpool's route to the Champions League final last season was as thrilling on the pitch as it was off it, with Reds supporters enthralled and enchanted by Jurgen Klopp's men conquering all of Europe.
So much so that many made the trip from all corners of the globe, using various means of transportation, and with a complete disregard for the time it would take, to get to Kyiv—all for the joy and hope that following your club entails.
The final stop on the journey may have ended in despair, but the treks taken and the memories made are some that will last a lifetime.
For Brett Curran, the mad scramble to get a ticket and navigate his way to Kyiv from Hong Kong at the last minute was not without drama, but it was a trip he would do again in a heartbeat.
This Is Anfield spoke with Brett, from the Hong Kong Expatriate Supporters' Group, to get the lowdown on his incredible trip to the final.
"I thought 'what the hell have I done!'…"

"I only moved out to Hong Kong a couple of years ago, so when we got to the final I scrambled for tickets as I was readily going to the home and away European games prior to moving.
"So, obviously, the lads who have been going since the start all managed to get hold of tickets.
"It meant it was looking like it was going to be quite tight as to whether I would get one, and then I got a message overnight before the last game of the season—which was on the Sunday against Brighton, two weeks before the final.
"It was my mate trying to get hold of me and he couldn't as I'd been out, we then went out again for the evening for the Brighton game and he said, 'I've got a ticket, but it's in the ballot'.
"That was key to me making the balls up because he said, 'I put my name in the ballot' and it made me think that he's still not guaranteed a ticket. I hadn't directly spoken to him and I had a load of beers, and that was my understanding.
"I then woke up the next day thinking suddenly I've got so much going on at work and so should I even try and get one?
"And so later that morning I told him instead of getting me the ticket, because he needed my name for the ballot, put someone else's name in the hat.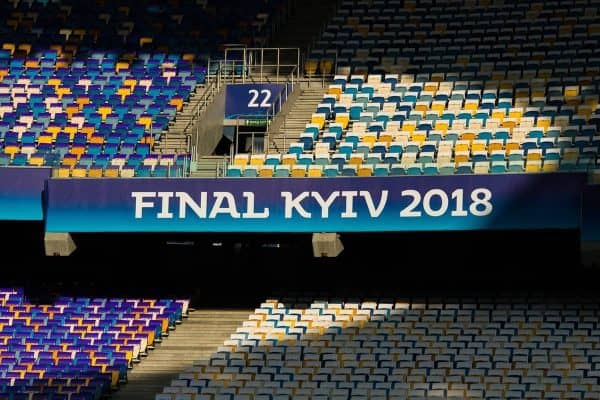 "But by about five in the evening later that day I suddenly sobered up a bit and thought 'what the hell have I done!'.
"I sent him an email straight away and he's like 'sorry mate, as soon as I got your message I offered it to another lad and he took it'.
"I said 'I didn't think you had a ticket yet' and he goes 'oh yeah, I've got it' and that sent me into a depression and major booze blues for over a week.
"I then looked everywhere for tickets and on the Thursday evening before the final a lad posted in a group chat for the Hong Kong Reds Expat football team asking if anyone was interested in getting one.
"I was on it straight away and it was a mate of a mate who couldn't go anymore, I phoned him up and it's this Irish fella who works in London, with a mate whose wedding was the week after the final and it had gotten too overwhelming to go away for a few days.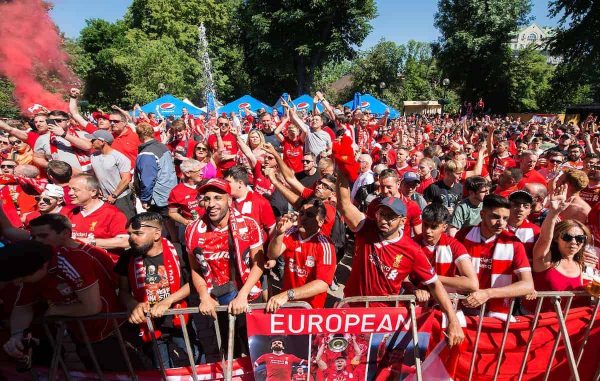 "He was trying to sell me a pair, so I called everyone in England and in Hong Kong to see who could get money to buy a stupidly expensive ticket at the last minute, and I couldn't find anyone.
"At the end of the day I was able to convince him to just give me the one, which meant I spent a silly amount of money.
"But even knowing the price my wife said, 'I've seen how depressed you've been for the last week and I want you to spend whatever money you can to get to this fucking game. I don't want you in the house, you're going to be horrible to be around.'"
And that was that, Brett had secured his place at the NSC Olimpiyskiy Stadium—but he still needed to find a way to Kyiv.
"It was like going back in time…"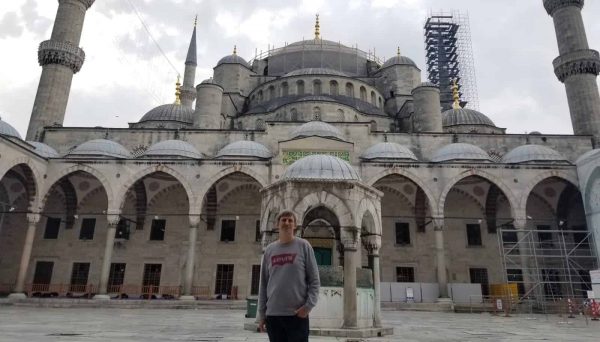 "It's now eight o'clock at night and I've got to get to Lviv where all my mates were going, because the flights to Kyiv were just stupid stuff. My wife got searching for a flight and I just threw a load of stuff in a bag and not even two minutes later she told me I was booked on a flight for 11 o'clock that night.
"I had an hour to get to the airport, so I kissed her goodbye and jumped in a cab. I get on my flight, after a frantic search in the terminal for a phone charger after realising I'd left mine at home, and the guy next to me was a Liverpool fan.
"So we had a few beers on the way to Istanbul—and I'm thinking 'this has got to be a good omen', as I was back for the first time since 2005.
"We land and it's six in the morning and I've got to get from one Istanbul airport to the other one, which is about 30 to 40 miles away at the other end of the city.
"My next flight was not until four in the afternoon and it meant I had time to go see some sights, so it was arranged for someone to help me and they ended up taking me around for the day to a number of the sights, where we also headed to the Blue Mosque.
"I never got a chance to go in 2005 because for four days I was drinking too much, and as we were waiting for it to open up this time round I was taken into a Turkish bar and by the time we came out the Blue Mosque had closed. So, I didn't even get to go in for the second time!

"I made my flight to Lviv, which is a beautiful place, and met up with the lads there and had a great night out before getting up a five the next morning to catch the train, which was a five-hour trip, to Kyiv.
"We had lunch with a load of Madrid fans, which was quite nice, before heading out to the Airbnb which the guy I bought the tickets from passed on. It was £20, and I know why it was £20.
"It was bloody miles out and when we got there it was like going back in time to what you remember about Russia with these tall scary and ugly buildings.
"We got in the lift and my mates are like 'are you sure you're going to come back here on your own tonight?', as everything was metal with each door about two to three inches thick. It really was like going back in time."
"Regardless of the result it was still worth every bloody penny…"

Having safely arrived in Kyiv and located his digs for the evening it was now time to chase up his ticket, an experience which was not without a few heart palpitations.
"When I bought the ticket, I asked how I would get it and he told me that he was going to hand it to a friend of his who was arriving in London from America a couple of days before the game, before he then headed to Ukraine.
"So, after seeing the place where I was staying, we headed back into the city to try and meet up with this American lad, but his flight had got delayed and I didn't hear anything until about four in the afternoon.
"I was getting a little worried at that point, but thankfully it worked out OK in the end.
"But we don't have to talk about the game, do we?!"
Although Liverpool were unable to clinch their sixth European crown on that night, it was a trip Brett would not hesitate in doing all over again as he reflected on the frantic nature of his dash to the final.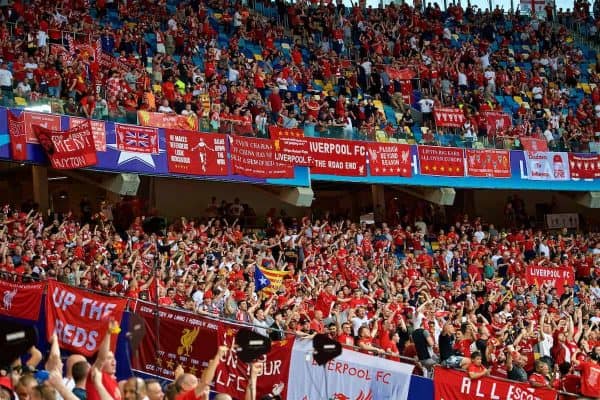 "It was just mental to sit there at six o'clock in the evening and I've got a chance of going, but it was my wife going no matter what just get there, just do what you got to do and we will book it.
"It was because I was a miserable bastard for two weeks as I had a ticket and then I made a complete balls-up about it, thinking work was more important than going to the match. What an idiot!
"I thought I'd be all grown-up and sensible and then I'm like 'what the hell have I done! That's the most unsensible thing you've done in your life'.
"It was still a wonderful trip. Kyiv was brilliant, not much sleep but it was really good fun and it was a good laugh. We did ourselves proud.
"I managed to lose an iPod and a Kindle on the two flights home, but it was still worth every bloody penny spent and I'd do the same if we get there again."
Madrid, perhaps…?
---
Thanks again to Brett Curran for sharing his story. You can follow the Hong Kong Expatriate Supporters' Group on Facebook here.