Liverpool and winning have gone together often and well this season, and despite the events of the past couple of days that should continue to be the case.
Indeed, it's not merely the absence of a victory which seems strange, but outright losing.
The Reds lost at Man City on Thursday night, lost their unbeaten start to the Premier League season in the process and now, on Friday, have lost two players from the squad.
'Lost' isn't quite the right word there, perhaps, given Jurgen Klopp would have given a firm go-ahead in each case, but the squad is certainly two men lighter after Nathaniel Clyne and Dominic Solanke left to Bournemouth, on loan and permanently respectively.
But that's about as far as the losing should go.
Because what has been put in place now at Anfield surely goes beyond any given 90 minutes, beyond a singular outcome.
Success remains a distinct possibility and this team has been built to endure.
Mentality: No change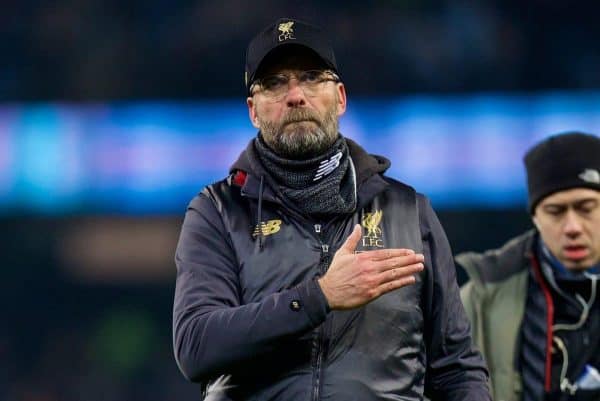 Ahead of the trip to the Etihad, Klopp shared some interesting insights with regards to the squad mentality, how matters had changed once they realised they could achieve something significant.
"We finally got rid of the 'backpack' when we reached the Champions League final," he said.
"That was the moment when the boys did something really special, we didn't win it but the ride there was unbelievable. Since then it feels different, that's true."
With statistics playing an ever-increasing role in the game—preparation, analysis, decision-making—it's important not to overlook that which cannot be measured: the state of mind of the players and the collective.
Confidence, self-belief and determination are powerful factors in football.
This Liverpool squad has shown each in abundance this season, often at key moments. It didn't quite happen against Man City for a second time, but not for lack of trying.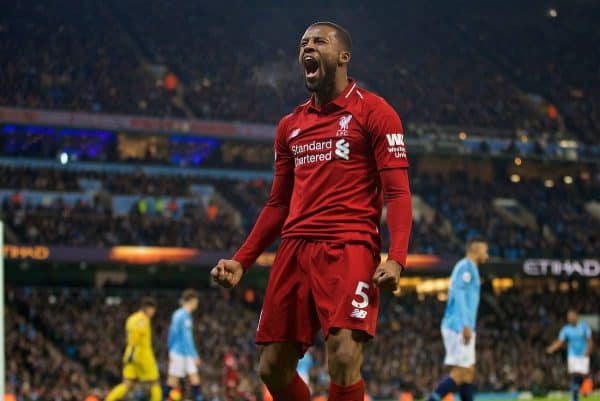 The Independent's Miguel Delaney wrote ahead of the Etihad clash how fortunes, as well as mindsets, could change with the full-time whistle.
"After a first defeat, every other match – no matter where – will look that bit more awkward for the leaders. The entire season will move along the spectrum from exciting opportunity towards tense challenge. Those 29 years will weigh on every single match afternoon."
Every word there is true—or, at least, could be. Teams have capitulated after a single poor defeat many a time previously.
Arsenal seem to do it in two, three or even four competitions at once, right around March time.
A loss at Man City could well have left the Reds worried, unsure and nervously glancing over their shoulders. Two or three more defeats can easily follow the first—just look at City themselves, in December, as proof of that.
But to speak of a defeat is all-encompassing, whereas the 90 minutes on Thursday night must be taken in context.
Liverpool weren't defeated in terms of being humbled, outplayed, beaten to a pulp. They weren't outshone, outfought, outplayed.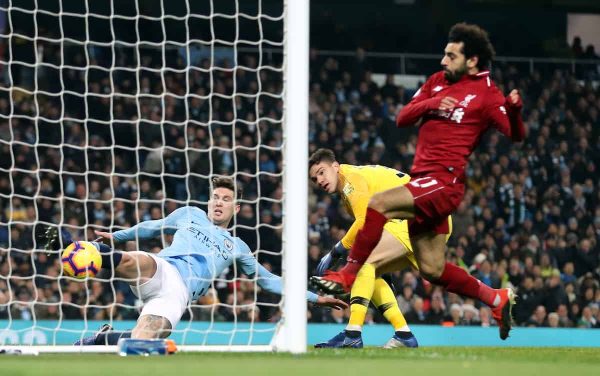 They lost, but by small margins. Fortune played a part, as did individual errors and a ruthless edge in attack.
The English media have spoken over the past few weeks about Liverpool going from the hunters to the hunted and how that must weigh heavily—but Klopp and his players aren't playing ball.
In the aftermath of defeat, the message has been constant: From Virgil van Dijk, from Jordan Henderson, from Andy Robertson—no change. We continue. One game at a time, no looking ahead.
Certainly no looking behind.
Mentality: Always learning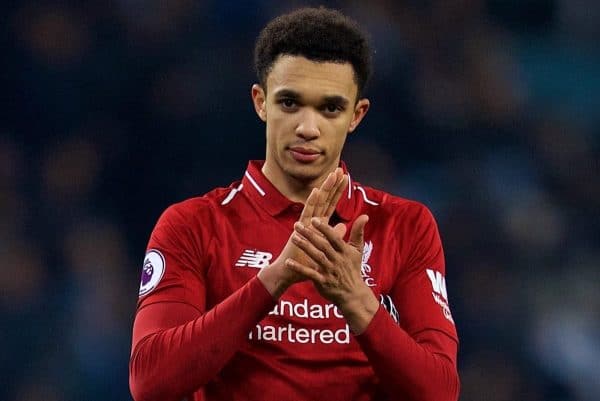 In truth, Liverpool didn't need to go for the kill.
Roberto Firmino's equaliser had the Reds on the upsurge; tactical changes and the introduction of Fabinho had changed the face of the match and the goal itself was a passage of beauty, an incredible sweeping move across the entire width and one half of the pitch.
At 1-1, it was fine. Three points weren't a requirement, really. Liverpool could have played safe, made City double down for the win…and exploited them on the counter-attack.
But again it's the mental state: when on top in a game, the natural inclination—certainly for this team—is to go with it, push on, assert superiority.
That's perhaps another lesson the Reds, and Klopp, need to learn—when to sit in, at least with one or two extra players, and let the rest try to get the bonus win.
The Reds left themselves open for that particular counter and, along with those aforementioned individual decisions and fortune via the post, lost the match—against the run of play at that particular stage.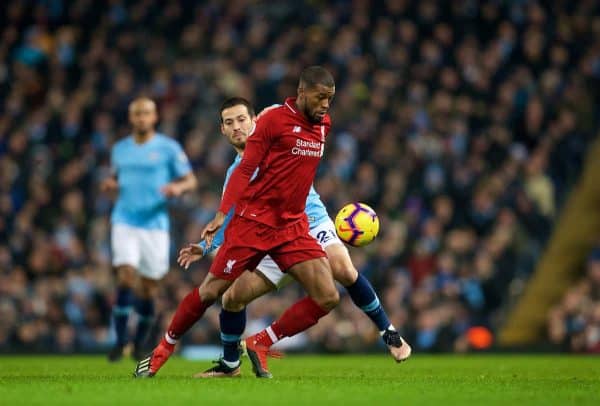 Before it was even 1-0, though, Liverpool being on par with City was evident. In the manner of such benign events as passing out from the back, calmness and belief was exuded in the quantities befitting of champions—at both ends of the pitch.
What seemed like risk-taking to some was utterly in the norm for those entirely at ease with their quality on the ball, and of those in the same shirt.
Back to those omnipresent statistics, the xG map showed a marginal Liverpool win, 1.0 – 1.4.
Matching the opposition, greater quality chances, more of them—but defeat. It's a balancing act, thereafter, to assess just how upset one should be at a result.
xG map for Man City – Liverpool

What a game. Classic example of how basically any result is possible in a match where two good teams play well. pic.twitter.com/1Yi33SLwvJ

— Caley Graphics (@Caley_graphics) January 3, 2019
Mentality: Winning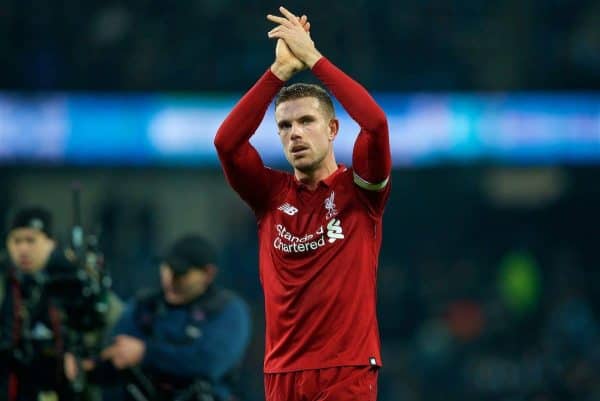 So we lost. But there was always a very small chance that the Reds would go the entire season unbeaten. After all, record-breaking, 100-point earning Man City didn't manage to do so last year.
And consider this: in the last two games, the Reds have fallen behind on both occasions.
Perhaps in previous seasons Liverpool wouldn't have come back into such encounters. Perhaps in other previous seasons, the Reds might have come back and scored an equaliser in each, than sat in and made good with a draw at home and a draw away.
Beating Arsenal earned more points than those two comebacks-to-draw would have done.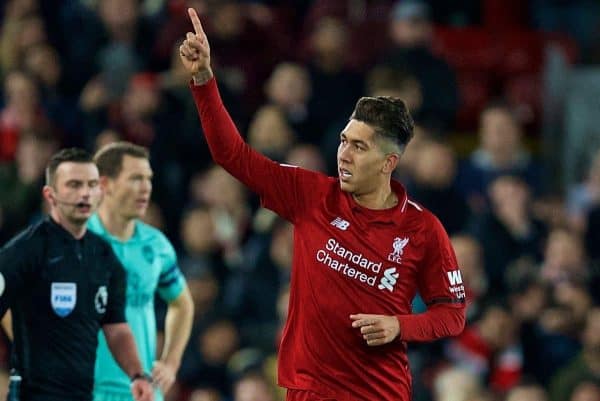 Falling behind twice and accruing one win, one defeat, is better than two draws—other than City closing the gap somewhat, of course.
But reaction is key. Don't let it become a 'bad patch.' As the players have said, as Klopp has spoken about, it's simply: look one step ahead, play the next game, get the next win.
This team is built to endure and to succeed. A single defeat shouldn't rock that image or belief, and certainly not at the home of the next-best team in the country, who are still four points behind.