PSV's Steven Bergwijn tops the Eredivisie assists chart this season, and along with team-mate and fellow winger Hirving Lozano, has been lighting up the Dutch top flight with some dazzling displays.
Mexican Lozano has been one of PSV's best players since joining in 2017, and has also hit the headlines on the international stage with his goal against Germany in last summer's World Cup—but Bergwijn has arguably eclipsed him during this campaign.
The 21-year-old began his youth career with ASC Waterwijk, a team based in the city of Almere not far from his hometown of Amsterdam, before moving to Ajax and later to PSV.
He made his senior debut for PSV in the KNVB Beker (Dutch Cup) against Almere City having just turned 17, coming off the bench to provide an assist for none other than Georginio Wijnaldum.
Steven Charles Bergwijn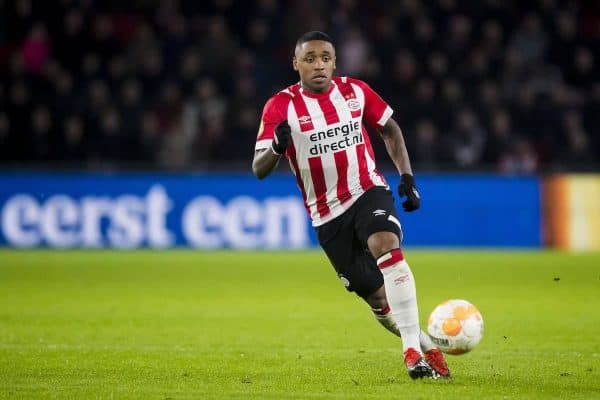 Current club: PSV
Position: Winger – left/right
Born: 08/10/1997
Height: 178cm / 5'9″
Foot: Right
Nationality: Dutch
Ajax may be the most fashionable Dutch side among football purists, and with good reason, but their rivals PSV have been the most successful team in domestic Dutch football in recent times.
The Eindhoven club have won the Eredivisie in three of the last four seasons, only interrupted by Feyenoord's Dirk Kuyt-inspired triumph in 2017, and they top the table again this season, currently sitting six points ahead of their rivals from Amsterdam.
While the likes of Barcelona, Paris Saint-Germain, and Man City are looking to Ajax for the stars of the future—with Barca already snapping up Frenkie de Jong—PSV also have their fair share of talent, and it's to here where Liverpool could look to add a new dimension to their attack.
Triple Dutch?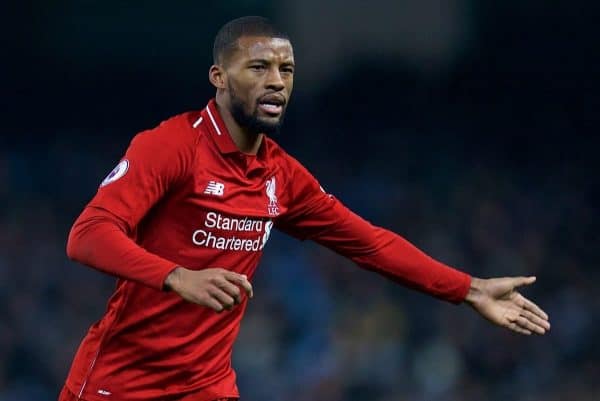 The Dutch national team have hit on hard times in recent years but that may be about to change, thanks in part to a couple of Liverpool players.
After finishing third in the 2014 World Cup following that memorable dismantling of reigning champions Spain in the group stage in Brazil, they subsequently failed to qualify for the 2016 European Championships and the 2018 World Cup.
But the evolution of their squad has now reached a point where they could be serious challengers at the next two big tournaments and they recently reached the semi-finals of the Nations League where they will face England.
Liverpool's Virgil van Dijk and Wijnaldum are key to this improvement and make up part of an experienced core.
Only Daley Blind and Ryan Babel from the most recent squad have more caps than the midfielder, while centre-back Van Dijk captains the side as you might expect.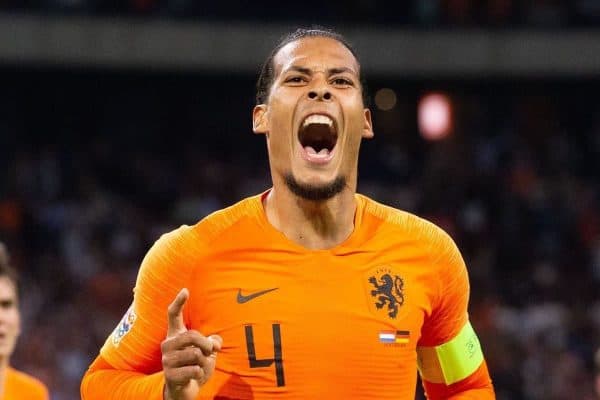 Around them are a group of exciting young players, and none catch the eye more than Bergwijn, who has won two caps for his country and might also be an ideal signing for Liverpool.
Like Wijnaldum, Bergwijn's parents were born in Suriname, the South American country once under Dutch rule but which gained independence in 1975.
"I put the Suriname flag on my boots because both my parents were born there, and their Surinamese culture is a big part of my life," he says.
"I'll never forget that, no matter where I go. And I hope wherever that is, everyone knows where I've come from."
Dribbling > possession?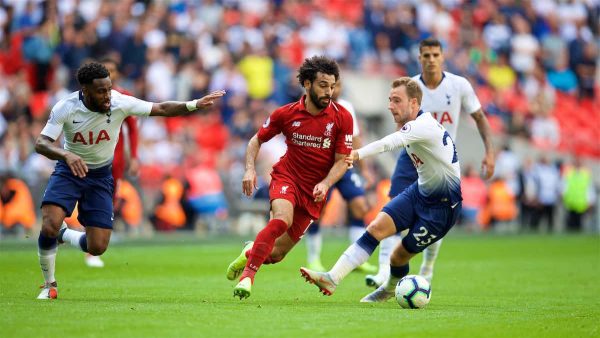 Dribbling is valued as much as possession by many of the top managers.
Jurgen Klopp's counter-attacking and counter-pressing style needs quick players who can beat defenders one-on-one in the final third, and even Pep Guardiola's great Barcelona team relied on dribbling as much, if not more, than the possession and passing they were primarily known for.
This means the likes of Neymar, Douglas Costa and Lionel Messi, plus up-and-comers such as Jadon Sancho, Allan Saint-Maximin and Ousmane Dembele, are revered, highly valued and in-demand.
We saw this recently when Sancho came to Wembley to showcase his talents in the country he left in search of first-team football, and although his Borussia Dortmund side were poor against Spurs, his dribbling was still picked out as a highlight of the game.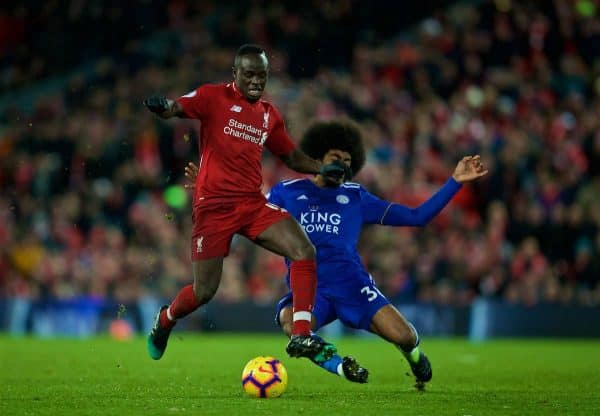 If this style of play is combined with end product, around quality players who can finish chances and others who can provide an insurance policy behind them in defence, it can be highly effective.
Liverpool's attacking unit may be one of the most impressive in Europe, but the numbers suggest they still lack a dribbler in the front line.
They require an alternative to Roberto Firmino up front, which is why Timo Werner is so often linked, but they could also do with an alternative to Sadio Mane out wide.
Though the trio of Firmino, Mane, and Mohamed Salah will top the tables across many metrics, none post stand-out numbers for dribbling.
Salah is the closest, but even he is only 17th in the Premier League for successful dribbles with 2.12 on average per 90 minutes.
A successful dribbler would add a different dimension to Liverpool's attack, and would be very handy when it comes to breaking down low blocks.
Strengths: dribbling + creativity
There are few better than Bergwijn in the Eredivisie when it comes to taking on opponents. He averages 4.7 take-ons per game, and 63 percent of them are successful.
Anything over 60 percent in this area of the game is good, though there is still some way to go before he reaches the levels of world class dribblers such as Eden Hazard and Douglas Costa.
Among his Eredivisie peers he is one of the best in this area of the game, and is similar to highly lauded team-mate Hirving Lozano, who completes fewer dribbles per game, but has an success rate closer to 65 percent.
Other standout Eredivisie players in this area of the game include Englishman Marcus Edwards, who is on loan from Tottenham Hotspur at Excelsior; Dutch-born Moroccan international Oussama Idrissi of AZ and Gyrano Kerk of Utrecht.
What separates Bergwijn from these is his end product. He has 11 assists and nine goals in the league so far this season, and averages 2.4 passes which lead to shots per game.
His movement is as lively as his dribbling and this pace off the ball could also come in handy in defence. Mane has transferred his attacking speed well to the defensive side of the game, and Bergwijn could be honed similarly.
He's not as two-footed as the Senegalese but has scored a handful of goals with his left foot. He's also not very effective in the air and would prefer balls to feet or into the space ahead of him when launching a counter-attack.
Where he would fit at Liverpool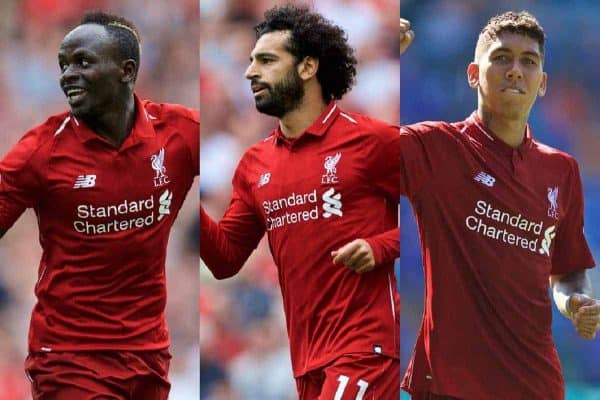 On the face of it Bergwijn is a quick, tricky dribbler. A flair player who has plenty of ways to beat a man, all of them involving pace and skill, but like all the best dribblers he is also a creator at the end of it.
Playing for the best side in the league no doubt helps him when it comes to posting better numbers than the likes of Idrissi, for example, but if he were to join Liverpool he would be entering a similarly dominant side and would be playing alongside quality players.
You might even expect his numbers to increase in the Premier League, but he's likely to be coming up against tougher opposition on a more regular basis, which may cancel out any increase in the quality of his team-mates.
There is also the Eredivisie caveat to consider, but this is perhaps a myth.
Players moving from the Netherlands to England don't always work out, but good players are good players and the same warnings could be applied to transfers between any league.
For Liverpool he would provide an alternative on the left or right wing.
If Salah is used up front as regularly as he has been this season, then the pace of Bergwijn and Mane on the flanks could provide endless problems for opposition sides, especially if they regularly switched sides.
Clubs from the Premier League and beyond will be interested in Bergwijn next summer, and whether Liverpool are among them remains to be seen, but a player of his type would certainly add something to an increasingly impressive squad.