While Liverpool's 0-0 draw with Man United and 5-0 win over Watford were starkly different in terms of result, there were similarities in the performance.
There were hidden similarities between Sunday's draw at Old Trafford and Wednesday's dismantling of Watford.
Granted, you'd have to squint a little to make them out, but there was a glaring one amongst them.
Composure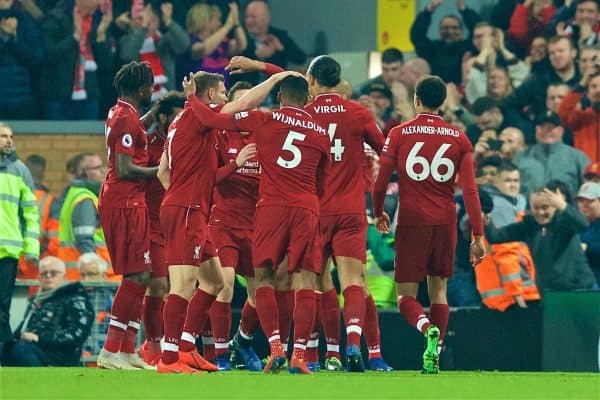 It's all in the way Liverpool hold themselves; it's all to do with the composure Liverpool exude during games.
Whether it is a 0-0 draw where things don't quite click, or a 5-0 win where it could easily have been 7-0, maybe 8-0, that confidence in their own ability alters very little.
The panic button is rarely hit by this Liverpool side, and fear is never too far beneath the surface of our opponents.
United showed signs of it on Sunday. They approached playing Liverpool with a sense of trepidation.
Had we been as forceful in the opening exchanges at Old Trafford as we were at Anfield against Watford, then the team from the other end of the East Lancashire Road would have found it as impossible to live with us as the team from Hertfordshire did.
All of our opponents approach playing us with a sense of trepidation.
At best—from their perspective—our opponents tend to be left feeling disorientated. At worst, they are gripped by a pronounced panic.
Authority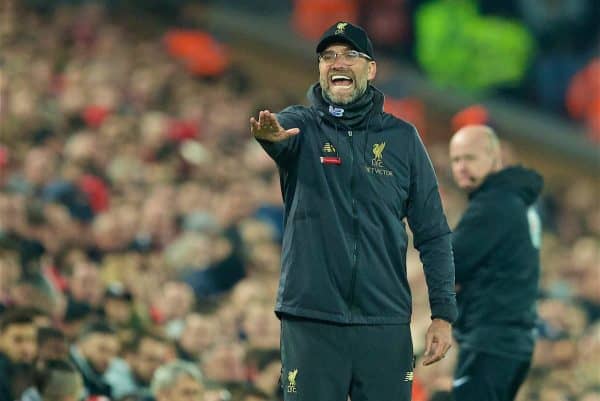 As all this anxiety unfolds before us Liverpool maintain an aura of measured authority, and it is this sense of authority that can see us over the line in first place.
Well, that and the fact that Man City will hit a wall of exhaustion the longer they remain fighting on four fronts.
Long may City remain in the FA Cup and Champions League. They could yet play anything up to 19 further games before the 2018/19 season draws to a close.
By all accounts, they seemed a bit jaded against West Ham, while we were throwing out some bohemian dance moves against Watford.
Tottenham's eighth Premier League defeat of the season has now positioned them closer to a bunfight to keep hold of a top-four place than it does to a title race many observers have wished them to be involved in, without them ever truly being involved.
Their latest loss has now definitively made it a two-horse race, with one of those two horses in danger of cramping up.
Outrageous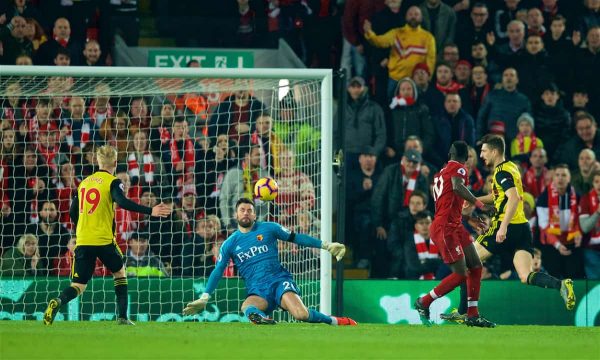 So much was outrageous about this win. A spring has returned to the step, just as March arrives.
Sadio Mane is at his very best, the two goals he scored being polar opposites of one another in a way: a classic glancing header in front of goal and an impudent backheel, when recovering from an instinctive first touch which sent him in the wrong direction.
Both goals, while different in style, were similar in how they exuded a certain authority. Mane, like Bobby Firmino and Mohamed Salah, can carry the central role with confidence.
It gives us options and it keeps opposing defences thinking, never quite sure who is coming at them and from which trajectory.
Salah was in his skilful and energetic zone, but the final shot wouldn't quite come off or a last-second block would halt his progress.
He would respond with that spinning hop, arms outstretched thing he does, when frustrated. Then he would get back up and try something else, because he knows if he keeps persevering he will find a way through eventually. It's inevitable.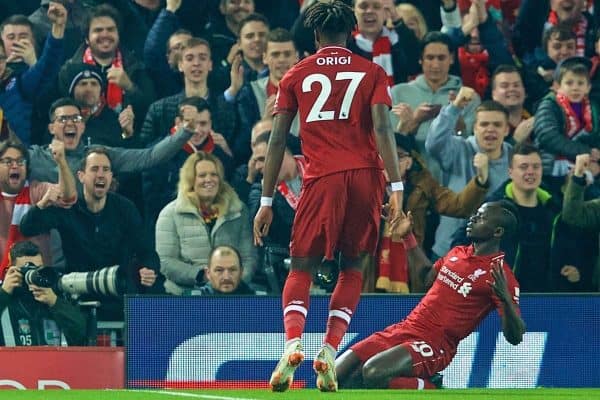 Without that incredible burst of speed by Salah, Mane doesn't score that backheel. Salah showed his authority and if he plays like that on Sunday, then he scores a couple of goals himself.
Divock Origi, a little awkward on the left at times, powered home the third goal, the goal that relaxed the shoulders.
Majestic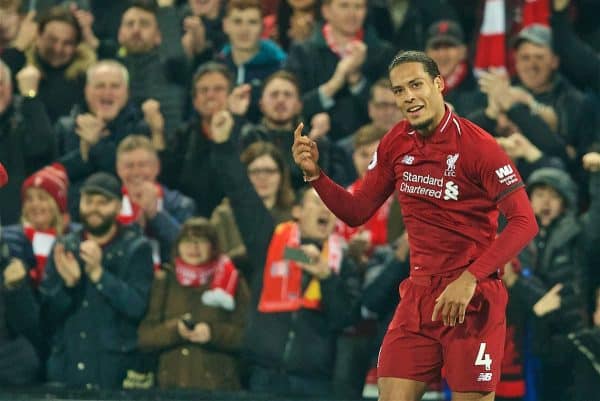 Virgil van Dijk was majestic.
He showed a calm authority at the back and he showed a towering authority in front of the Kop to score his two goals.
Just think about that for a moment. Two goals from a centre-back, two assists from the left-back and a frankly scandalous three assists from the right-back.
This was nothing short of GBF from Trent Alexander-Arnold.
Grievous Bodily Football.
A composed midfield, where the tempo was set by James Milner—who I was told was finished, outside the ground before the game—and even Alisson found time for another fine save.
Best goalkeeper in the world.
Ghosts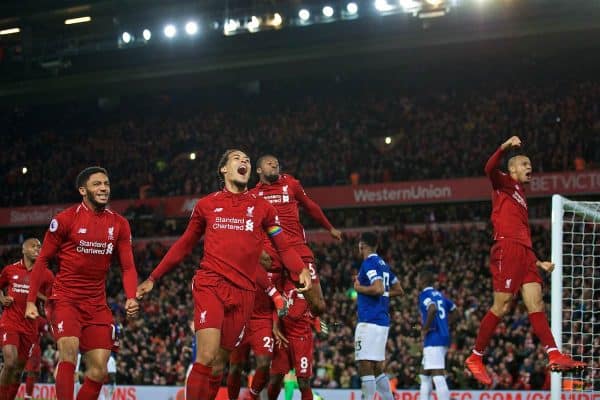 It was a win which was a timely turn of events and it was a win against the team which represents the ghost of Marco Silva's past, coming just four days before we head to Goodison Park to face the team which is the ghost of his present.
We face four Premier League games in the month of March; we play two games away and two games at home. Everton, Burnley, Fulham and Spurs.
Imagine still being top of the table with only six left to play.