Liverpool have scored too many memorable goals to mention in their history, but every supporter has a personal favourite.
The Reds are flying at present, with a great chance of finally landing a long-awaited Premier League title.
There have already been numerous goals that have been lodged straight into our long-term memory this season, adding to our vast collection.
The question is: what is the Liverpool goal that was celebrated the most by you?
We spoke to an assortment of Reds writers and fans to get their choice – here's what they went with.
Joel Rabinowitz
Divock Origi – Liverpool 1-0 Everton (2018/19)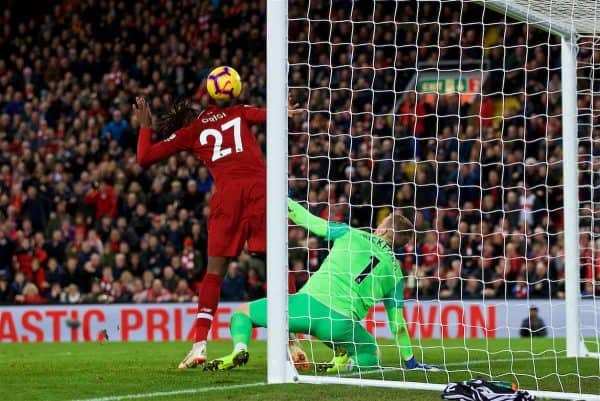 I suppose there might be a bit of recency bias with this one, but I genuinely cannot remember celebrating a Liverpool goal quite as much as this one for quite some time.
Everything about it was just perfect, not just the absurd manner in which Jordan Pickford helplessly claws it back into play off the crossbar after Virgil van Dijk looked to have sliced it into the Kop.
The fact it was Everton; the fact it was a bitterly disappointing 0-0 right up until that 96th minute; the fact it was Divock Origi—a player who many fans had completely written off writing his name into derby folklore—and, of course, the context of the title race meant that those three points were absolutely crucial.
That victory proved a catalyst for a remarkable December in which Liverpool surged to the top of the league, winning every single game.
If the Reds do go on from here and finish as champions come May, that goal will go down in the history books as a truly significant moment in a phenomenal season.
Henry Jackson
Yossi Benayoun – Fulham 0-1 Liverpool (2008/09)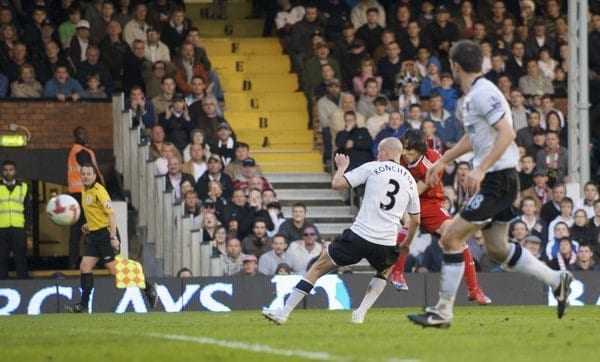 I love celebrations that are both joyous and tinged with anger, such has been the nature of the game.
Sometimes I go mad when Liverpool score big goals and other times I'm strangely subdued—the Origi goal that Joel chose saw me sit in shock rather than going nuts, for example—but Yossi Benayoun's at Fulham a decade ago was the former.
I loved that 2008/09 side, and without a ridiculously strong United team battling alongside them, they would have won the title that year.
The trip to Fulham looked to be the moment their chances of glory went up in flames, despite dominating their opponents and hitting the woodwork approximately 28 times.
Just as it looked like time had run out and my Saturday evening was ruined, Benayoun stepped up and fired home, after Ryan Babel thankfully chose not to shoot from distance (and put the ball in the River Thames).
The ecstasy that followed was unmatched for me as a football fan, even though bigger goals have been scored, whether it be in cup finals or huge Champions League games.
I truly believed Liverpool would win the league at that point, and although that didn't work out, I will always treasure that goal greatly.
Karl Matchett
David Ngog – Liverpool 2-0 Man United (2009/10)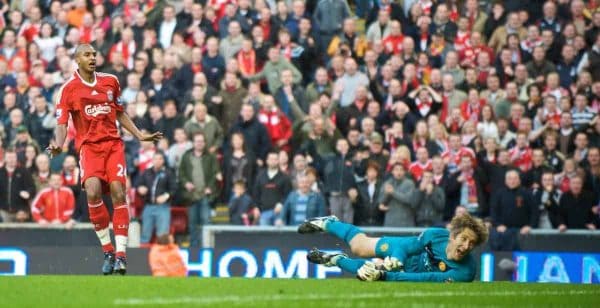 Some goals mean more, and some lead to more, but on occasion, the goals celebrated hardest are the ones after a period of struggle.
Heading into the game against Man United in 2009/10, that was definitely the case.
Rafa Benitez's reign was coming to an end and the club was in turmoil, heading out of Europe early and with four losses from the first nine league games of the season.
We badly wanted Liverpool to catch those at the top and we'd been so close for a period, which made the start of this term all the more difficult to take. United, meanwhile, had won eight from nine and could go top with a win.
But we beat them, 2-0. It wasn't the prettiest, with no Steven Gerrard and a half-fit Fernando Torres, but he scored the first and they had a few chances after.
Right until the end it felt a battle, a struggle to get over the line, so when Lucas sent David N'Gog, of all people, streaking away in injury time, it was a proper, tense, hold-your-breath moment.
N'Gog kept his nerve, sliding it home to make it 2-0—leading to a full-on, roaring knee-slide toward the TV at Casa Matchett, even as Pepe Reina sprinted the length of Anfield to celebrate with the striker first.
Magic respite, giving hope of a revival. Sometimes, that matters the most…at the time, anyway.
Sachin Nakrani
Danny Murphy – Man United 0-1 Liverpool (2000/01)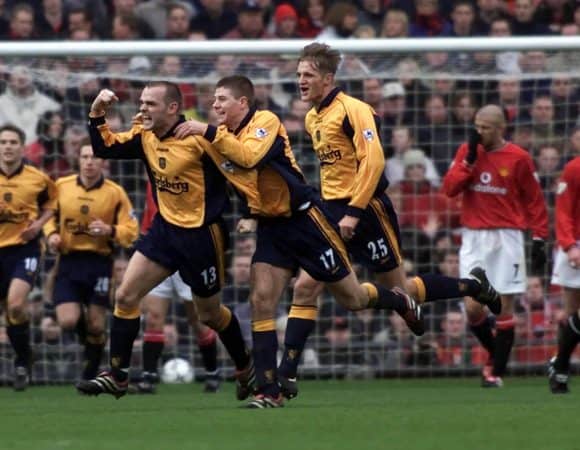 For a generation of Liverpool fans—my generation—it felt like we'd never beat Man United at Old Trafford.
Defeat after defeat during the 1990s had scarred the soul and shattered belief, but then came the breakthrough—Danny Murphy's free-kick.
It still seems so vivid; Gary Neville's weird handball, Murphy stood alone, facing a wall of red. The short pause, and then the shot that curled beautifully inside the near post and left Fabien Barthez for dead.
I exploded with joy before caution took over—we'd taken the lead at United the season before, also through a free-kick (from Patrik Berger), and not gone on to win.
So wait, I told myself, don't carried away. But this time it proved different, this time we did win. Against them, at their place. Finally.
I watched the game at home and moments after the final whistle blew I got up from the sofa and walked to my local park, where I sat on a bench and contemplated what had just happened.
I may have even shed a tear. It meant that much.
Jeff Goulding
Dejan Lovren – Liverpool 4-3 Borussia Dortmund (2015/16)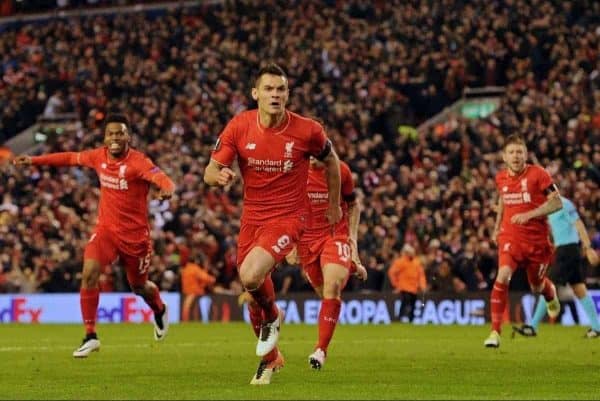 In the greatest tales the hero's journey is as thrilling as their destination. So rich is the tapestry of Liverpool's story, I often struggle to single out just one magical chapter.
One does burn brightly in my mind, though.
It may have ultimately meant nothing, but in the moment, it meant everything. It was Dejan Lovren's injury time winner against Borussia Dortmund at Anfield, in the quarter-final of the Europa League.
The Reds were outplayed, out-fought and out-thought. They were level at 3-3 but with virtually no time left, the aggregate score would see the Germans go through.
However, in European competition, teams visiting Anfield must battle forces beyond their comprehension. That's our story anyway. It's our myth, maybe. In truth it doesn't matter, if we believe it, and crucially if they do too.
Surely, only magic can explain how Lovren could emerge as Liverpool's saviour on a night when logic was tossed on the rubbish heap of history. Whatever Dortmund brought to the battle, it was never enough.
The goal never delivered a trophy. It wasn't scored by my favourite player. It did write another chapter in the mythology of Anfield, though.
Dortmund's manager Thomas Tuchel would later muse, "This is Anfield, it's what they do." – his words will reverberate through the seasons. They will haunt the dreams of Europe's greatest managers.