Gini Wijnaldum has given a wide-ranging interview in which he discusses being Liverpool's "unsung hero" and not wanting to leave Anfield.
The Dutchman has been the Reds' best midfield performer in 2018/19, shining in the centre of the park with his dynamic performances and incredible work rate.
A seemingly quiet member of the team, he's nonetheless extremely confident on the pitch and is rarely beaten in direct battles.
Whether in the 4-3-3 or a double pivot midfield selection, Wijnaldum has proven increasingly important this term, at the heartbeat of the team challenging for the Premier League title and into the knock-out phase in Europe once again.
Speaking to the Daily Mail, the No. 5 has made it clear that he's aware of his importance to the team—because he works tremendously hard to make sure that's the case.
Wijnaldum says he doesn't need to brag about his qualities for them to be in evidence, and that competition for places is only another point to spur him on to ever-improving displays.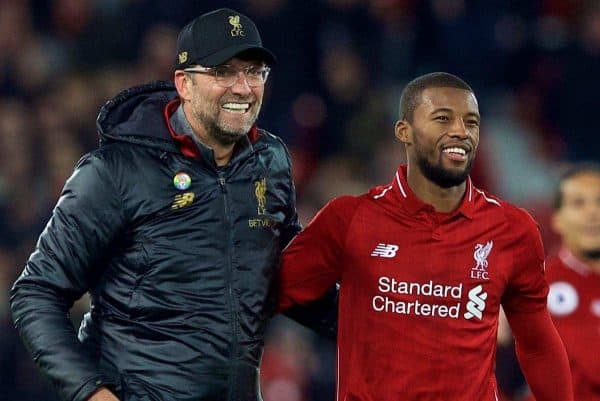 "I don't think it's wrong to have a big ego. Sometimes a big ego can help you also. As a football player, you must have a big ego to respect yourself. So if you are a good player, you must say that you are good. You need to have the confidence.

"With Ibrahimovic, say, I like it because he knows he's good so he appreciates himself.

"I'm a bit different to that. I'm quite a shy person but I know I'm a good football player. That's just the way I am. That's the way I grew up.

"I didn't worry when the club signed [Naby] Keita and Fabinho. You play for Liverpool. Liverpool is a top club. Even if you do well in your position, if there is another player that does well, every club wants to sign him.

"So also Liverpool wants to sign him because Liverpool is a good club. That's how it goes in top clubs. They will sign them to make the team better but I have to show the manager that I'm the best one in my position."
In the summer, with those arrivals of Wijnaldum's new team-mates, there were some suggestions that it could be the Dutchman making way.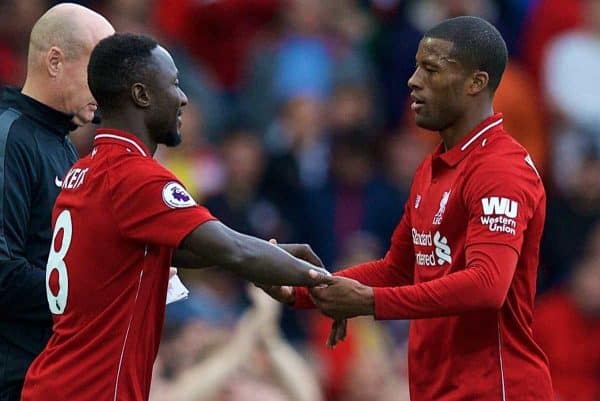 Instead, Wijnaldum has been the near-ever-present, while those around him have rotated according to fitness and form.
Gini goes further: it wasn't simply that he worked hard to keep his place in the team, but that he never wanted to depart at all—and Klopp didn't want to sell him.
"A lot of players think: 'OK, they signed him so I'm not needed any more', but as a player you have to show the manager and force him to put you in the team. Show your quality with the way you train and the way you play.

"The thing that irritated me was that a lot of stories appeared in the media saying I wanted to leave.

"It didn't bother me that Liverpool were signing players. When they signed me, they already had good players. It was annoying. I didn't like those stories.

"I spoke with the manager about it. Actually, he spoke with me. He was surprised about the stories. It was a surprise for me, too.

"I don't know if he really thought that I said it. The manager said "you're not leaving" and I told him I didn't want to leave."
A goal recently against Bournemouth had the fans on their feet applauding Wijnaldum, but his name is on their collective lips with regularity.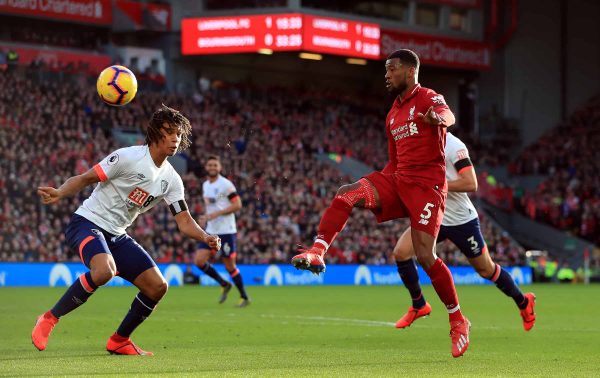 The Gini Wij-nal-dum song is belted out around the Kop after a scurrying interception of importance, a clever pass or one of the Dutchman's trademark tight pieces of control to out-strength and out-manoeuvre an opponent.
He's well aware that the supporters hold him in high regard, too, and that's a key factor in his happiness at Anfield.
"I like Liverpool. I like the club and I like the fans. The people appreciate me. That's the most important thing.
"I've heard people say that phrase "unsung hero" about my role and maybe that's true, but that's not a problem for me. I know how my team-mates think about me and I know how the manager thinks about me and they really appreciate me.
"They don't see me how people outside the club see me. So that was not a big deal for me. I feel I'm loved by the other players and the manager so that's more important."
The midfielder went on to discuss the improved defensive work of the team, a key part of his early career and his grandmother, a big influence on him as a youngster.
Wijnaldum's importance to the side will doubtless be on full view once more at Old Trafford, as Liverpool seek to overcome Man United.
And if they're to do that, then unsung hero or not, it's a fair bet that Wijnaldum will have played, once again, a key role in a big performance and victory.