Jurgen Klopp has elaborated on his decision to omit Trent Alexander-Arnold against Man United, after his star turn in Liverpool's 5-0 win over Watford.
Alexander-Arnold was surprisingly left out of the side that were held at Old Trafford, with James Milner starting in his place, in a move widely criticised after the 0-0 draw.
But the No. 66 returned to the side in midweek, and recorded a trio of assists in a world-class showing at right-back, becoming the youngest player to set up three goals in a single Premier League game.
Speaking after the Reds' midweek win, Klopp refuted the suggestion that Trent was left out against United as a tactical decision, with his tireless performance at Anfield proving his plan paid off.
"He didn't play and one of your colleagues asked if it was because of his performance in the last game against Manchester United," he recalled.
"We had to think back and 'ah, the Rashford incident'.
"Trent was injured, then played the game [against Bayern Munich] and then it was clear we had to make a decision on can he play three games in a week.
"We were not sure, so that's why he didn't play against United. That was the only reason.
"So now it was clear he would play today. He was rested, could start, and played an outstanding football game."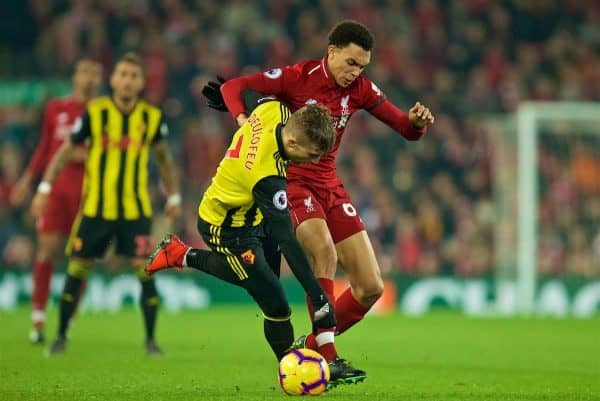 Along with his record tally of assists, Alexander-Arnold also made the most touches (102) and key passes (five) of any player on the night, as well as the second-most tackles (two) in Klopp's side.
It was an excellent all-round display from the 20-year-old, exemplary of his position at the highest level, and Klopp praised his involvement at both ends of the pitch.
"Obviously he's fit, if you see how he was chasing back in all the counter-attacks [from Watford]," the manager continued.
"He was involved in pretty much each offensive situation and then when we lose the ball that's the nature of the thing, and you have to run back.
"The crosses. The first corner was not exactly like we wanted to have, it was pretty flat and we obviously wanted it higher, but all the rest, crossing-wise, were just outstanding.
"So I don't say it was easy to finish from these situations, but the cross made it easier, at least, to finish from these kinds of balls."
It is becoming increasingly evident that Trent is central to Liverpool's success, but Klopp is clearly wary of overplaying him—particularly after two injuries already this season.
This may highlight an area for reinforcement in the summer, as the Reds' performance levels certainly drop without their first-choice full-backs.