Jurgen Klopp and Jordan Henderson were both asked whether Liverpool should prioritise the Premier League, and impressed with their diplomatic answers.
The Reds are currently second in the league, with Man City top by virtue of their better goal difference, but Klopp's side have a game in hand.
Meanwhile they face a last-16 first-leg clash with Bayern Munich in the Champions League on Tuesday night, ahead of their trip to Old Trafford to take on Man United.
Issues with depth and the experience of dropping off domestically on their route to two European finals under Klopp previously has led to concerns over whether Liverpool can remain in top form over two competitions.
When directly asked whether there should be a distinct priority, Klopp recognised that the league may be the fans' choice, but called on Anfield to back his players to victory over Bayern too.
"If you had to decide, for all Liverpool fans it's the Premier League. That's clear, we know that," he told reporters on Monday.
"But now we play in the Champions League, and I think you all expect that we do our best tomorrow night, and that's what they'll do.
"Thank god we don't have to make that decision today!
"And we won't know today or tomorrow, the only thing we can do is give it our all and play very passionate football, very lively football—the football that people expect when they come to Anfield.
"We expect a good atmosphere, but know about the part we have to play. We have to create atmosphere on the pitch as well, and make it easier for the people.
"It will be outstanding tomorrow night, I know that a lot of players from other teams say 'it's really good, I'm looking forward to going there'.
"And it's true, it's something to enjoy. But on the other hand there's a lot of power involved in that.
"I've experienced it now a couple of times that our crowd is able to push us from 100 to 120, 130, 140 percent.
"I never would have though that was possible, but it happened here, from time to time, and hopefully tomorrow night again."
Henderson, who has suffered defeat in both the Europa League and Champions League finals since he took over the captaincy, took a similar approach.
Also questioned as to whether the squad should focus on one, not both, the midfielder stressed that, for now, Tuesday's game is "the biggest of the season."
"If we had to choose, we'd choose both. Of course [we're ambitious]," Henderson said.
"We prioritise game by game, no matter what competition it is, so tomorrow night for us is the biggest game of the season.
"And then so on and so on, it'll be like that until the end of the season, that's how we approach every game.
"That's what we need to do, it's not about favouring one competition.
"I feel we have a good enough squad to be able to challenge in both competitions as best we can, and hopefully at the end of the season we see we're champions of at least one, if not both."
Klopp's work on Merseyside since taking over in 2015 is similar to that of his time in charge of Borussia Dortmund, reviving Liverpool's fortunes and building a reputation as European heavyweights.
This week will see him face off against an old rival in Bayern, and he used the Reds' status as potential favourites to reach the quarter-finals to praise his side for their development.
"Very much. Much more than I expected, because you never know," he said on whether he had built an affinity with Liverpool.
"The welcome was outstanding and since then it's become better and better, that's the truth. We grew together, developed together, all of us.
"I'm not in the city very often, so I don't know exactly what people think about me, or us or whatever.
"But I feel in the stadium, the mood and the atmosphere is really positive.
"The best thing we did so far, since we are together, is that we are a real competitor again. That's it.
"That's of course not enough, but it's for sure a very important step.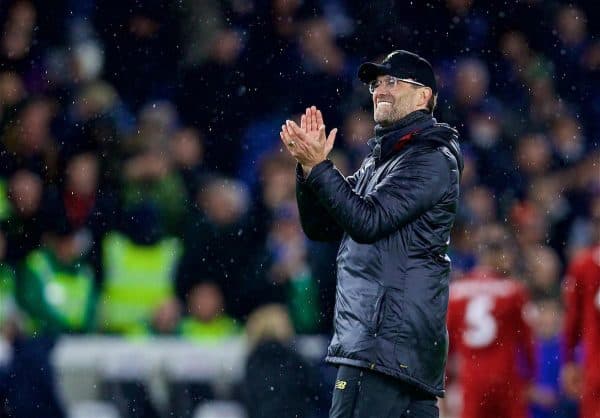 "And in this very competitive league and very competitive Champions League, qualifying for hopefully the third year in a row is unusual, because it didn't happen too often in the past.
"Then being not only part of the competition, but people thinking we could beat Bayern, that's a big thing.
"But in the end we have to prove that. The story so far is a nice one, but not finished yet."