Liverpool's defensive shortcomings of late have highlighted a troubling drop-off in output from a front three relied upon to provide the majority of their goals.
Mohamed Salah, Sadio Mane and Roberto Firmino were torturing opponents this time 12 months ago, rightly viewed as the best attacking unit in Europe.
The cohesion, creativity and devastating end product they displayed garnered a total of 91 goals between them in 2017/18, so nearly inspiring Jurgen Klopp's side to Champions League glory.
When this season got underway, the trio were unsurprisingly tipped to be Liverpool's inspiration once more.
If a genuine title bid was going to be launched, it would likely be because of their magic rather than a resolute defensive effort.
Instead, a remarkably consistent back line helped the Reds stay ahead of Man City at Christmas, even leading the way by seven points before defeat at the Etihad last month.
Led by the peerless Virgil van Dijk, with admirable supporting contributions from Alisson, Trent Alexander-Arnold, Joe Gomez and Andy Robertson, just eight Premier League goals had been conceded on the turn of the year.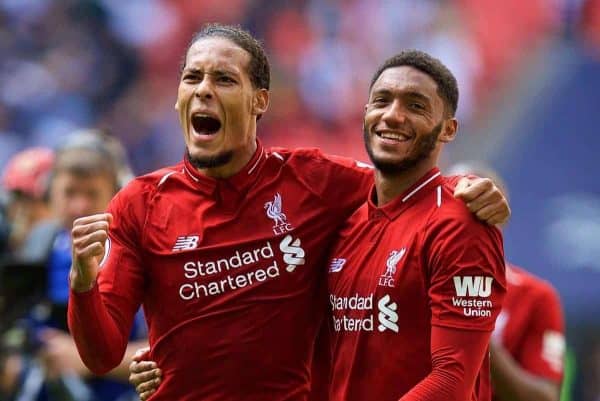 It hadn't been a half-season full of blistering attacking displays, rather a more pragmatic approach with ugly wins often achieved.
Luck has not been on Liverpool's side injury-wise, however, and with Alexander-Arnold and Gomez sidelined, as well as Dejan Lovren, the defence has started to creak alarmingly.
Seven goals have breached Alisson's net in the last five outings and the organisation that previously existed has faded.
Joel Matip has been an erratic presence, the likes of Jordan Henderson and James Milner have been drafted in at right-back and even Van Dijk and Robertson have not been faultless.
Liverpool are on a run of three games without a clean sheet, and have reverted back to the dark days of conceding sloppy goals.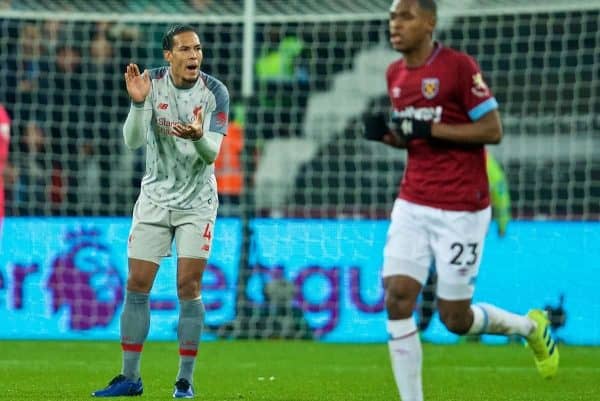 That was prominent as they could only draw 1-1 at West Ham on Monday—Michail Antonio's equaliser saw the Reds switch off from a free-kick—on a night that exposed the current shortcomings of the front three.
The previous defensive brilliance is no longer masking an issue that has subtly been present throughout the campaign; instead, it must now be the opposite.
Subtly Ineffective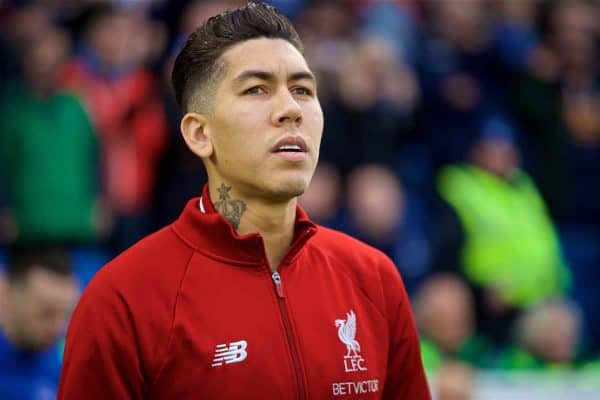 Everything came so naturally to Salah, Mane and Firmino last season, so much so that it was a shock if even one of them played poorly.
Compare that to 2018/19 and it is hard to think of a single match in which they have all excelled.
They all scored in the 5-1 mauling of Arsenal—one of only two times that has occurred in the league this season, along with the recent 4-3 victory over Crystal Palace—but it wasn't exactly Porto away or Roma at home.
It has often felt like one has stood up to the challenge while the other two struggle to get going, with sloppy finishing, misplaced passes and bad decision-making all on show.
Mane shone in the draws with West Ham and Leicester, for example, scoring in both games and constantly trying to influence the game. But he only has one league assist to his name.
Salah has had spells where he has dug Liverpool out of the mire, scoring a number of match-winning strikes, while Firmino has equally come to the fore when his fellow attackers have struggled.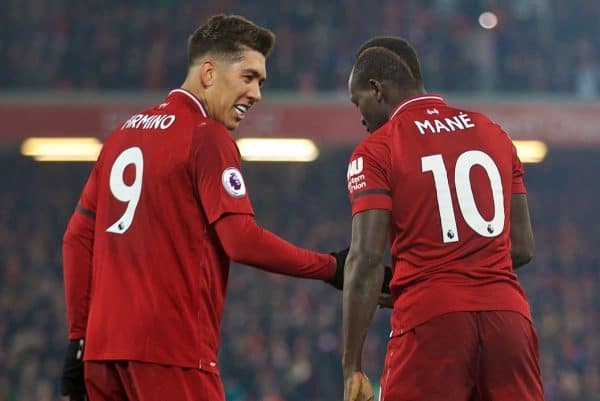 From being a slick unit rather than a collection of individuals—something Paris Saint-Germain trio Neymar, Kylian Mbappe and Edinson Cavani are often accused of—they are now resembling the latter.
They have gone from being the most in-tune trident in club football to failing to link up with one another, instead reliant on moments of solo brilliance.
Klopp's decision to switch from a 4-3-3 to a 4-2-3-1 formation this season is a possible cause for this dip, with Xherdan Shaqiri or Naby Keita often making up an attacking quartet instead.
While Mane's role has remained relatively similar, Salah has become a central striker rather than the right-sided force so heavily involved last season.
Matches are passing him by, which isn't necessarily his fault, and while his goalscoring record remains superb, to have a player of his ability on the fringes of games is problematic.
The change in system has hurt Firmino the most, however, not that a footballer as selfless as the Brazilian would ever admit that.
First 16 games 2 of Mané, Mo or bobby contributed goal/assist in the same game 8 times

In the last 9 games they've only done it twice

— SimonBrundish (@SimonBrundish) February 5, 2019
Adopting a No. 10 role, he isn't able to lead the line in the inimitable manner of a year ago and his influence is not close to being on a par.
When Firmino plays well, Liverpool play well, and when he plays badly they struggle, making it no surprise that the Reds have blown so hot and cold in attack.
Attacks fall apart if he is off the boil, such is his importance, with several moves breaking down against West Ham because of his wasteful nature.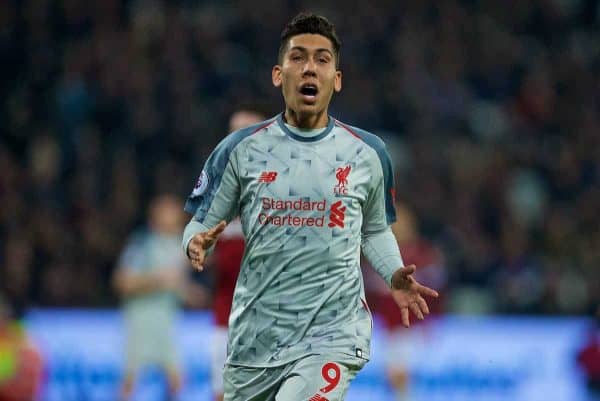 The 27-year-old endured arguably the poorest night of his Reds career at the London Stadium.
It is always easy to overreact after a few below-par results, but Salah, Mane and Firmino's combined drop in form is a worry.
As long as victories were being achieved it wasn't a problem, but that winning feeling has evaded Liverpool in 2019 and their main men now need to deliver.
Big Three Months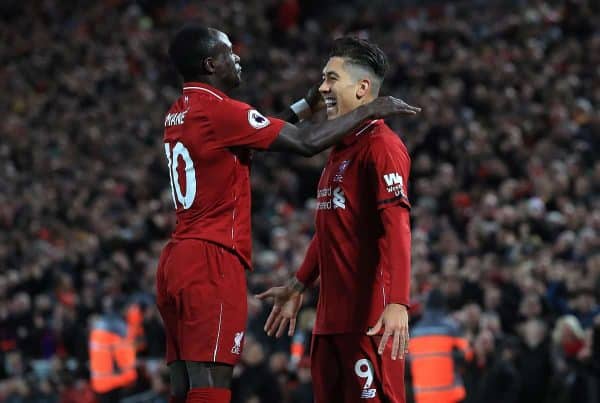 Interestingly, Liverpool's much-loved attacking threesome have actually scored as many league goals combined (36) as they had at this stage last season.
That goes to show that statistics can sometimes blur reality, though, because their all-round impact has been nowhere close to the same.
Goals aren't being laid on a plate for one another like they were before and they aren't at the heart of matches, particularly in terms of their counter-attacking ruthlessness.
They haven't been poor by any means, with Salah the Premier League's top scorer, Mane netting in his last three appearances and Firmino bagging a hat-trick against Arsenal, but something isn't right.
The standards expected of them have risen because of last season's feats—rightly so, if they want to be considered truly world class—but they haven't been met often enough.
A lack of service certainly hasn't helped, while there is huge pressure on them to score week in, week out in a squad lacking goals.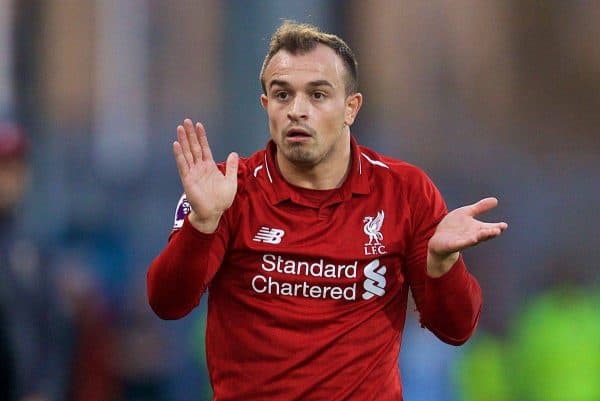 Shaqiri is the next highest scorer on just six, three of Milner's five efforts have been penalties and Daniel Sturridge is on four.
Own goals (two) are up next, ahead of midfielders Gini Wijnaldum (one), Fabinho (one), Henderson (zero) and Keita (zero), which makes for pitiful reading.
Salah, Mane and Firmino are the three best players at Liverpool, along with Van Dijk, and they need to inspire the title challenge from this point on.
Going overboard about their struggles would be unfair, considering they have still contributed plenty to their side topping the table in February, but it has been a strangely subdued season in comparison to what was expected.
It is hard to see Klopp's men lifting the title in three months if the trio don't find another gear, with the injury-hit defence now a shadow of its earlier self.
The back line looks to have carried Liverpool as far as it can for the time being, so Salah, Mane and Firmino have to click again.