Liverpool changed things up to record an emphatic 5-0 victory over Watford, with a performance which was in stark contrast to their previous outing.
It was time for Liverpool to hit refresh on their title challenge.
In the absence of attacking talisman Roberto Firmino, the rest of Jurgen Klopp's side were forced into taking a new look at their approach which led to some sharper thinking in the final third.
This liveliness was prompted by a tactical change which few will have predicted prior to the game.
Firmino sets the tone in defence and attack. Without him the rest of the team may have to concentrate a little more on their own role, and this was something which helped Liverpool put in a commanding display against Watford.
The task of replacing him was unlikely to fall on one player's shoulders, and the probable lineup doing the rounds seemed to make sense: Mohamed Salah moving up top, and Xherdan Shaqiri coming in on the right.
Klopp had other ideas, though, and even the lineup from the XI he chose wasn't as many expected: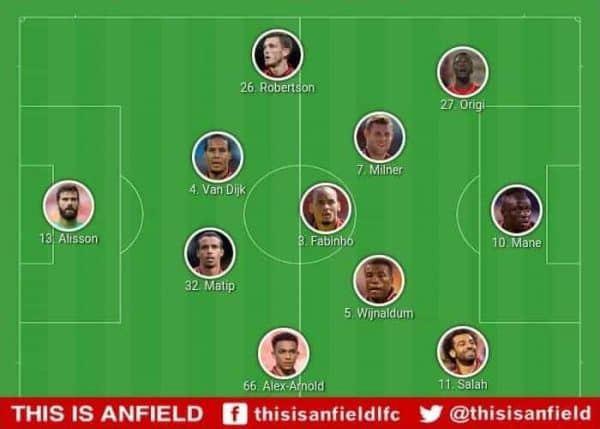 Divock Origi's inclusion ahead of Shaqiri was the first surprise. The second was the use of Sadio Mane, rather than the Belgian, as the centre-forward.
Mane Man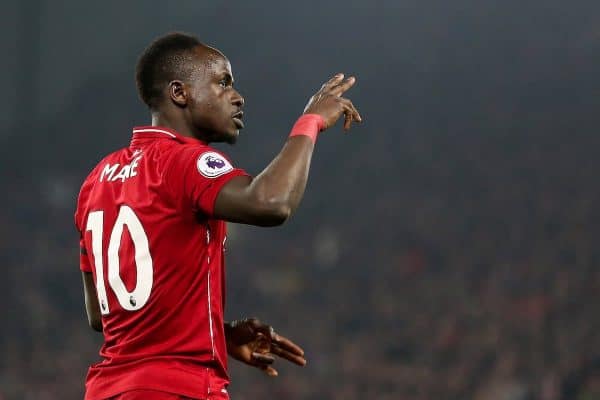 But it made sense given that, of the other forwards, the Senegalese's style of play is the closest to Firmino's, even if he's not like-for-like and even if he's only played a handful of games up top during his career.
"It was the first idea, the first thought, and we didn't change it," commented Klopp.
"In that position you need somebody who is able to play in small spaces, who offers in behind, who adapts to the defensive situation, who is football smart, all that stuff.
"We have other players who can do that, but not in combination with the speed of Sadio, obviously.
"It was clear that he would help us in all the buildup situations, because he's this kind of footballer, but we needed him in the box as well.
"And being there twice in a really good position—at least twice, he was really close to scoring a third one."
This speed was key. Mane didn't register any numbers in the traditional defensive statistics such as tackles and interceptions, but the pace at which he hustled the Watford defenders had them rushing their passes and giving the ball away.
He was quick into the spaces in attack, and was able to combine this with his underrated heading ability and anticipation of Trent Alexander-Arnold's cross to open the scoring.
Wide Threats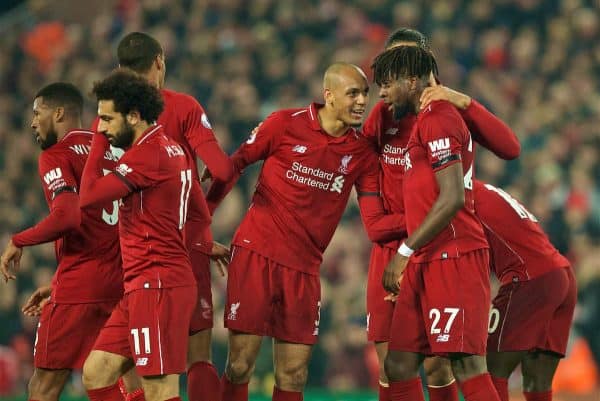 Out wide Origi motored up and down the left flank with the speed of a player who has sat on the sidelines for most of the season. He had plenty of pent-up energy which was ready to be released.
His white boots were a blur for much of his time out on the Anfield turf, and his inclusion over Daniel Sturridge made sense.
His second-half goal, which flew into the bottom corner, was the only one Liverpool scored which wasn't defined by Opta as a 'Big Chance'.
This is shown on the map below, from Infogol, where you can just make out the yellow-edged red circle indicating Origi's goal:

There won't be many 5-0 wins where Salah doesn't register a goal or an assist, but his pace down the right was one of Liverpool's biggest threats.
Salah made it look like Watford left-back Adam Masina was running in the sand on Crosby beach, as he regularly skipped past him.
The wide men in the front three allowed others to do the damage, especially full-backs Alexander-Arnold and Andy Robertson, who between them assisted all of Liverpool's goals.
Triple Trent Alexander-Assists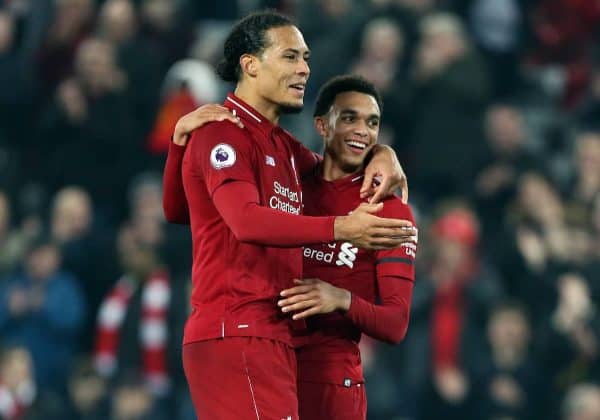 Alexander-Arnold was involved more than any other player, with 102 actions, and on another day could have had more than the three assists with which he finished the game.
Whether set-pieces or crosses from open play, his delivery was dangerous—the complete opposite to Liverpool's delivery during the Man United game.
The 20-year-old spoke about Liverpool's plan to take advantage of Watford's wingers, who were unlikely to do too much defending.
"It was one of them where maybe their wingers weren't probably that enthusiastic in tracking us and if the lads got the ball out wide to me and Robbo, that maybe we could provide crosses in and that's the way it worked," he said.
"I think especially first half we had a lot of freedom down the sides and we tried to provide as many balls into the box as we could for the lads.
"We had a bit more of an aerial threat with Sadio being so good in the air and Divock coming into the team, who's a big lad, so it was important for us to give them service and that's what we did."
Press Pack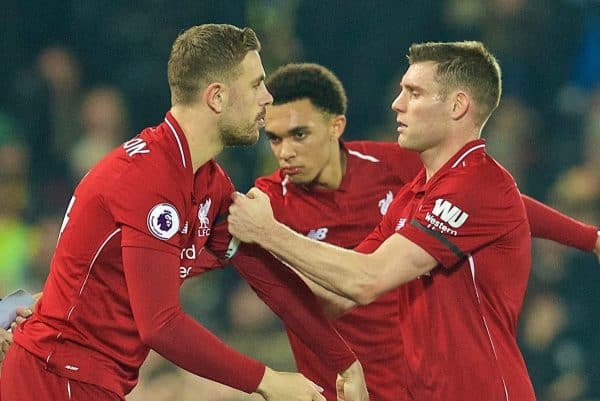 There was another surprise inclusion in the middle of the park as James Milner took his place alongside Georginio Wijnaldum.
The Man United game was calling out for Naby Keita, but it has since been revealed that he's been suffering with illness so may not be 100 percent fit, which may also explain his absence here.
Milner and Wijnaldum kept the midfield compact in defence, and provided options in attack. They occasionally swapped sides, and provided cover when the full-backs broke forward.
They gave the team balance, while Fabinho destroyed any Watford attack which came his way and wasn't afraid to step out from his deep position to close down.
This compactness helped Liverpool press, and they were highly effective in this area of the game unlike their opponents, whose closing down was sporadic and left gaps in behind.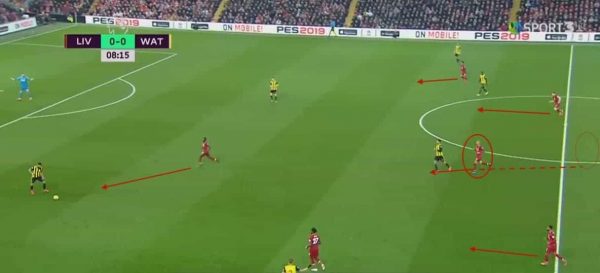 Looking at the screenshot above, there is little Watford can do to play their way out of the back.
The nearest options for a pass are all marked, and Mane is blocking the pass to the other centre-back as well as closing down the player in possession.
All the midfielders are on their toes ready to intercept, and Origi is keeping tight to the right-back.
"Defending is not natural for him on the wing but he did it," added Klopp after the game, and his tracking back will have pleased the manager as much as his goal.
"Offensively he was constantly a threat, he was involved and scored a fantastic goal."
The average positions show that Origi as one of the deepest of the attacking players, but Salah was the most attacking. This was down to Liverpool favouring the right flank for their attacks (below, WhoScored):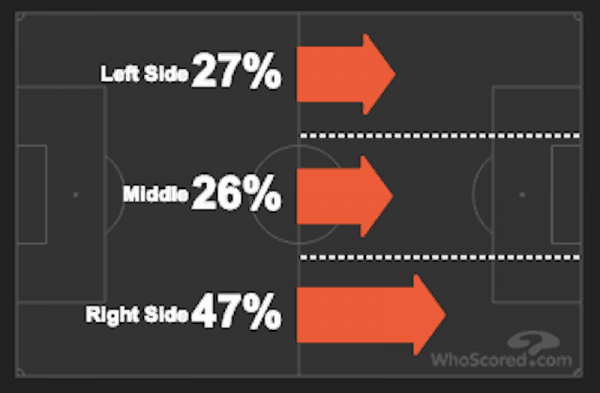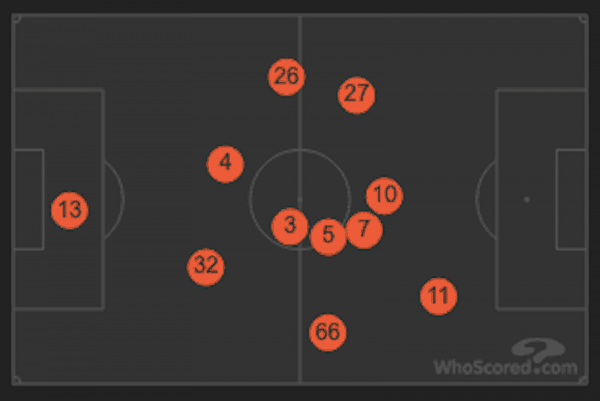 Other Notes
Joel Matip was Liverpool's most accurate passer, finding a team-mate with 93 percent of his passes.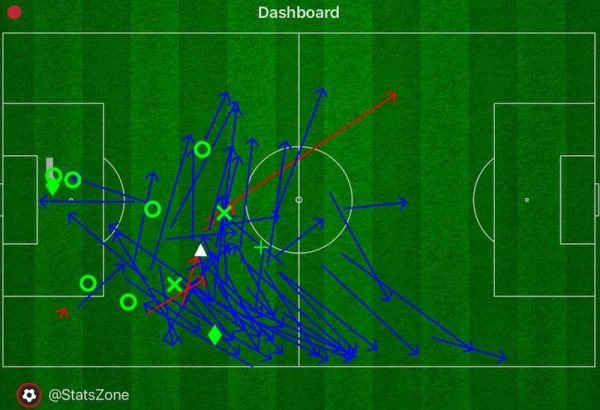 Fabinho made four interceptions, and completed 4/4 long passes. No wonder he's now listed as a midfielder rather than a right-back in the Brazil squad.
Matip to Alexander-Arnold was the most common pass combination, occurring 18 times. Alexander-Arnold to Salah was second – 17 times.
Javi Gracia on Liverpool's tactical changes: "They can change their shape, play 4-2-3-1, 4-2-2-2, they can change because they have players who can play in different positions. It wasn't a surprise for us to play against this Liverpool."