Jurgen Klopp described Sadio Mane's two-goal display up front for Liverpool as "exceptional," as he filled in for Roberto Firmino in the 5-0 win over Watford.
Firmino's ankle injury ruled him out of the midweek clash, and Klopp named Divock Origi as his replacement on the teamsheet, with the Belgian expected to line up as the central striker.
Instead, however, when the Reds took to the field it was Mane leading the line, with Origi on the left and Mohamed Salah on the right in a 4-3-3 formation – a move which took Watford by surprise.
Within 20 minutes, Mane had put Liverpool 2-0 up, and they went on to keep their place at the top of the Premier League with further goals from Origi and Virgil van Dijk (two).
Mane was the subject of great praise after the game, and in particular from Klopp, who hailed his ability to shine in a difficult role while scoring two brilliant goals.
"In a new position, how he played the whole game: come on, that position is just exceptional," the manager told reporters at Anfield.
"It was clear that he would help us in all the buildup situations, because he's this kind of footballer, but we needed him in the box as well.
"And being there twice in a really good position—at least twice, he was really close to scoring a third one."
Firmino picked up his injury in the first half of Sunday's 0-0 draw with Man United, and though the striker is a quick healer and could be back for the weekend's trip to Everton, he was always unlikely to feature against Watford.
While Klopp had the likes of Salah, Origi and Daniel Sturridge as more conventional options, the boss claimed that Mane was his "first thought," describing how he served as a unique solution.
"It was the first idea, the first thought, and we didn't change it," he explained.
"In that position you need somebody who is able to play in small spaces, who offers in behind, who adapts to the defensive situation, who is football smart, all that stuff.
"We have other players who can do that, but not in combination with the speed of Sadio, obviously.
"Sadio played different positions in his life, and for us as well, so there was no doubt that he would play that.
"How we did it when he came off, with Adam [Lallana] in this advanced position, is something which can work as well, with Daniel it can work of course as well.
"But for tonight we thought that was the solution. It was the first [plan] and the last."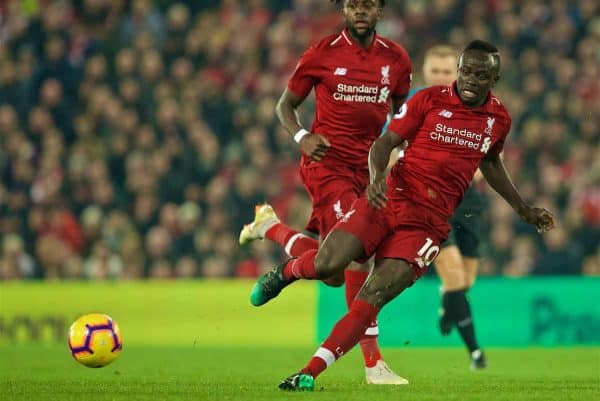 Mane's brace took him to 14 goals in the Premier League this season—the most he has ever scored in a single campaign in the English top flight, and fifth in the overall scoring charts, behind Harry Kane (15).
Asked if he was surprised with how well Mane adapted in his new position, Klopp offered a mixed response, praising the 26-year-old's all-around game.
"Scoring-wise of course [I was surprised], performance-wise not. That's what you expect, that he plays like this, that he offers these things," he insisted.
Sadio Mane's goal is the 8th occasion in the Premier League when a @LFC player has scored in 5 home league games in a row.

— Ged Rea (@ged0407) February 27, 2019
"We don't train when you play Sunday and Wednesday, obviously. We still did something yesterday, but it was very, very low intensity, of course.
"We could at least show him where we want him to go, where we need him to run.
"And he did it better than we expected of course, because who can expect two goals from a player?
"But about the performance, I'm not surprised: that is Sadio's level."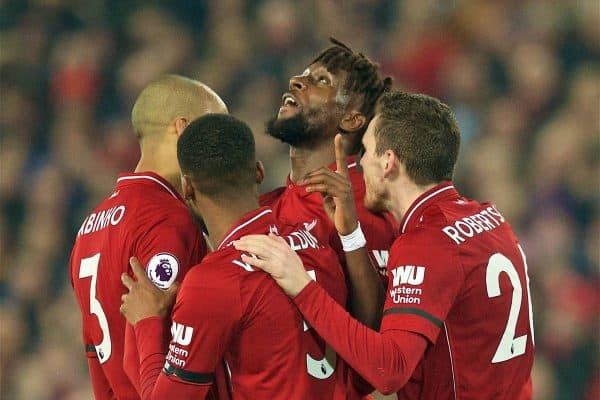 The manager also offered plaudits for Salah and Mane, with the Egyptian King deemed "unplayable" up against a struggling Adam Masina.
"How Mo played… come on, it's unbelievable. He was pretty much unplayable tonight," Klopp enthused.
"In a game without scoring, I think having this kind of performance is exceptional.
"Divock defending on the wing, obviously for him it's not natural, but he did it.
"And then offensively, he was constantly a threat. He was involved, scored a fantastic goal."