The Premier League is expected to extend their £30 ticket cap for away fans, but the Football Supporters' Federation has stressed that "more can be done."
The motion to restrict prices on tickets for away supporters was implemented in 2016, as part of a unanimous agreement between all 20 clubs in the English top flight at the time.
This came after it was revealed that nine clubs were charging over £30 for their cheapest away ticket, with Liverpool the second-highest at £41, behind only Chelsea (£47).
Arsenal (£26), Leicester (£22), Newcastle (£25), Stoke (£25), Sunderland (£29), Watford (£20) and West Brom (£10) were already priced below the cap, but only two were meeting the £20 limit initially called for by the FSF.
Reds fans, led by the Spirit of Shankly supporters' group, played a significant role in the change being put in place with protests at Anfield.
Now, according to the Mail, with the price cap due to expire at the end of this season, it will be "strongly recommended" at Thursday's shareholders' meeting that this is extended by a further three years.
There has been a "small increase" in the average number of away fans at Premier League this season, at around 2,300.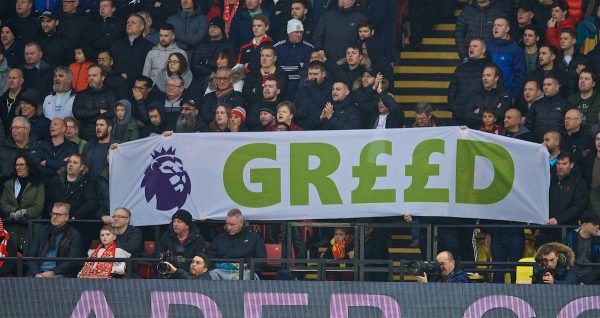 And while the FSF welcomed the likely announcement, they added that "more can be done" to provide support for fans often making lengthy journeys to stadiums across the country.
"We have always argued that away supporter attendance needs to be encouraged if the atmosphere and spectacle of a live match is to be sustained," a statement reads.
"There had been a rapid rise in away ticket costs for many supporters and the cap put a halt on that.
"However, we still believe more can be done and we call on the Premier League to look at ways to further reduce concessionary ticket costs and subsidise travel costs when games are moved for TV."
While the £30 cap is certainly a positive development in recent years, FSF make a great point in that those travelling to games are often at the mercy of broadcasters.
Though train tickets and flights can be booked in advance, with fixtures regularly altered to suit the demands of Sky Sports and BT Sport closer to the date uncertainty means this can be impossible.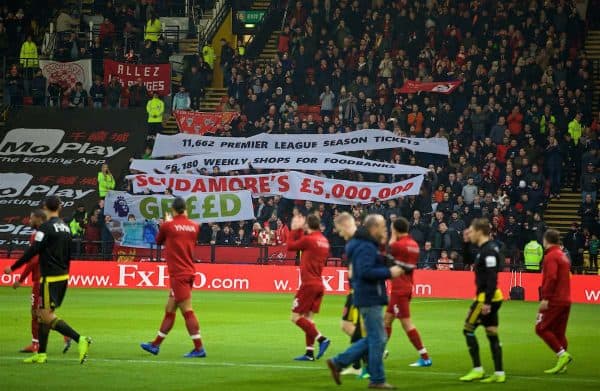 Furthermore, dramatic increases in travel costs in the UK ensure away trips can leave fans significantly out of pocket.
Also on Wednesday, shadow sports minister and Labour MP Dr. Rosena Allin-Khan provided an update on her petition for a Fans' Fare to be introduced to aid fans in their journey to games.
Over 70 supporters' groups have so far signed the petition, including Spirit of Shankly.
Allin-Khan explained that Reds would have needed "£380 for train travel in order to support their team" in the first five away games this season, the joint-second highest in the Premier League.