Mohamed Salah is chasing a phenomenal record in the Premier League, and Sunday's trip to Man United is the perfect time for Liverpool's talisman to reach it.
Liverpool's visit to Old Trafford on Sunday is an absolute whopper. It's huge. Massive. Bigger than Steve Bruce's head, Jose Mourinho's ego and the Premier League points gap between the Redmen and the Mancs.
You don't have to scroll down quite as far now to see where Manchester's second club are in the table, but they're firmly on course to finish between fourth and seventh for the fifth time in six seasons with just an FA Cup semi-final or final defeat to Man City at Wembley to look forward to.
In the meantime, trying to stop Liverpool winning the Premier League title is their prerogative. And so it should be.
With 20 titles in the bag they can laud it over the rest of country but with little hope of adding to that tally in the coming seasons the last thing they need is the Scousers making it to 19 by ending our own title drought. Won't somebody think of the children at YNFA?
So we all know what's coming on Sunday. Ole Gunnar Solskjaer's side will be pumped up like it's a cup final, the anti-Scouse sentiments will echo around Old Trafford with genuine venom and Fergie will be sat there wondering if the colour pallet for Liverpool's away kit was based on his nose.
A draw would leave the destiny of the league title still in Liverpool's hands, but let's be honest here: we need to win our game in hand.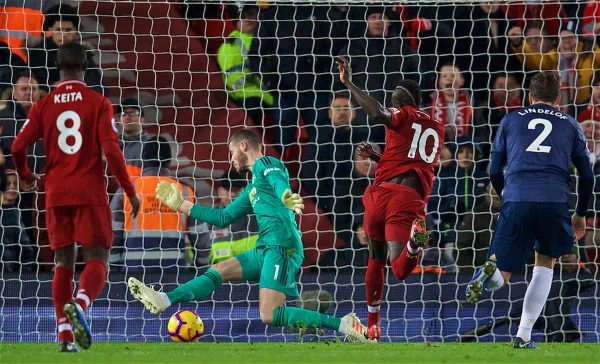 Not only because it would restore a three-point advantage over City but also because it would be a massive confidence-booster and would send a defiant message to Pep Guardiola's Camp Blu.
Knowing Liverpool had won at Old Trafford when they still have to go there would be as disheartening for City as it was for us when they rattled up nine points out of nine against Arsenal, Everton and Chelsea the week before last.
They think they've got the momentum to go on and win it now and there's an expectation that Jurgen Klopp and his players will crack under the pressure.
Three points at Old Trafford would be a shock to their system and a defibrillator-like blast to ours.
Earning those precious points will take big performances from Liverpool's key players. In my eyes it's an afternoon when Mo Salah must perform like Fernando Torres did there in 2009 and Luis Suarez in 2014.
Salah can be the match-winner…and make history in the process.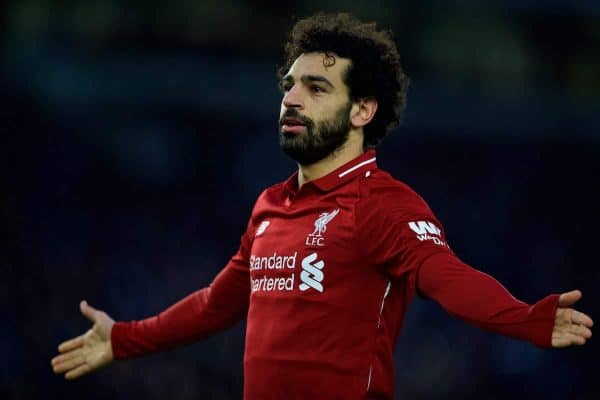 Mo's next league goal will be his 50th for Liverpool. If he gets it on Sunday he'll have reached the half-century in 63 games, smashing Torres' club record of 50 goals in 72 appearances.
He'll also beat Alan Shearer's Premier League record of netting 50 goals in 66 games for a single club—Blackburn Rovers—and complete the full set of scoring against every current top-flight club, with the exception of Liverpool.
Quicker to 50 Premier League goals than Torres and Shearer when they were out-and-out centre-forwards, whereas he's a winger who is also used through the middle? Phenomenal.
But in the grand scheme of things those stats won't quite mean as much if his contribution doesn't lead to success for the team and it's being the match-winner in games such as United vs. Liverpool that can make all the difference over the course of a season.
The stat showing Liverpool have lost 16 out of 26 Premier League visits away to United makes for grim reading, but another reveals that four of our five wins there have been in seasons when we've also won at Anfield.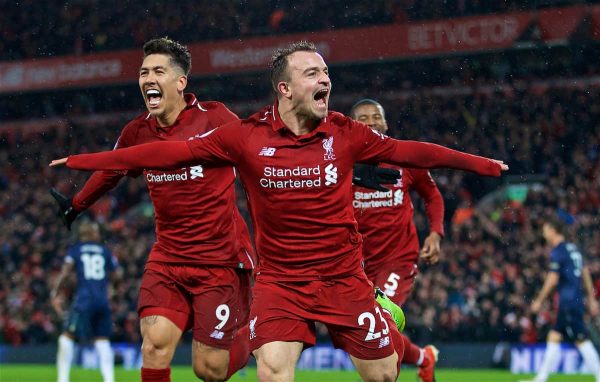 No team has completed more home-and-away doubles against them and given the Red Devils will be hellbent on trying to stop Liverpool from edging closer to the title it's hard not to feel a win for the Reds could eventually go down as our sweetest there during the Premier League era.
Of course if the Mancs do win they'll hand the initiative to City and then be praying Chelsea can win the League Cup final.
Their obsession with all things Liverpool appears to have so far made them blind to the possibility of City equalling their 1999 treble or surpassing it by winning an unprecedented quadruple—giving them eternal bragging rights in Manchester as such an achievement could never be bettered—yet there's still a possibility of that happening.
Nobody from the red side Manchester, or Liverpool for that matter, wants to see that happen so imagine the irony if we got to May and the Redmen are the only side that could stop City from winning the Premier League or Champions League?
They'd have to declare a state of emergency in Salford and publish a helpline number.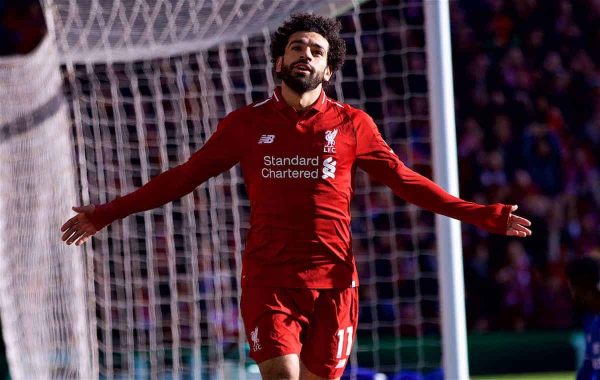 That's a long way off so I'll leave you with another stat that suggests why we need the Sabbath to be Mo Salah's day.
He's scored 20 goals in 16 games this season and Liverpool have won all 16. Same again on Sunday please Mo…
---
Chris McLoughlin writes for This Is Anfield each Friday; he's also senior writer for the Official LFC Matchday Programme and LFC Magazine.
You can order Wednesday's Liverpool vs. Watford programme here.