Jurgen Klopp remained positive after Liverpool were held to a 0-0 draw by a defensive Bayern Munich, in the first leg of their Champions League last-16 tie.
The Reds were on top for the majority of Tuesday night's clash at Anfield, but were unable to convert their chances as Bayern's back line, and Mats Hummels in particular, held firm.
Joel Matip and Sadio Mane arguably came closest, while both Jordan Henderson and Naby Keita shone in midfield and Fabinho impressed out of position at centre-back, with this far from the worst result.
There is still a lot of work to do at the Allianz Arena on March 13, and speaking after the game Klopp highlighted Bayern's defensive approach in praising his side despite it not being a "dream" outcome.
"It's not the result or game that we dreamed of, that's not how it is," he told reporters.
"Big ballyhoo before the game, and then not really a lot of things happen in the game!
"But it was an intense one. You saw the respect both teams had for each other, a lot of situations I didn't see in the games we watched for Munich [beforehand].
"How the full-backs sticked in their own half pretty much, protecting; Gnabry defended on the wing in a two-on-one situation; and stuff like that.
"So there was a lot of respect involved in the game, and that made life a bit uncomfortable.
"But in the first half we still had chances. If Sadio hits the ball better he strikes twice—with a bicycle kick, which is pretty rare!
"How it always is, a goal would have changed the game. It was like it was: first half was absolutely OK, we created; second, nobody created anymore.
"Our problem was, on one hand, the quality of the opponent. On the other hand, our last pass was not our friend tonight.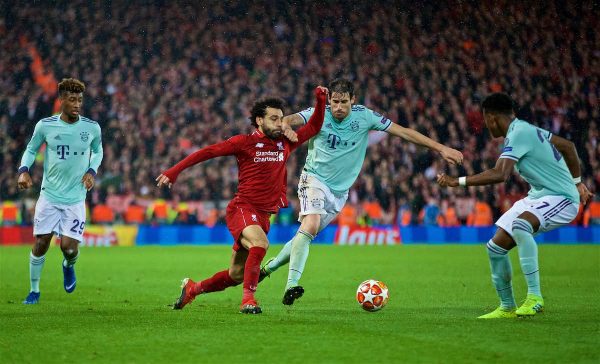 "Ten, 12 situations where everything was prepared, on a plate, and we played a very average last pass and gave it away.
"It created two problems. One, we didn't create a chance, and [two] we gave them the ball and they had a counter-attack, which made the game even more intense.
"But I'm pretty sure Bayern feels a bit better than we do. We have three weeks and day by day the result will feel a bit better for us, and a bit worse for Bayern.
"0-0 is the best draw you can get. That will be a tough one again, to play at Bayern, needing a result.
"If we win tonight 1-0, what would have changed really? Not perfect, but good enough. We work with it."
Klopp now turns his attention to Sunday, when Liverpool visit Man United, and he will be hoping things click as they aim to keep up the pace at the top of the Premier League.